Chicago Bridge & Iron (NYSE:CBI) has become a battleground stock in the last several months, following a short thesis issued by Prescience Point in mid-June, which has resulted in declining share prices, including questions about the quality of CBI's accounting statements. It appears the marker was and continues to hold Berkshire Hathaway (NYSE:BRK.B) (NYSE:BRK.A) as the final arbiter for this conflict, as CBI's largest shareholder, and the most recent data indicates Berkshire continues to see value in the company.
On August 14th, Berkshire Hathaway filed its quarterly 13F, indicating its positions as of the end of June, or around two weeks after the short thesis was published. Berkshire went into the second quarter of 2014 with a roughly 8.8 percent stake in CBI, which it acquired in the first half of 2013. According to the filing, Berkshire's position increased by about 12 percent, to 9.89 percent of CBI equity during the second quarter.
Bloomberg also reported on August 21st that, according to a report to state insurance regulators, Berkshire bought those shares acquired during the second quarter "at an average price of $70.34 over a stretch that ended June 20." This appears to indicate that Berkshire acquired these new shares immediately following the initial decline that followed the Prescience Point report.
Moreover, the level of shares acquired appears to be rather strategic. If Berkshire's stake grew to over ten percent of CBI, it would be required to file a supplemental report indicating that insider stake. As a result, if Berkshire had acquired greater than a ten percent stake in June, it would have had to report doing so within July. Similarly, if it had acquired such a stake in July, it would have had to already report doing so.
Within July and early August, CBI shares performed rather poorly as uncertainty loomed, and especially after the earnings report's conference call, where the company's CFO was absent. Shares only weakened further within August, until the 13Fs were filed, at which point CBI began to turn. Beyond the increased stake taken by Berkshire, David Tepper's Appaloosa increased its stake by over 20 percent, to 1.38 percent of CBI. Further, Steven Cohen's new entity, Point72 Asset Management, and Joel Greenblatt's Gotham Asset Management both initiated positions in CBI.
This accumulation by highly respected investors appears to be taken by the market as highly supportive of CBI shares. These purchases all occurred at prices above the lows CBI reached in late July and early August. Now, it appears of growing probability that shares are going to rebound on continued fund accumulation, as well as retail investors following their lead. See a recent performance chart for CBI (click to enlarge):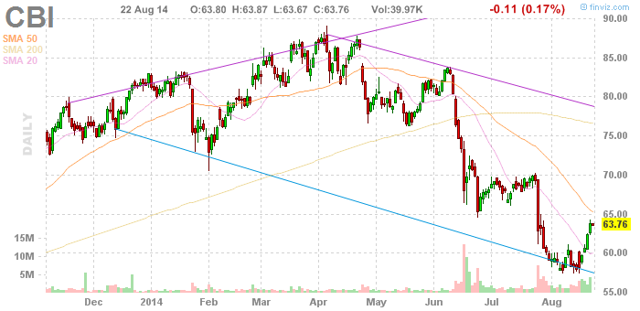 If Berkshire was being as strategic as I propose here, with the intention of further acquiring shares during the third quarter, the most logical course of action would be for it to acquire no greater than a ten percent stake as into the end of July, taking the stake from 9.89 percent to 9.99 percent. Then, in the first half of August and prior to the filing of 13Fs, it would more aggressively acquire shares. If this did occur, Berkshire will soon have to report the greater than 10 percent stake, at which point shares should spike higher. I expect that such accumulation did occur, or is still occurring, and for this report to be filed on or before September 10th.
Disclosure: The author has no positions in any stocks mentioned, and no plans to initiate any positions within the next 72 hours.
The author wrote this article themselves, and it expresses their own opinions. The author is not receiving compensation for it (other than from Seeking Alpha). The author has no business relationship with any company whose stock is mentioned in this article.
Additional disclosure: Family members own BRK.B and CBI.