The golden arches that marked your entrance to McDonald's (NYSE:MCD) used to be a part of the American experience; I believe that McDonald's will now slither away into a relic of the past.
To put it simply, McDonald's is losing customers. The world's biggest hamburger chain struggles to attract diners with its higher-priced sandwiches and its halfhearted attempt to appear healthier to the average consumer. Don Thompson, McDonald's CEO, has not come to terms with the fact that his ship is sinking. In July, Consumer Reports readers deemed McDonald's burgers as the "worst in America."
Instead of dealing with the problem, Don Thompson has said the chain will focus on speedier service, better value offerings, and raising "awareness around McDonald's as a kitchen and a restaurant" that prepares high-quality food. Perception has not met reality. McDonald's fruit and walnut salad looked promising when it was first introduced, but the item was discontinued last year when customers complained that the $5 price was too high. McDonald's is stuck in a cycle; it is unable to re-brand itself without cutting into profits, but is losing customers because of poor products.
After outperforming rivals for years, McDonald's is facing a shift in eating habits toward healthier options. McDonald's is also facing competition from private burger establishments like Five Guys, on the East Coast, and In-N-Out Burger on the West Coast. Both establishments have been praised by consumers for the quality of their burgers, while the latter has managed to do so at McDonald's level prices.
Competition and Disappointment
During 2008, many thought McDonald's was invincible as the great recession was kind to the great burger establishment. While most companies dipped significantly in 2008, McDonald's stock and earnings kept rising as more and more citizens fell into the ranks of the lower class. McDonald's was there to profit, with many citizens relying on the Dollar Menu as an affordable way to survive.
But times have changed. McDonald's key sales figure fell 2.5 percent in July, dragged down by persistent weakness in the U.S. and the impact of a food safety scandal in China. The global decline included a 3.2 percent drop in the U.S. and a 7.3 percent drop in Asia, the Middle East and Africa. The figures are no accident or fluke. Last year in the same quarter, McDonald's posted second-quarter profit and revenue that trailed analysts' estimates.
In China, sales took a significant hit after a TV report showed workers at one of its suppliers repackaging expired meat. Many restaurants there were unable to serve burgers and chicken as a result. In a recent interview, Jim Cramer noted that "people are getting wise to McDonald's; they don't want to eat there globally…" Recently, health inspectors in Russia ordered four Moscow restaurants to suspend operations, citing numerous violations of sanitary laws. The hope of the company re-branding itself will be extremely difficult in light of these numerous incidents.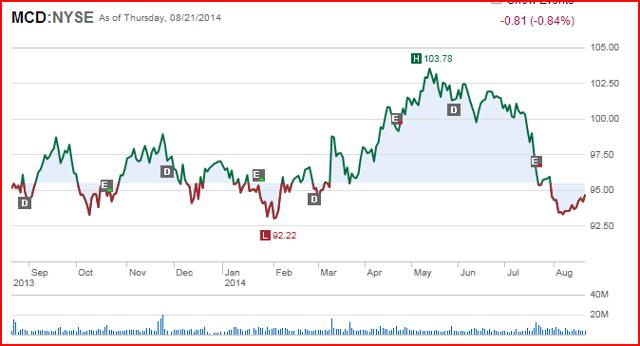 Source: Schwab.
Growing Competition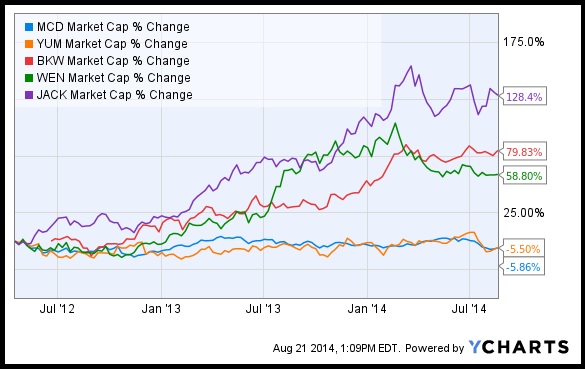 Rebuttal
For income investors, McDonald's may still be an attractive option. Management has continued to increase dividends and has paid out 30.7% of its net income to shareholders. However, in order to continue dividend growth, McDonald's will have to improve earnings -- a feat I do not see it accomplishing.
Conclusion
Once a staple of American society, McDonald's will now get put on the back burner as more and more Americans become aware of the negative impacts that the food has on their health.
Disclosure: The author has no positions in any stocks mentioned, and no plans to initiate any positions within the next 72 hours.
The author wrote this article themselves, and it expresses their own opinions. The author is not receiving compensation for it (other than from Seeking Alpha). The author has no business relationship with any company whose stock is mentioned in this article.