Whether you're pro- or anti-tobacco, the fact is that more than 1-in-7 people in the world today still smoke. And as emerging economies see their middle classes grow, the use of tobacco in its many forms escalates. Nearly 2-in-5 men in India smoke, while 3-in-5 Chinese men do.
Taxes on cigarettes continue to rise, and regulatory pressures are intensifying, but those addicted to the nicotine that tobacco delivers will find a way to shoulder these burdens.
Tobacco companies typically aren't that exciting, but they continue to service a market that despite the health concerns isn't shrinking very fast - and isn't likely to go away anytime soon. And these company's continue to churn out hefty profits.
Think tobacco, and the companies that come to mind include the global giants Altria Group (NYSE: MO), Philip Morris International (NYSE: PM), Reynolds American (NYSE: RAI) and Lorillard (NYSE: LO). Shares of the first three are up more than 20 percent this year (Lorillard is flat).
What's more, these four companies also pay nice dividends, yielding between 4 and 6 percent.
During the recession, many companies cut back or eliminated their dividends, but not the tobacco companies. Their dividends are historically considered recession-proof.
After digging into the DJ Tobacco Index, I found just what I was looking for: A small-cap, dividend-paying tobacco stock. It turned out to be one paying a dividend that was 50 percent better than the best one being offered by the big companies, with an 11-year track record to boot.
The company I found is Vector Group (NYSE: VGR), a Miami-based company whose Liggett Group sells brands including Eve, Grand Prix, Pyramid and USA. Its Vector unit is working to develop cigarettes that pose less of a health risk. The holding company also has real estate operations.
If you're not a smoker, chances are that you don't know of Liggett's brands - they lack name recognition. But Liggett was the first major domestic cigarette maker to successfully introduce discount brands. Liggett, which has no foreign operations, holds approximately 9.2 percent of the overall discount cigarette market segment. It's also making the deep-discount Montego brand for Circle K convenience stores.
Vector Group remained profitable through the recession - although in 2009 investors saw per-share earnings drop to $0.33 from $0.72 the year before. For the September quarter, earnings fell to $0.14 per diluted share from $0.21 in the year-ago period, mostly because of one-time charges. Revenue rose 25 percent to $295 million.
At year-end 2009, Vector Group was holding onto $209 million in cash, but it recently reported carrying $427 million in debt. Free cash flow took a hit in 2009 because of $110 million in deferred taxes.
Still, over the past five years, revenue has grown an average of 10 percent annually, net income has risen an average of 40 percent, and earnings per share have averaged 33 percent annual growth.
The stock chart paints a slightly clearer picture. As you can see in this chart, the stock has traded for less than $20, and most recently hit a high of $19.80 on September 14th.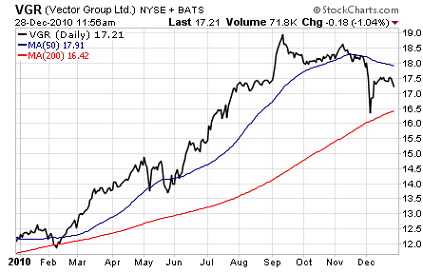 Potential Vector investors might have become unnerved on December 3rd when the stock plunged double-digits during the day, and finished 8.6 percent lower. The catalyst was that Vector had announced completion of the private placement of $90 million of its 11% senior secured notes due in 2015. That's a high rate in a low-rate environment, but the company had previously announced those plans.
But Vector has been raising its dividend, from $0.30 quarterly five years ago, to the current $0.40. So if you're interested in a dividend-paying vice stock, and want a small-cap tobacco company that pays a decent dividend, take a look at Vector Group.