Sure, the Russell 2000 index gained around 25 percent last year, and the S&P 500 was up roughly 15 percent. But despite the strong performance of these indexes, single stocks are still, in my opinion, the best place to seek outsized returns. And by looking to an often-overlooked index I've found a stock that could rush much higher in the coming months.
The next decade will likely be one of increasing connectivity as people adapt to new ways to keep in touch via evolving mediums - from video chat to basic landline service. I've been investigating the stocks in the Dow Jones Fixed Line Telecommunications Index (DJUSFC), which is where I noticed a name that is usually forgotten as a pioneer in the crowded space of telephone services.
This index includes such familiar names as Verizon Communications (NYSE: VZ) and AT&T (NYSE: T), stocks that provided investors with returns of 22.5 percent and 9.5 percent, respectively, in 2010. The company that I've found competes with both, and in fact forced them to change the way they do business when it burst on the scene eight years ago.
But with the global importance of cellular services and social networks, this company has had to drastically change its own thinking as well. The company's focus isn't on fixed-site, wired options - now it's going mobile to chase down new subscribers.
This forgotten company is Vonage (NYSE: VG), a company that suffered a serious recession beat-down. Consumers and businesses began trying Vonage when it was the first to really popularize Voice over Internet Protocol (VoIP) services as a viable alternative to landlines. In 2010, investors again took notice of the stock.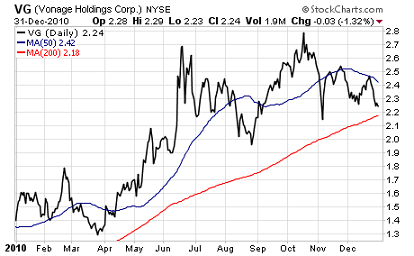 Consumers became hooked on reliable VoIP technology as bargain calling plans evolved. But as competition increased, Vonage's subscriber growth stagnated - it now has just 2.4 million subscribers. Recently, to help lift subscriber numbers the company introduced Vonage World, a calling plan that reaches 60 nations. It also launched an app for Facebook users.
Of course, the big name in VoIP lately has been Luxembourg-based Skype, which typically offers prices that undercut Vonage. Skype recently suffered a public relations nightmare when its 21 million subscribers lost access for about a day.
Investors also remember Vonage's IPO failure. At times, the company has flirted with NYSE delisting and the possibility of bankruptcy over patent lawsuits. The stock traded as low as $0.33 in July 2009.
Yet, Vonage remains a going concern with its gross margin over the past 12 months at 65 percent, and an operating margin of 10 percent. The company received an early Christmas present with a successful debt refinancing through a new $200 million five-year term loan that will reduce interest expenses.
One of the drawbacks to using cell phones is the cost of international dialing plans. VoIP is an alternative, but on some devices such as Apple's (Nasdaq: APPL) iPhone, the apps rollout has been slow when it comes to compatibility with AT&T's 3G network. The pace is picking up, however, and Vonage has apps for smartphones.
Vonage also is integrating its calling services with the current king of social networks, Facebook. The Vonage Mobile application for Facebook lets users make free calls to their Facebook friends, anywhere in the world, on any broadband-connected device.
Vonage officials like the potential of the Apple iPad and other tablet devices to boost the company's potential market. CEO Marc Lefar reminded investors on the recent third-quarter conference call that today 500 million portable smartphone and media tablets are in use, but this could double by 2014. Lefar has said that the network can also provide video services, so that's likely a direction that Vonage will be headed soon.
Lefar also teased some next-generation products in development - Vonage will discuss the financial impact when it releases 2010 results in mid-February.
Last year Vonage stock rose 53.5 percent. The company posted a third-quarter loss of $0.26 per share (largely due to $60 million in refinancing charges), still better than the year-ago loss of $0.33 per share.
For the current quarter analysts expect EPS of $0.03, but a full-year loss of $0.15 per share. Estimates point toward a significant improvement in earnings in 2011 of $0.22 per share.
Vonage shares remain cheap, with a forward P/E of 10.2. I think the stock shows potential for around 15 percent appreciation, with the price trending higher toward $2.75. Next-generation products could connect Vonage with new subscribers on multiple platforms, not just from inside the home.
I believe small-cap stocks will continue to set the pace in 2011, and companies like Vonage that bring people closer together will be leaders in the pace.