Micron technology Inc. (NASDAQ: MU), a memory chip company, is involved in manufacturing and provision of DRAM, NAND and NOR-based memory solutions. Its memory solutions are being used in a wide range of products including computing, consumer, networking, automotive, industrial, embedded and mobile. The company drives most of its value from DRAM solutions. In the nine months ended May 2014 Micron generated 68% of its revenue from DRAM. NAND made up around 27% of revenue in the same period.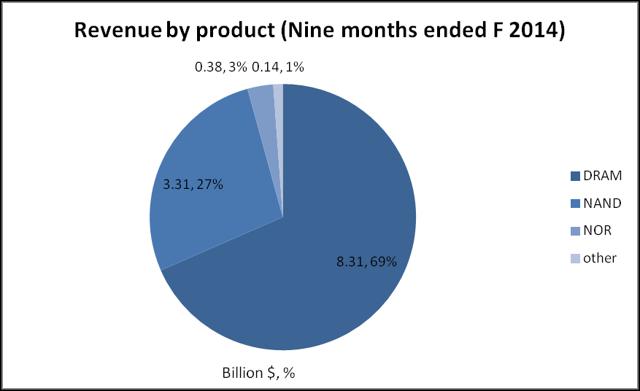 Source: SEC filings
For reporting purposes, the business is classified into the following units:
Compute and Networking Business Unit, or CNBU: This segment includes DRAM and flash products sold to compute, networking, graphics and cloud server markets. The company generated 47% of its sales from this segment in third quarter of fiscal 2014.
Storage Business Unit, or SBU: This segment includes NAND flash components and SSDs for client, enterprises, cloud and removable storage markets. This segment also includes NAND flash products sold to Intel through IM Flash Technologies. The company generated 22% of its revenue from this segment in the third quarter.
Mobile Business Unit, or MBU: A key segment for Micron, which includes DRAM, NAND and NOR flash products sold to smartphone and tablet markets. The company generated 19% of its revenue from this segment in the third quarter.
Embedded Business Unit, or EBU. This segment includes DRAM, NAND and NOR products sold to automotive and products sold for industrial applications. The company generated 12% of its revenue from this segment in the third quarter.
Historic growth trend of these segments is as follows: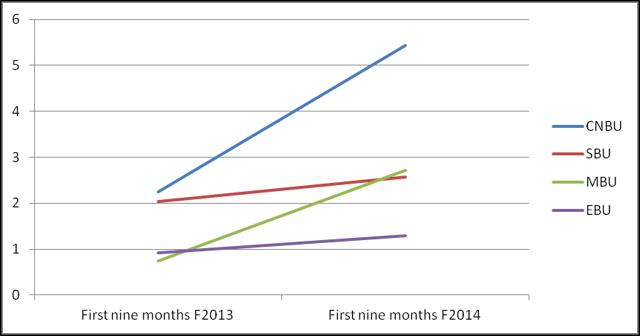 Source: SEC filings
CNBU grew sharply followed by growth in MBU. Consolidation was the main factor for such a sharp growth in the CNBU segment. Acquisition of Elpida, now MMJ, and RexChip, now MMT, were among the reasons for sharp growth in CNBU and MBU. Higher selling price for DRAM and NAND also contributed to the growth story of CNBU and MBU.
Customer-base
Significant customers of Micron include Intel (NASDAQ: INTC) and Hewlett-Packard (NASDAQ: HPQ). Sales to Intel were 10% of net sales in 2013. HP also contributed 10% toward the net sales of the company. Moreover, the acquisition of Elpida exposed Micron to DRAM prospects connected to Apple (NASDAQ: AAPL). Elpida's DRAM was featured in several Apple products including iPhone 5, iPad air and MacBook air. So, iPhone 6 ramp-up will add to the growth of MBU segment, and will also serve as catalyst for valuation growth for Micron.
Competition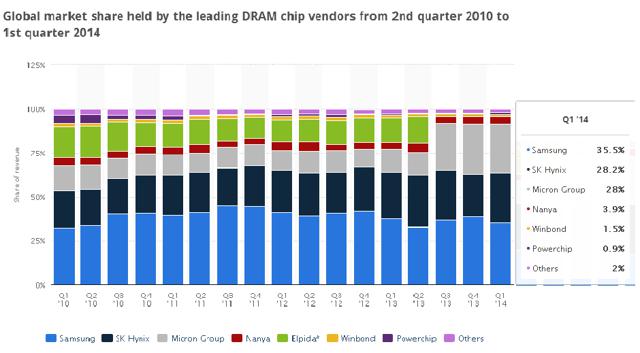 Source: Statista.com
Competitors of Micron include Samsung (OTC:SSNLF), SK Hynix (OTC:HXSCL), Toshiba (OTCPK:TOSBF) and SanDisk (NASDAQ: SNDK). Samsung and SK Hynix compete across the product line, while Toshiba and SanDisk compete only in NAND based solutions. Despite strong competition, Micron consistently remained in the top three in DRAM segment. On the NAND front, the company is in the top five.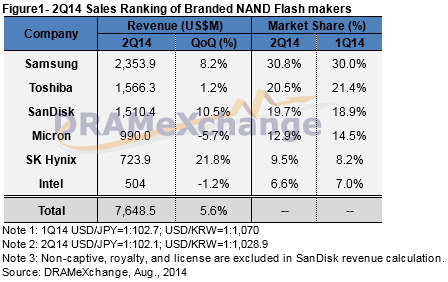 Overall, Micron is a significant player in the memory market. It is a viable investment option given the growth prospects of DRAM and NAND, and significant market position of Micron in both these segments. Benefits of consolidation and exposure to Apple also support the growth thesis of Micron. Detailed thesis and catalysts follow:
Thesis and Catalysts
There are several reasons indicating that Micron is poised for growth. The most significant one is the fact that Micron belongs to the industry that is set to grow in coming years.
Industry growth and Micron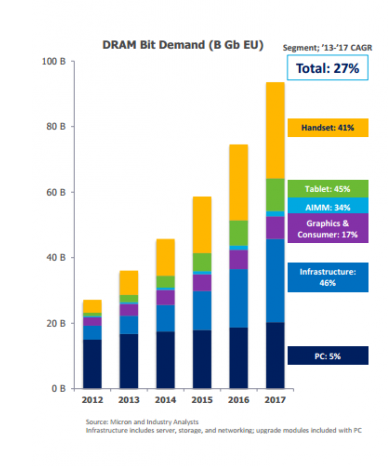 DRAM growth was mainly supported by PC growth in the past. Decline of PC affected the growth of DRAM, but as the industry is transitioning toward smartphones and tablets, DRAM and NAND growth will not be curtailed going forward. As far as DRAM is concerned, Icinsights forecasts that DRAM bit volume will grow by 26% in 2014 mainly due to growth in mobile and server applications. Micron projects a 27% CAGR in DRAM bit demand during 2013-2017. DRAM GB/unit is expected to grow to around 1.5 and 3 in entry level devices and flagship devices respectively by 2017. This is a conservative projection as entry-level smartphones currently feature 1GB, while high-end smartphones like LG G3 feature 3GB of DRAM currently. By 2017, these figures will be higher than predicted in the above mentioned forecast. Moreover, the DRAM bit supply growth expectation for 2014 is around 24%. See the graph below. So, demand growth is slightly higher than supply growth going forward. This favorable demand-supply condition will result in a stable average selling price for DRAM, hence benefiting Micron.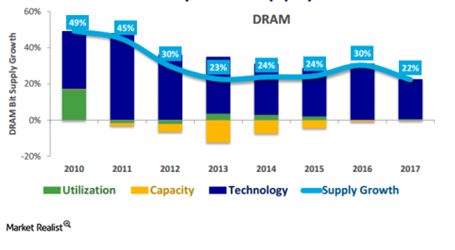 Source: Micron presentation
DRAM is set to grow, and Micron along with Samsung and SK Hynix will be the beneficiaries of this growth. Micron is among the top three in DRAM arena, and it will benefit from the growth of DRAM going forward because of its technology efforts and frequent supply wins. The company recently released the industry's first monolithic 8Gb DDR3 SDRAM, based on 25nm process technology. As far as supply wins are concerned, the company recently announced that its DRAM components will be used in Inspur's computing products. Inspur is the largest server supplier of China. All in all, Micron is set to capitalize on the growth of DRAM industry.
Risk: The major risk to the DRAM thesis is that if Samsung decides to increase its DRAM capacity. Digitimes reported today that Samsung has decided to produce DRAM chips at Line-17 fab. This development can cause an oversupply problem, which in turn will result in declining ASPs for DRAM. This factor will be incorporated in the valuation that follows later. Note that investors should monitor MU closely to time their entry position for Micron. Digitimes report will certainly put pressure on the stock price in the short term.
Micron projects that NAND bit demand is expected to grow at CAGR of 38% during (2013-2017). On the supply side, Gartner believes that supply is relatively constant with limited capacity addition during the next couple of years. Furthermore Micron expects NAND bit supply growth to be around 37% in 2014. So, demand and supply are almost in line according to these figures. This is also a positive for the industry. However, Micron's NAND position may not be as strong as it is in the DRAM market. For starters, the company lost market share in recent quarters, and the proportion of NAND in its revenue also decreased in fiscal 2013 as compared to fiscal 2012. However, in absolute terms, NAND revenue is showing growth. By analyzing the NAND industry it can be seen that there are quite strong NAND players in the market. Samsung is leading but Toshiba specializes in NAND and does not have to worry about DRAM. Toshiba also is leading process technology with its 15nm in comparison to Micron's 16nm. Moreover, Kingston recently switched its NAND in V300 from Toshiba to Micron. The reviews were not positive, reporting performance losses as high as 60%. Therefore, the NAND scenario will not be very favorable for Micron going forward. Yes, Micron's NAND SSD has the potential to gain traction but DRAM's success will not be replicated in this segment. Note that Micron primarily drives its value from DRAM.
Consolidation
Micron acquired Elpida and RexChip in 2013. Both acquisitions bring several synergistic benefits. The capacity is increased by 30% resulting in economies of scale for Micron. DRAM cost/bit decreased by 20% in the nine months ended fiscal 2014 as compared to fiscal 2013. NAND cost/bit decreased 24% in the same period. Moreover, the Elpida acquisition brings Apple to the customer list for Micron. Apple's product ramp-ups will prove to be a growth catalyst for Micron going forward.
Investment value
Micron presents investors with significant value. The shares are trading at a forward PE of just 9.59. The industry average PE is around 20. Moreover Micron traded at an average PE of 15 in the last five years. With the DRAM and NAND industry expected to grow in coming years and Micron expected to post growing EPS, valuation seems to be on a low-side. A PE multiplier of 13, well below industry average, drives a price target of $41. Cash flow based valuation follows
Assumptions
20% growth in revenue is assumed until 2019, zero growth is assumed in perpetuity. DRAM and NAND growth is higher than this growth but weak NAND outlook and ASP risk due to Samsung DRAM ramp-up is factored and growth is discounted.
Cash flows are projected as a percentage of revenue. CAPEX is expected to grow in line with revenue growth.
Standard CAPM assumptions.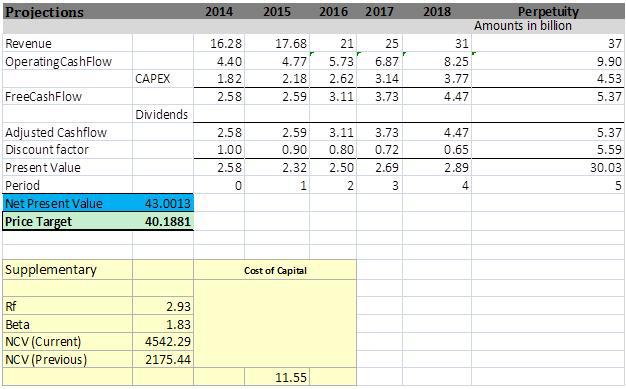 FocusEquity estimates
Price target reveals that Micron still has growth potential of around 25%. The cash flow price target also is inline with the PE based price target calculated above.
Bottom line
DRAM and NAND bit demand is expected to grow, thanks to growth of portable devices and need for data (think servers and cloud computing needs). Micron is among the leaders in DRAM. It is a supplier to Intel, HP and potentially Apple. Therefore DRAM prospects seem promising. Growth is also expected in NAND, but competition from Samsung, Toshiba and SanDisk will limit the growth potential in this segment. Valuations point toward an undervalued Micron. Overall, Micron is a buy amid favorable DRAM prospects and exposure to the NAND market. Investors should time the opening position as the Digitimes report is expected to put pressure on valuation.
Disclosure: The author has no positions in any stocks mentioned, and no plans to initiate any positions within the next 72 hours.
The author wrote this article themselves, and it expresses their own opinions. The author is not receiving compensation for it (other than from Seeking Alpha). The author has no business relationship with any company whose stock is mentioned in this article.
Editor's Note: This article discusses one or more securities that do not trade on a major U.S. exchange. Please be aware of the risks associated with these stocks.