Walt Disney (NYSE:DIS) still has growth ahead, even as its share price surpasses record highs this week. During its earnings call in early August, the entertainment giant cited both box office success and sports broadcasting as two of the factors driving earnings per share in the present and future.
"Marvel's Guardians of the Galaxy had a fantastic debut of with $181 million in global box office so far," management said during the call. Domestically, Guardians delivered the biggest August opening weekend ever at over $106 million. "This result reinforces what we've known for a while and that is that we have incredibly talented people making films for and with Marvel," said Disney CEO Bob Iger. The outlook for Marvel remains attractive with a strong brand and rich array of characters.
Similarly, ESPN, the company's sports broadcasting wing, had spectacular results due to the 2014 World Cup. "(The World Cup) once again demonstrated the value of having the number one sports brand covering the world's biggest sporting events," explained Iger. With its unprecedented reach across all platforms, ESPN delivered the most watched World Cup ever on English language TV. Moreover, with almost 44 million hours of live viewing on WatchESPN, this year's World Cup was the most streamed sporting event in history.
Alongside the World Cup, ESPN offers other sporting events such as the NBA Finals, the NBA Drafts, the US Open, Wimbledon and major league baseball games. This fall the company plans to roll out the new SEC network that will debut in almost 60 million homes nationwide, making it one of the most successful launches in cable TV history.
Likewise, franchises from Pixar and Walt Disney Studios led to strong consumer product sales in the quarter. Disney Consumer Products delivered its fourth consecutive quarter of double-digit growth in both revenue and operating income, while multiple franchises have already generated more than $1 billion each in retail sales so far this year. Strong results from its movie studio, ESPN, and consumer products division have been a major contributor in the company's rapid acceleration in earnings per share over the past two years.
The chart below shows that growth in EPS has been closely tracked higher by the company's share price. Disney is a cyclical company, vulnerable to the rise and fall of consumer spending. The last time Disney experienced considerable decline in its EPS was during the financial crisis in 2008 and 2009. Since then, EPS has been on a near exponential rise.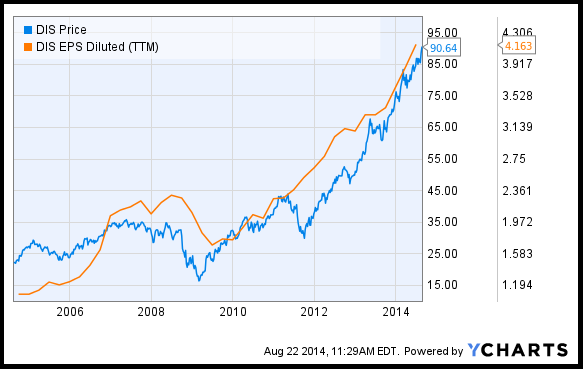 As EPS has risen, so has the company's dividend payout. Since 2011, Disney has more than doubled its dividend from $0.40 to $0.86. According to Dividend.com, Disney pays an annual dividend in January. The company is expected to announce a raise in its dividend during December, and pay it, as usual, in mid-January. Although Disney's free cash flow has fallen slightly over the past few quarters, the strong growth of EPS should continue to fuel more dividend payments to investors.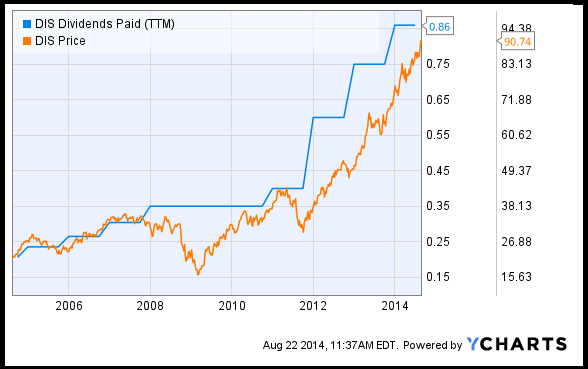 Lastly, even as Disney's share price reaches record highs, valuation multiples show it still has value. The all-encompassing valuation multiple, enterprise value to earnings before interest, taxes, depreciation, and amortization (EBITDA), is only 11.69 for Disney. The multiple traded over 12 in the early 2000s, and with further price appreciation could make it back to such levels. The strong growth outlook and reasonable valuation of Disney makes further share price gains over the next year easily attainable.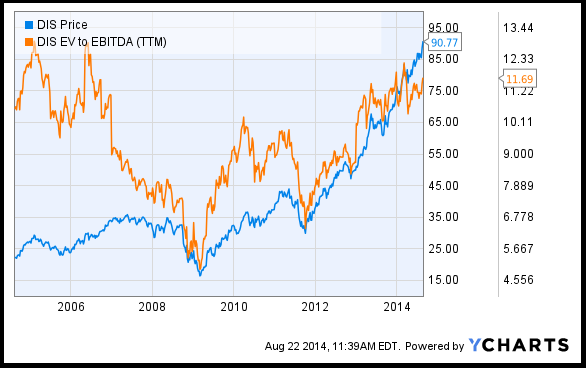 Disclosure: The author has no positions in any stocks mentioned, and no plans to initiate any positions within the next 72 hours.
The author wrote this article themselves, and it expresses their own opinions. The author is not receiving compensation for it (other than from Seeking Alpha). The author has no business relationship with any company whose stock is mentioned in this article.