It was December 2011, and our team was considering adding either Mattel (NASDAQ:MAT) or Hasbro (NASDAQ:HAS) to the Dividend Growth portfolio. We could only add one due to diversification considerations (both are consumer discretionary physical toy makers), and both had strong dividends and were undervalued. Hasbro, however, had a slightly better Dividend Cushion score, and we opted to include its shares in the portfolio instead of Mattel's.
Though we discussed a great many different things about both of the companies, we've been very pleased with the selection of Hasbro into the portfolio, and we credit the Dividend Cushion methodology for providing the incremental relative insight into the stock-selection process. Since its addition, Hasbro has leapt more than 60%, excluding dividend payments, while Mattel has increased by less than half of that mark. We know many of you own Hasbro, and while the firm has given up some ground recently, we trust you are happy with the company's outperformance.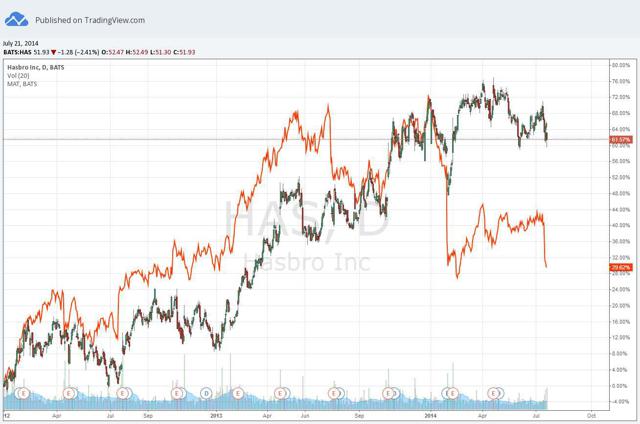 One of the fundamental reasons why we like Hasbro rests in its strong brand portfolio. Franchise brand revenue grew 15% on a year-over-year basis in 2013 and represented ~44% of its total revenue, up from 38% in 2008. From "Magic the Gathering" and "Nerf" to "Play-Doh," "Transformers" and "Monopoly," Hasbro's brand equity is as strong as it comes.
Revenue may face intermittent pressure as physical toys continue to be slowly replaced with digital experiences, but Hasbro's brands will continue to represent the source of excitement across any platform. Growth in emerging markets and in a variety of entertainment platforms will continue to propel expansion at the toy giant. For example, Hasbro's 2015 movie slate includes "The Avengers: Age of Ultron", "B.O.O. Bureau of the Otherworldly Operations", "Jurassic World", "Ant Man", and "Star Wars VII" (December 18, 2014) -- a solid line-up.
During the past 10 years, Hasbro's revenue has increased at a 3% compound annual growth rate. Though this is not a breakneck pace, the expansion comes during a time when the media had proclaimed the "death of physical toys" and with the digital revolution in full swing. The company's operating margin has also held strong in the mid-14% for the past 5 years, a level that is up materially from 10 years ago. Earnings-per-share has more than tripled since 2003, and its dividend-per-share has expanded at a 22% CAGR over this time. We continue to expect strong growth in the firm's dividend.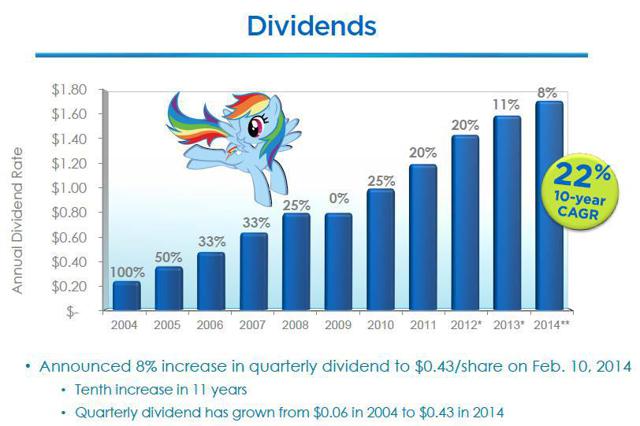 Image Source: Hasbro
Hasbro's evolution into a branded and licensing powerhouse is far from over, and we think its second-quarter performance, released today, has reinforced this view. The firm's second-quarter revenues leapt 8% thanks to international growth of 17% and "Entertainment and Licensing" revenues increasing 35%. Franchise brand revenues grew 36%, with the "Boys" category up 32% and the "Girls" category up 10%. The firm's adjusted operating profit increased 8% and adjusted net earnings advanced 24%, to $47.3 million. There were many bright spots in the quarter, and despite revenue pressures in the "Games" category and at home in the US and Canada, management is executing nicely.
No company is perfect, however. In Hasbro's case, we're not thrilled with its balance sheet, which reveals ~$1.56 billion in debt versus ~$586 million in cash and cash equivalents. The company's cash flow from operations has also faced pressure during the first half of the year due mostly to year-over-year working capital comparisons. However, management has done an excellent job extending debt maturities and refinancing at lower coupons, and we're looking to the back half of the year (when inventories are converted to cash flow during the holiday season) for cash flow from operations to improve. In any case, we're watching the firm's balance sheet and cash-flow generation closely.
Valuentum's Take
Hasbro's evolution into a branded and licensing powerhouse remains critical to our dividend-growth investment thesis on the firm, though we note that continued resilience in the physical toy market will also be key. We liked the revenue and earnings growth in its second quarter, but we did also notice some signs of balance-sheet and cash-flow deterioration that we hope will be resolved toward the back half of the year and into 2015. We don't expect to make any changes to our weighting in Hasbro in the Dividend Growth portfolio in light of the results. Shares yield ~3.3% at the time of this writing. To access Hasbro's landing page, please click here.
Disclosure: The author has no positions in any stocks mentioned, and no plans to initiate any positions within the next 72 hours.
The author wrote this article themselves, and it expresses their own opinions. The author is not receiving compensation for it (other than from Seeking Alpha). The author has no business relationship with any company whose stock is mentioned in this article.