Are you a pack rat? Or maybe you're married to one, or maybe you have a big family with so much stuff you don't know where to put it all? After all, who could resist those blinking jalapeno lights that were such an incredible deal, that you just had to buy five boxes?
If you're struggling to find space for all of your stuff, due to downsizing, or whatever, you may have already heard of this week's focus stock, Public Storage, (NYSE:PSA), which is the biggest public storage company in the US.
Profile: PSA is an equity real estate investment trust - a REIT. It engages in the acquisition, development, ownership and operation of self-storage facilities in the United States and Europe. Its self-storage facilities offer storage spaces for lease on a month-to-month basis for personal and business use. It also has interests in commercial properties containing commercial and industrial rental space and ancillary operations, which include reinsurance of policies against losses to goods stored by its self-storage tenants, and retail operations comprising merchandise sales. Public Storage was founded in 1971 and is based in Glendale, California.
As a follower of High Dividend Stocks, PSA wouldn't normally catch our eye - its common shares yield a bit over 3%. However, it has a bunch of preferred shares that have yields in the 6% range.
So you think preferreds are too stodgy, that they rarely gain much in price? Think again - 2014 has been very kind to many preferred issues, especially PSAs. Five out 8 of these preferred stocks have trounced the S&P 500 so far in 2014, not even counting dividends, and 2 of the other 3, PSA-Y and PSA-Z only started trading in March and June, respectively: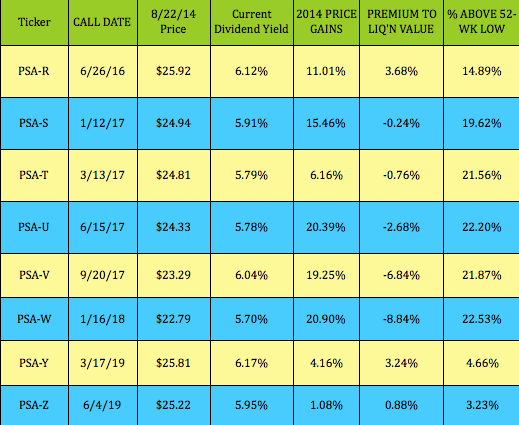 Preferreds are poorly covered on most Financial websites - the price and dividend histories aren't always listed, and the tickers vary from site to site. The codes that we've used above work on Google Finance.
So, what are these shares officially? They are described on PSA's website as, for PSA-V, for example, "Depositary Shares Representing 1/1000 of a 5.375% Cumulative Preferred Share of Beneficial Interest, Series V $0.01 par value. As a holder of Depositary shares, you'll be entitled to all proportional rights, preferences, and privileges of the Preferred shares...and will rank senior to common shares. Distributions on the Preferred shares will be cumulative from the date of issue."
(Source: PSA website)
When buying Preferreds, in addition to looking at the yield, it makes sense to also ask these questions:
1. Are they cumulative? If so, if the company issuing them skips or stops paying dividends, they must pay all unpaid dividends upon calling the preferred shares in.
2. Is it trading above or below the Liquidation Price? PSA's preferreds have a liquidation value of $25. In general, you'll want to buy below the liquidation price if possible, so that when the shares are called on the liquidation date, you don't lose any of your yield.
3. How far away is the Call Date? Does it give you time to collect enough quarterly distributions to meet your income needs? Or, if you did pay more than the Liquidation value, will you collect enough dividends to offset the premium over the liquidation price?
Here are these issues again, ranked by current dividend yield: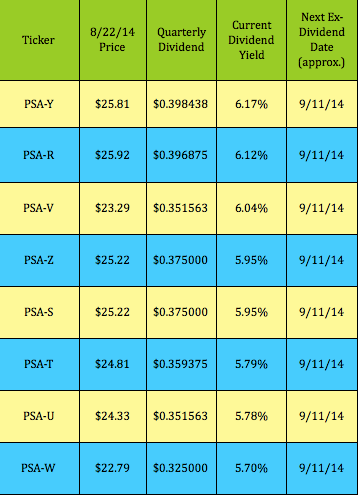 Here's another look at these preferreds, but the table below subtracts the premium above the liquidation price that you'd currently pay, from all of the distributions you'd collect, prior to the call date, to give you a net annualized yield.
This changes the picture quite a bit - the cost amount below the liquidation price can add a great deal to your overall return and pump up your annual yield. For example, PSA-V may only be yielding 6.04% currently, but once you factor in all of the distributions you'll collect, and the extra $1.71 in price gain you'll get when the shares are eligible to be liquidated starting in September 2017, you end up with an 8.75% annualized yield over the next 3-plus years: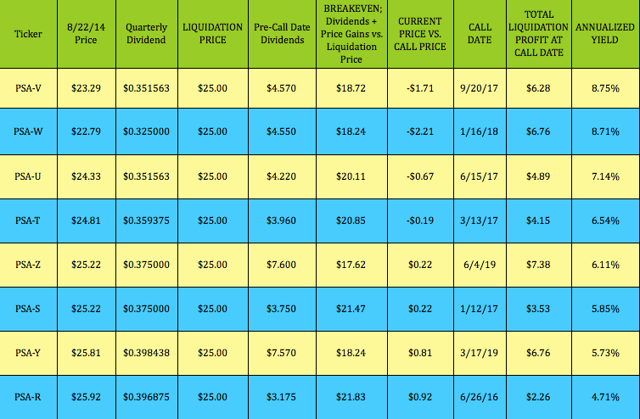 A Safer Bet Than Common Shares: So, if you can manage to pay less than the liquidation price, ($25 for PSA's preferreds), you have a reasonable margin of safety when PSA eventually calls them in at $25, on or after the call date.
PSA's Preferreds are well-covered by the company's strong income generation. In fact, net income is declared after subtracting preferred distribution payments. Here's a look at the most recent 4 quarters: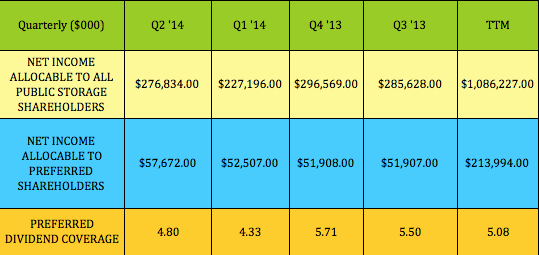 Taxes: Preferred dividends issued by REIT's, such as PSA, aren't eligible for the lower 15 - 20% dividend tax rate.
PSA also has common distributions, but this yield is lower than specialized REIT averages:

Options: If you have a more short-term horizon, a way to earn some immediate income from PSA would be to sell cash secured puts.
This March 2015 put trade, from our Cash Secured Puts Table, pays $8.50 for a $175 strike price, which gives you a breakeven of $166.50.

Given PSA's common shares' big price gains in 2014, put-selling might appeal to you:

Conversely, if you think that PSA has more room to run, you could sell covered calls out of the money, collect some common dividends, and potentially participate in some price gains.
Here's a March 2015 trade, from our Covered Calls Table:

This call trade has a slightly higher breakeven, but it does offer you the potential for price gain participation, since the $180 strike price is $4.25 above PSA's $175.75 common share price:

Earnings/Revenue/Funds From Operation: PSA has healthy growth in all 3 of these figures over the past 4 quarters.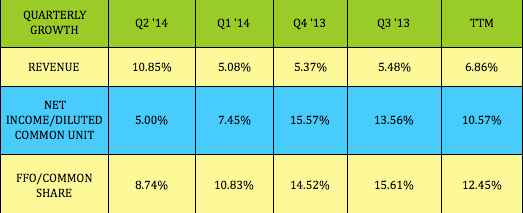 Here's how it played out in Q2 2014, and how well PSA did in 2013 vs. 2012: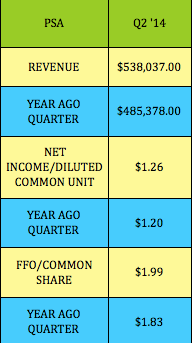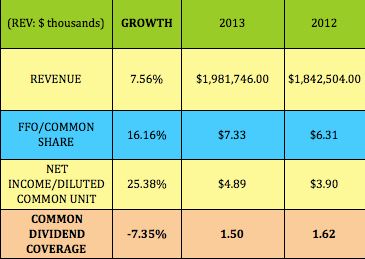 PSA's common dividend coverage ratio did slide a bit in 2013, but it's still looking solid over the most recent 4 quarters:

Valuations: As with some of the dividend stocks we've covered in our recent articles, we can't really say that PSA is undervalued. Instead, this is a story about attractive yields, and having the earnings to support them.

Financials: PSA's Management Efficiency ratios and Operating Margin are superior to industry averages, and it carries much less debt.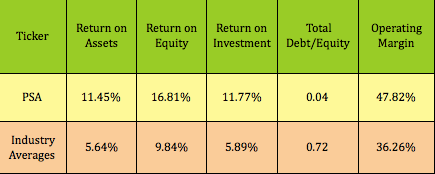 All tables furnished by DoubleDividendStocks.com, unless otherwise noted.
Disclaimer: This article was written for informational purposes only.
Disclosure: The author is long PSA.
The author wrote this article themselves, and it expresses their own opinions. The author is not receiving compensation for it (other than from Seeking Alpha). The author has no business relationship with any company whose stock is mentioned in this article.
Additional disclosure: The author is long PSA-V preferred shares, not the common shares