'Twas a merry holiday season. Even the economy showed signs of holiday cheer. According to the Commerce Department, consumers enjoyed their biggest shopping spree since the recession began and retail sales rose 0.8% in November lifted by a 2.8% jump in department store sales.
These better than expected sales figures have prompted many to revise 2011 forecasts and proclaim that consumers and the economy are back. The government's emerging package of tax cuts and long-term unemployment benefits may also help relax the consumer's grip on his wallet. And, the recent rise in gas prices could further boost spending.
Increased spending is something many economists and retailers have been longing for, but consider that the Commerce Department estimated consumer spending overall rose 0.5% in October while incomes rose by only 0.4%. The concern here is that consumers are backing off efforts to fortify household balance sheets by burrowing into savings or buying more on credit.
We took a look at the volume of completed online credit card applications over the past two years and found, not surprisingly, that consumer appetite for plastic tends to move in the opposite direction of household saving levels. Online credit card application volume increased 39% from a low of 4.9 million in Q3 2009 to 6.9 million in Q3 2010 just as household saving peaked and declined.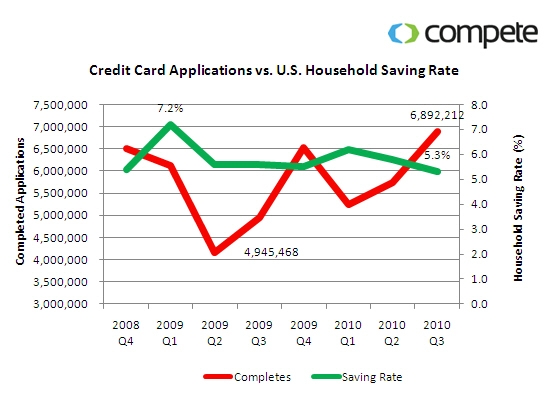 The star performer was HSBC (HBC), whose share of completed online applications grew from 0% in Q4 2008 to 18% in Q3 2010. Visitors to the HSBC credit card landing page fill out a credit card selector tool in order to receive a custom-fit credit card offer. The credit card selector is a no obligation tool that asks for basic personal information and allows HSBC to engage with visitors before they learn about specific card benefits.
The U.S. personal saving rate was one of the few highlights of the recession having peaked at 7.2%, up significantly from pre-recession levels hovering around 2.0% (US Commerce Department). That U.S. households are loosening their purse strings just in time for the holiday season is good news for retailers and credit card companies, but any joy consumers feel may prove short-lived once January bills replace December thrills.