The last week of last year may have ended with a fizzle in terms of net movement, but we still need to take a close look as it holds a couple of subtle clues as to how we may enter the New Year. Plus, a couple of key pieces of economic data need to be discussed; let's start there.
Economic Calendar
It was a light week in terms of economic data, but an important one all the same on two key fronts ... real estate and unemployment claims.
The new claims level has finally gotten over (well, under, technically) that all-important 400K hump, with initial unemployment claims rolling in at 388K last week versus 422K the prior week. Continuing claims edged up a bit, from 4.071M to 4.128M, though that latest ongoing claims number is a week behind the new claims number. Either way, both are trending lower, and that's encouraging ... mostly.
While the sub-400K reading looks solid at first glance, remember companies are running bare-boned as they are and can't cut any more of the workforce - there are few folks left to layoff. As for the ongoing claims number, don't forget that the figure doesn't include those on emergency unemployment benefits, nor does it include those who've simply seen all their benefits expire.
Yet, the economy did add over one million new jobs last year, so something has to be going well. Just don't read too much into the better numbers.
On the real estate front, the Case-Shiller Home Price Index sank 0.8% for October (there was a lull then, if you recall), while the pending home sales figure rose by 3.5% in November following the 10.1% improvement in October. Overall, the real estate and housing market is showing stability. Though it's not distinct improvement, stability is generally an omen of improvement.
Economic Calendar
Click to enlarge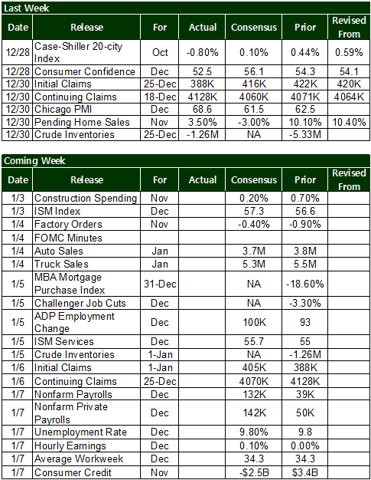 As for what's in store this week, it's a whirlwind of data. Here are the highlights:
Manufacturing: Tuesday's Factory Orders are expected to have fallen 0.4% in November. Vehicle sales are also expected to be down a bit.
Employment: No matter what measure you look at, net new jobs should have been created last month ... 100K according to Wednesday's ADP report, or 142K according to Friday's government report. Unemployment should hold steady at 9.8%. As for Thursday's claims data, the pros think the initial claims figure will pop back above the 400K mark, to 405K. Continuing claims should be lower though, to 4.07M.
Stocks
All told, the S&P 500 gained a pointless 0.87 points (+0.07%) last week on what ended up being the second-lowest volume week of the year (Thanksgiving week takes that top honor).
While that means nothing in terms of momentum, it still put us where we're going to restart things on Monday. Where's that? Overbought, and starting to drift lower as we peel away from the upper Bollinger band - we saw slightly lower lows and lower highs on Thursday and Friday of last week.
To some extent we can blame that on year-end (tax-based) selling. On the other hand, there was bound to be some window-dressing buying going on as well. All in all, we can cal lit a wash. Still, it doesn't change the facts that the SPX was overbought heading into the final week of 2010, and still due for a dip; the market's up nearly 20% since early September, and has seen no significant corrective move during that time.
The turning of the calendar, however, throws in a twist.
There's a tendency for stocks to gain ground as the New Year kicks off. Whether it's merited or not is irrelevant; investors just get excited about a new mental slate. Funny thing though ... it often doesn't last. Funnier thing ... that bullishness tends to fall apart the most in bull markets. For instance, in 2009, 2010 and 2006, stocks started with a rally but ended up going into the red later in the month. Needless to say, those moves were all surprises.
Point being, whether traders step into the new year with blind bullish expectations, or whether they step into it nervous enough that stocks are overbought to finally take some profits on them, trouble's on the way sooner than later.
Of course, that doesn't mean anything until we can observe how the market starts the New Year. So, the MO here is simple ... let's have a seat on the sidelines until traders tip their hand. That may take a couple of good days for their intent to be revealed, but there are some key things we can watch for to help us trade.
If bullishness is in store, that will be marked by another move to - and consecutive brushes (plus higher highs) with - the upper Bollinger band, kind of like what we saw in late November through mid December.
If bearishness is in store right out of the gate, a move under the 20-day moving average line (at 1243) will be the beginning of such a downtrend. The projected landing point for such a move is still the lower Bollinger band line around 1160, which is tightly framed by the 100-day and 200-day moving average lines.
S&P 500 Daily Chart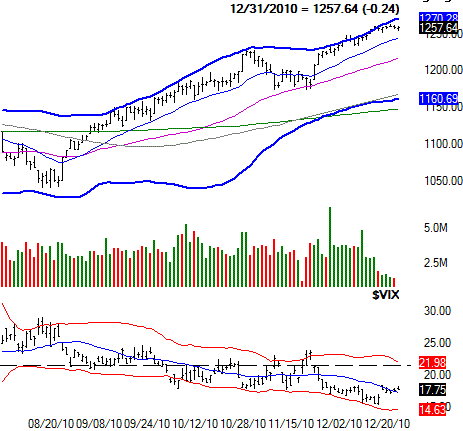 Sector Performance
Rather than a close-up view of how each sector has performed - and is starting to perform - over the last week or so, the end of the year is also the perfect time to take a step back and look at the bigger picture. Here's a visualization of the major sectors' results going all the way back to the beginning of last year. Take a look, but keep reading.
Sector Results – 2010
While instinct says to latch onto the hottest movers (gold and basic materials, in this case), that's not always the best move. Though a trend in motion tends to stay in motion, the further a trend extends, the riper it is to unwind. In other words, 2010's best performers aren't inherently going to be 2011's best performers. Last year's laggards – healthcare and utilities – may end up rallying well, as they have the most ground to make up.
In fact, 2010's third-worst sector (financials) has been the best performer over the last month or so. Similarly, gold stocks were close to being on of the worst performers for the last month; only a rebound in gold's uptrend pushed them back into the middle of the pack a couple of weeks ago.
Energy has been gaining a lot of ground as well.
Bottom line ... there's as much to be said for value as there is momentum.
Disclosure: I have no positions in any stocks mentioned, and no plans to initiate any positions within the next 72 hours.