Back in June of 2013, I wrote an article on Hexcel Corp. (NYSE: HXL), recommending it as a stock to buy. The company manufacturers composite and other structural materials for use primarily in the aerospace and defense industry. Since my article was published, the stock is up about 11%, although it was up by as much as 33% around the beginning of this year. The stock has declined about 13% YTD, and this was likely due to behavioral aspects leading to multiple contraction, rather than a decline in performance or outlook. With continued growth in earnings accompanied by a contraction in multiples, this could create a great buying opportunity if the trend continues.
An Analysis Of This Year's Decline
Hexcel's stock has not had all that great of a year so far. In late January, the stock was above $46, and it has since fallen to about $39. As the charts below clearly illustrate, this is likely due to multiple contraction.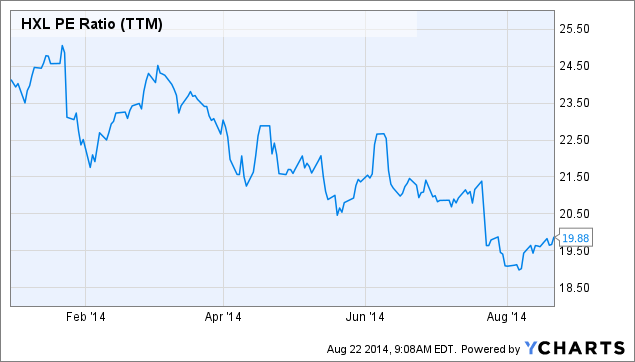 HXL PE Ratio ((NYSE:TTM)) data by YCharts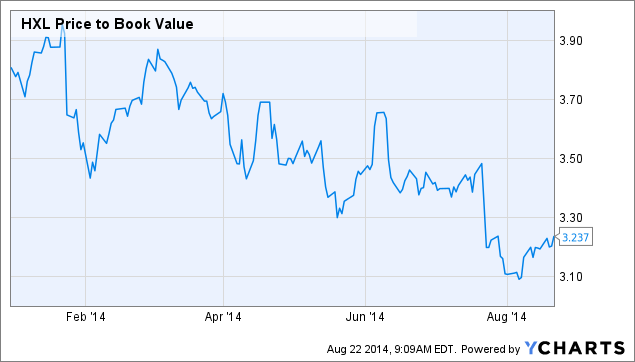 HXL Price to Book Value data by YCharts
As you can see, the multiples for Hexcel have shrunk by a significant amount in the past few months. But why would this happen? The most likely reason is that investors felt the company couldn't continue their impressive performance and maintain decent growth rates. As a result, the premium on the stock has come down a significant amount. It is clear to me, though, that this move was unjustified. Since the beginning of this year, the company has had three earnings reports: Q4 2013, Q1 2014, and Q2 2014. Here are a few key highlights from each report:
Q4 2013
Diluted EPS of $0.46, a 28% increase over the prior year.
Sales of $427 million represented a 9.1% year-over-year increase in constant currency.
Operating margin was 16.1%, a 90 basis point increase over 2013.
The company saw record revenue, gross margin, operating income, and net income for both the fourth quarter and the full year.
In the commercial aerospace segment, revenue from new programs was up 30% over last year, showing that growth and innovation are far from over at Hexcel.
Q1 2014
Diluted EPS of $0.50 represented a 16% increase.
Sales increased by 9.7% to $461.7 million.
Operating margin was 16.2% compared to 15.1% the prior year.
The CEO reported that the backlog was strong and growing and that the company expects to benefit from increased use of composite materials in aircraft as well as higher production rates.
Q2 2014
Adjusted diluted EPS of $0.55 is a 14.6% increase over Q2 2013.
Sales increased 10.2% to $470.1 million.
Operating margin increased 30 basis points to 17.3%.
The company moved full-year EPS guidance from a range of $2.00-$2.12 to $2.06-$2.14.
As you can see, Hexcel's valuation multiples shrunk significantly this year, despite the fact that the outlook and performance of the company has only improved.
Additionally, it is important to note that this fantastic progress has been made with a new CEO. Nick Stanage was named CEO of the company back in July of 2013, replacing David Berges, who had held the position since 2001. Luckily, Stanage has plenty of experience in the industry and the company is confident in his ability to lead:
From 1986 to 2005, Stanage worked for Honeywell and continually rose through the ranks to positions with higher responsibility.
Served as President of the $3.7 billion Heavy Vehicle Products business of Dana Holding Corporation.
Joining Hexcel in 2009 as President, he was later named the COO in May of 2012.
Improving Relationship With Boeing
Now that it's clear that the shrinking multiples weren't justified by financial performance, it's time to examine the status of another risk. According to the company's 10-K, 34% of 2013 sales were from Boeing (NYSE: BA), while 29% were from Airbus (OTCPK:EADSF). It is important to closely monitor the relationships between Hexcel and these two major customers.
According to the recent 10-Qs, the company's Airbus and Boeing legacy aircraft related sales in the Commercial Aerospace segment increased 15%, 4%, and 9% in each of the last three quarters, respectively. It is interesting to note that despite the increase of merely 4% in Q1 2014, the segment still saw a year-over-year sales increase of 12%.
From a financial standpoint, the numbers don't lie. Sales to the two major customers have been continually growing and Hexcel has enjoyed the profits. The qualitative aspects tell a similar story. A few recent press releases have reaffirmed the fact that these two major customers are still working closely with Hexcel, without any plans to change that:
In January of 2013, the company annouced that it received the Silver award in the "Best Performer" category at an Airbus ceremony. This award recognizes the company's continued devotion to serving Airbus in a consistent and effective manner. An example of the strength of this customer relationship is the ramping up of Hexcel's carbon fiber prepreg production in order to meet demands for Airbus's A350 XWB. This plane is the first Airbus model to be over 50% composite, and Hexcel earned the business for all of the composite primary structures. The contract, awarded in 2008, is expected to create $4-$5 billion in revenue, with each model containing over $4 million in composite materials.
After having won an award in each of the three years prior, Hexcel won the Silver Boeing Performance Excellence award in January of this year. With continued and consistent recognition from Boeing, Hexcel's relationship with them seems to be striving. This was also proven in November of 2013, when Hexcel announced an expansion of one of their Boeing facilities. The companies agreed to expand the Aerospace Composite Malaysia factory, or ACM, by 40%, or an additional 125,000 square feet, at the cost of $17 million. This excerpt from the press release best summarizes how this is yet another example of Boeing and Hexcel's thriving business relationship:
"Boeing and Hexcel are increasing ACM's capacity as a direct result of its proven high performance and ability to expand its capabilities to support the quality, reliability and affordability of Boeing's commercial aircraft," said John Byrne, Boeing Commercial Airplanes vice president, Airplane Materials and Structures. "Boeing and Malaysia have a long history of collaboration, and ACM is a great example of the mutual benefit earned by growing Malaysia's high-tech sector and supporting Boeing's supply chain."
Valuation
With the performance and customer relationships checked up on, it's time to take a look at the current valuation. I will compare Hexcel to two peers: Cytec Industries (NYSE: CYT) and Toray Industries (PNK: OTCPK:TRYIY).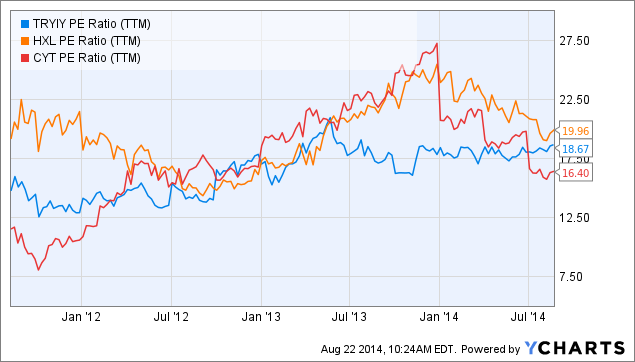 TRYIY PE Ratio (TTM) data by YCharts
As the chart shows, Hexcel's P/E ratio is approaching that of the other companies, but it's still not quite there. The P/S and P/B ratio haven't been shrinking as quickly: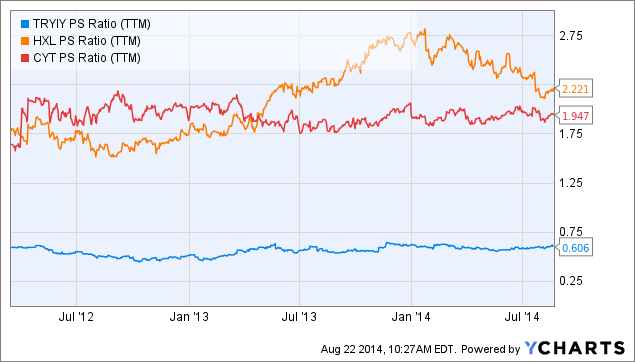 TRYIY PS Ratio ((TTM)) data by YCharts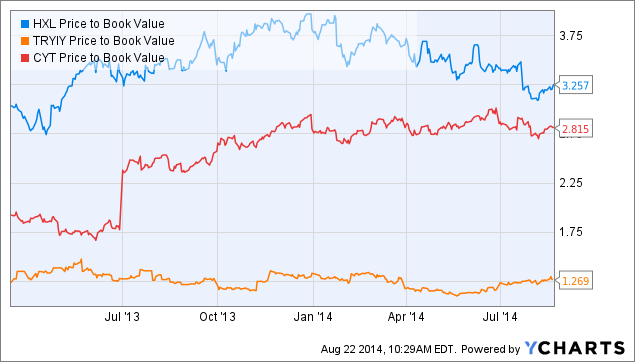 HXL Price to Book Value data by YCharts
Although these metrics indicate that Hexcel is still slightly overvalued, it should be noted that all of these valuations are significantly low, generally speaking. And in the last few months, Hexcel has definitely seen multiple contraction. It is also useful to look at this in terms of the fair value of earnings. I will do this in a simplified manner just to get an idea of where the stock could be trading, using this calculator. Here are my assumptions:
TTM diluted EPS of $1.91
Discount rate of 11%
Terminal growth rate of 3.5%
| | | | | |
| --- | --- | --- | --- | --- |
| Five-Year Earnings Growth Rate: | 12% | 14% | 16% | 18% |
| Fair Value | $37.38 | $40.47 | $43.37 | $47.30 |
The implications of these prices range from the stock being fairly valued to undervalued by as much as 20%. I would consider these growth rates realistic based on historical performance. Even in just the last three quarters, the year-over-year EPS increase was never less than 14.6%. On the other hand, the valuation metrics still indicate that Hexcel could be slightly overvalued despite this year's multiple contractions. Overall, I would say that now is a good time for long-term investors to consider buying, while less conservative investors might want to wait for the multiples to go down a bit more. If the trend of increased earnings and shrinking multiples continue, a wonderful buying opportunity could arise very soon.
Disclosure: The author has no positions in any stocks mentioned, and no plans to initiate any positions within the next 72 hours.
The author wrote this article themselves, and it expresses their own opinions. The author is not receiving compensation for it (other than from Seeking Alpha). The author has no business relationship with any company whose stock is mentioned in this article.