The Thesis
Vladimir Putin of Russia has seized the day since Ukraine betrayed his wishes and the people decided to oust his hand-picked president and turn decisively towards the west and NATO.
He has turned up the pressure at every turn and has been pressing his regional advantage with great success. First, Crimea fell to him, and now the world watches with baited breath to see if his convoy of trucks carrying "humanitarian aid" across the border against Ukraine's wishes is really a Trojan horse to press a full-scale invasion into Easter Ukraine.
All the while, he ignores increased western sanctions and fights back by imposing his own sanctions on the west; he banned the import first of western fruits and vegetables, then chickens, and now cars.
With the first cold snap of the coming winter, his weapon of choice, as the biggest energy producer in Asia, will be to turn the natural gas taps off once again to try to strangle Ukraine's economy and freeze its people in their homes. He will threaten Eastern Europe by depriving them of the fuel they need to heat their homes and run their factories. Poland, which imports fully 100% of its natural gas, must surely be shaking in its boots at this prospect along with Ukraine and several former Soviet Republics that have leaned towards the West.
The U.S., rapidly returning to its former role of heavy-weight energy producer, through its natural gas companies and the fracking technologies that have changed the industry forever, has an over-abundance of natural gas. This great quantity being produced and in reserve has depressed natural gas prices for some time.
The Time Table
As soon as the federal government gives the go-ahead, and infrastructure is put in place to terminal and transport this energy overseas, several great natural gas producers stand to benefit.
While this may take three to five years until it all falls into place, these companies will surely benefit from tremendous demand in Europe. Prices will rise with this demand and profits will certainly flow.
Over the next several years the United States will start exporting natural gas as a number of export facilities come online. There's tremendous demand from overseas, aside from Eastern Europe, for liquefied natural gas (LNG), especially cheap gas produced by the U.S. fracking boom.
While the current market price for natural gas may fluctuate, the long-term picture is very bullish. It remains a much cleaner alternative for power plants in comparison to coal. The president has put into place new rules that will lead to a transition from coal to gas. It's also a lot safer option than nuclear energy.
Soldier on with Strong Ammunition
Three major companies expected to profit from the eventual rebound in natural gas prices are EQT Corp. (NYSE: EQT), Rice Energy (NYSE: RICE), and WPX Energy (NYSE: WPX).
The largest of these three companies, EQT controls over 3.6 million acres, including 580,000 acres in the Marcellus Shale region, one of the most prolific areas for natural gas production. EQT has about 8.3 trillion cubic feet of proved natural gas reserves.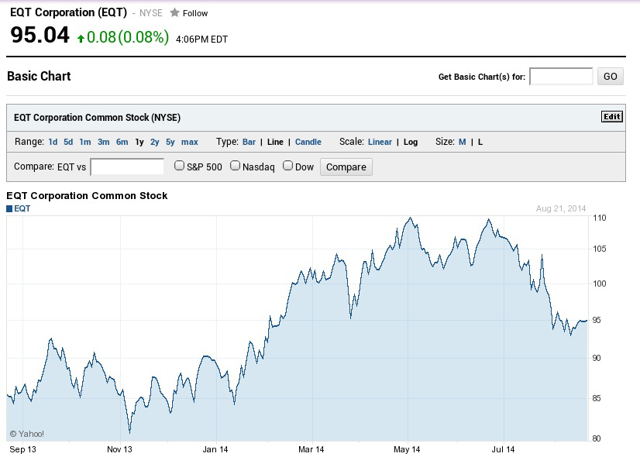 Click to enlarge
One year chart courtesy Yahoo Finance
EQT, currently trading today at $95.04, is near the midpoint of its 52 week range of $80.72 to $111.47 presenting an interesting entry point.
A couple of years ago, natural gas prices fell to $2. Many producers turned their attention away from the natural-gas-rich Marcellus Shale region. EQT did not. It increased its presence in the Marcellus. Of the 89 wells EQT drilled during the second quarter, 55 were in the Marcellus, sending the company's sales volume in the region up 25% from a year ago. EQT's second-quarter results were strong, with earnings per share (EPS) up 28% from the same period last year, to $0.73.
Rice Energy is focused on the Marcellus as well, but it also has operations in the Utica Shale in Ohio. In June, Rice's first well in the Utica delivered production of 41.7 million cubic feet (MMcf) a day. This was among the best-performing wells ever drilled in the formation.
Since its IPO in January Rice Energy has been very active. Last month, Rice acquired 22,000 net acres and 12 developed wells in the Marcellus from Chesapeake Energy (NYSE: CHK) for $336 million. This increased Rice's net acreage by 24%.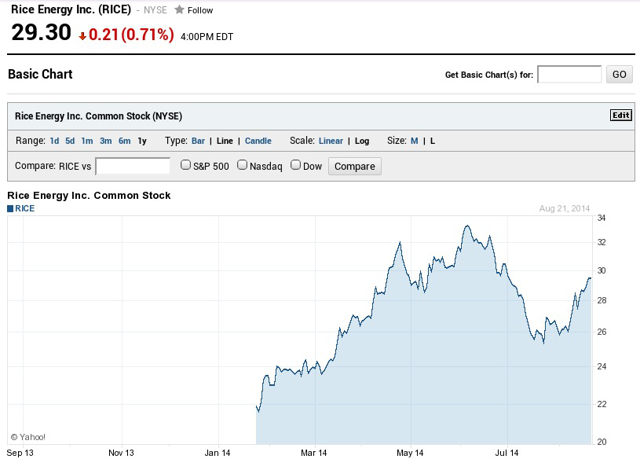 Click to enlarge
One year chart courtesy Yahoo Finance
Rice closed today at $29.30, a 15% discount from its 52 week high.
WPX's key growth opportunity lies in Colorado's Piceance Basin, which is the company's largest area of concentrated drilling. WPX is planning to use an MLP to hold working interests in its mature properties in the basin. This will open up the opportunity for yield-seeking investors and retirees to participate actively in this opportunity.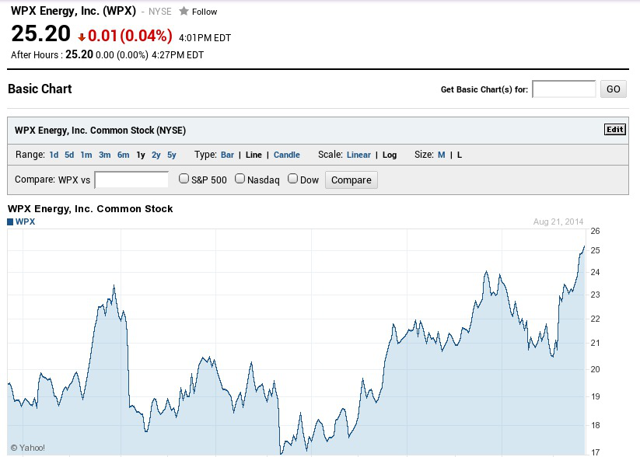 Click to enlarge
WPX closed at $25.20 today, just shy of its 52 week high of $25.36.
Some hedge fund managers are staking their claims in these companies as a play on rising natural gas prices. Billionaire Ken Griffin and his Citadel Advisors own almost 3% of WPX and nearly 4% of Rice Energy. George Soros owns a stake in EQT worth $250 million.
Risks to the Proposition
While the prospect of natural gas as a long-term sustainable fuel source is well known, the switch to this fuel source in the Western world could take quite some time. However, if the scenario painted above comes to fruition as I believe it will, demand will ramp up rapidly once the infrastructure and transportation assets are in place.
Conclusion
Providing for the heating and energy needs of our friends and allies overseas, including the former Soviet Republics that are western leaning, will increase demand considerably and should produce great returns for these three companies and those who invest in them.
Should you be interested in reading any of my other articles detailing various strategies to enhance your returns on a dividend growth portfolio, please feel free to find them here.
Disclaimer: This article is intended to provide information to interested parties. As I have no knowledge of individual investor circumstances, goals, and/or portfolio concentration or diversification, readers are expected to complete their own due diligence before purchasing any stocks mentioned or recommended.
Disclosure: The author has no positions in any stocks mentioned, and no plans to initiate any positions within the next 72 hours.
The author wrote this article themselves, and it expresses their own opinions. The author is not receiving compensation for it (other than from Seeking Alpha). The author has no business relationship with any company whose stock is mentioned in this article.