The American consumer loves to spend $
Self-indulgence seems to know no bounds among US consumers. When coupled up with a national favorite beverage, single-serving coffee-makers became the current must-have, putting Mr. Coffee among the unemployed. Young consumers can't be seen doing anything the old, 20th century way. Hang the increased cost, this is now!
The evident read of Keurig Green Mountain's (NASDAQ:GMCR) new higher-priced line by professional portfolio managers was a dramatic thumbs-up, as seen by market-makers elbowing one another to get more stock to fill client volume buy orders. But the pace of the trading day had little suggestion of a feeding frenzy.
From the start it was obviously going to be a big up-day for GMCR, and the lack of any end-of-day liquidation of floor inventory suggests there may be more tomorrow.
Here is how the Market Makers have been seeing GMCR's stock price prospects, based on their hedging activities, and what their current targets look like now: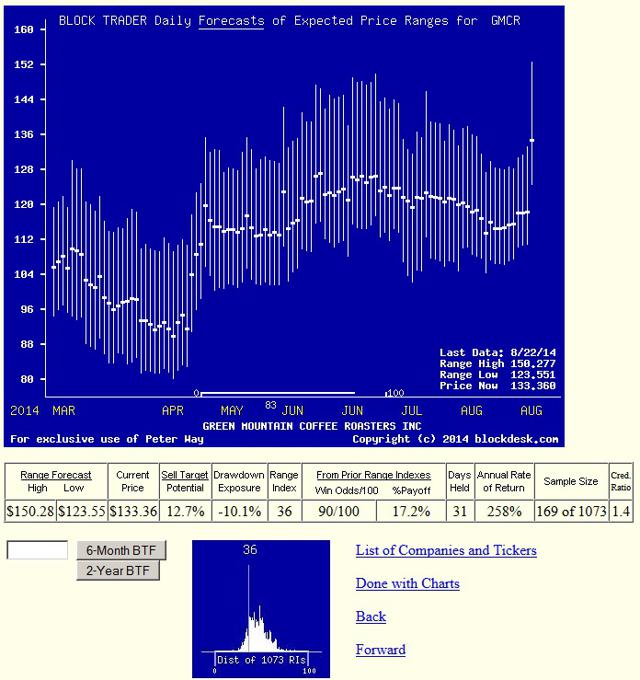 For those new to this presentation style, the vertical lines are real-time day-by-day forecasts of likely coming price ranges, not simply the sterile reports of past prices. The heavy dot in each vertical is the end-of-day quote at the time the forecast was implied from MM hedging activity. It splits the forecast range into upside and downside parts, and the Range Index [RI] tells what percentage of the forecast range lies below the quote.
The data line beneath the picture tells what has happened in the 3 months subsequent to all 169 prior forecasts having upside to downside balances like today's RI. When subjected to a pre-defined Time-Efficient Risk Management Discipline [TERMD] they produced an average realized gain of +17.2%. Achieved in 31 market days (6 weeks+) that generates a price return rate of over +250%.
Please note that current bets are for a smaller (+12.7%) upside, and no guarantees are being made about a 6-week average holding period.
Conclusion
Ya pays yer money and ya takes yer chances. The "smart money" seems to think there is lots more profit to be squeezed out of the US consumer. They got good payoffs lotsa times before, even when winning only 9 out of every ten bets. But that was then, this is now.
Disclosure: The author has no positions in any stocks mentioned, and no plans to initiate any positions within the next 72 hours.
The author wrote this article themselves, and it expresses their own opinions. The author is not receiving compensation for it (other than from Seeking Alpha). The author has no business relationship with any company whose stock is mentioned in this article.