DreamWorks Animation SKG Inc. (NASDAQ:DWA) has received a much needed boost recently, as it hired the CFO for Latin American operations at DirecTV - Fazal Merchant - to be its CFO. The market liked the move and rewarded the company with an almost 10% increase in share price.
That follows on the heels of hiring former Disney executive Mark Zoradi in July, who was a key person in the launching of Walt Disney Home Entertainment and the Disney Channel.
Another positive catalyst for the company is the performance of "How to Train Your Dragon 2," which opened in China with a $26 million weekend. This underscores the fact that DreamWorks appears to have figured out China, which makes its decision to build the DreamCenter in Shanghai a good choice. That includes Oriental DreamWorks, which will be an animation studio; a 500-seat IMAX theater; and a variety of performance venues at the location.
All of this is good news for the company, but it must find the answer to some of its poor decisions on film choices and produce a higher percentage of hits than it has been, or it will continue to underperform its peers. Over the last 12 months, it is down over 26%, even after moving up almost 10% recently.
(click to enlarge) source: StockCharts.com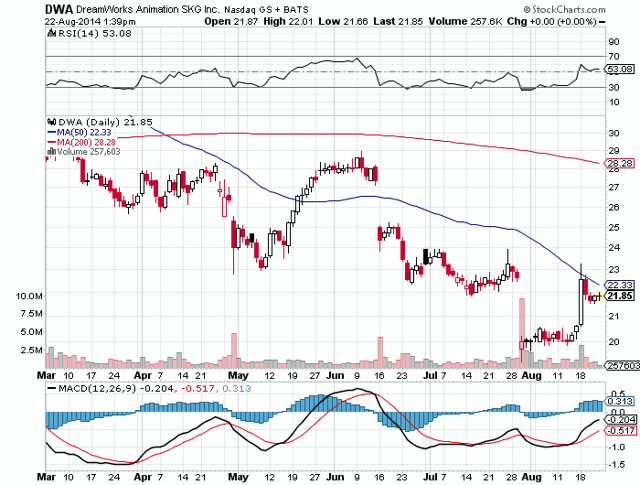 Latest Earnings
The company generated a reported $122.3 million in revenue with a net loss of $15 million, or $0.18 per share, in the latest quarter.
What's important to me with the numbers is how some of the segments contributed to the performance and what that implies for the company going forward.
The first thing to understand is DreamWorks has said 2015 is going to be an investment year, meaning its main focus will be on laying a foundation for the future. For that reason it's good news that it does have a good chance with its upcoming film releases to do very well, which could help offset the expected increase in costs next year.
As mentioned earlier, the DreamCenter is Shanghai is one of those key projects, and has a lot of potential in the years ahead, as it looks like DreamWorks has found a sweet spot there that resonates with the Chinese people.
Unfortunately, at the same time it's enjoying good results in China, the domestic market has been weakening. At this time it's not apparent if that's specific to DreamWorks or an industry-wide phenomenon. It's especially concerning with the performance of "How to Train Your Dragon 2," which while doing well, is much weaker than expected domestically. If it had done better in North America, it would have produced some very strong numbers, beyond the good numbers it will end up generating once the global releases play out.
Another factor is Disney's Pixar didn't release a film this year, so DreamWorks had a good release window for Dragon 2, which likely won't happen in the future.
With the increase in spending over the next 18 months or so, DreamWorks is unlikely to grow its earnings in a meaningful way. Any unexpected positive result would give a nice boost to the share price, although it would have to mostly come from a film that has outperformed expectations, which suggests only a temporary upswing at best, if it comes at all.
With revenue down over 42%, profit margin at -4.94%, operating margin -4.37%, return on equity of -2.27%, and operating cash flow (TTM) down $59.14 million, DreamWorks has a lot to do to right the ship.
This is why it's moving away from releasing too many films a year and diversifying its revenue streams.
One area it has a lot of potential to improve is in its consumer products unit.
Consumer Products
In the latest quarter its Consumer Product unit generated $18.5 million in revenue and a gross profit of $7.3 million. The majority of that was from its "How to Train Your Dragon" franchise.
Those results were an increase of over 100% over the same reporting period of 2013, after excluding contributions associated with Oriental DreamWorks in the second quarter of 2013.
The company stated somewhat blandly that it expects to boost its growth year-over-year in consumer products in the future. That appears to be a purposeful understatement, as I think it has the potential for enormous growth if it is able to execute a well laid out plan.
DreamWorks is simply not taking anywhere near the advantage of its numerous franchises in the consumer products market, and it's puzzling as to why it's not much more aggressive in its pursuit of the potentially very lucrative market.
Disney, for example, has as many as seven or eight billion-dollar franchises in its consumer products division, and I believe over time DreamWorks could build some of its franchises out to much higher levels than the somewhat small $18.5 million in revenue it did last quarter. Again, the unit is growing, but I see it as one of the more under-utilized parts of the company.
All the other strategies are interesting and have potential, but this one isn't even close to being tapped into in the way I believe it could be. To me, the next hire at the company needs to be an aggressive and knowledgeable person in the consumer products segment, now that is has its television and financial talent in place.
Since licensing is a big part of consumer products, it wouldn't be as huge an investment as its other projects on its drawing board.
Having said that, it is important for the company to build out its branded characters to the point that they are better known; after all, consumer products' success is predicated on the fact that it has to have popular characters in order to sell physical products. This is where the television initiative should help.
The company did say it reached its licensee goal last quarter, which had been targeted at over 100 globally. I would expect that to grow in the future, or a least expand within given territories.
Television
As for television, the company will release three new series in the second half of 2014, and has seven more series slated to launch in 2015. The goal, according to DreamWorks, is to provide a steady stream of content to Netflix and its other global partners.
Television generated $20 million in revenue in the latest quarter with gross profit reaching $1.2 million. Looking ahead to 2015, revenue from television is projected to surpass the $250 million mark with a profit margin of around 30%. That would be a huge catalyst for the company if it achieves its projection.
One reason for the relatively low gross profit for the quarter was the specials it offered on home video products during the holiday season. The company says those higher costs aren't expected to stretch into the future.
Leading in TV revenue was its Turbo FAST series released on Netflix, and its DreamWorks Dragons on the Cartoon Network.
When looking at the number of new TV series to be released over the next 18 months or so, this has a lot of promise to boost the top and bottom lines of the company while it rolls out its other projects.
Combined with consumer products gains, it could be a nice long-term earnings machine for DreamWorks, as it lowers the number of films it releases in any given year to two or three.
Conclusion
DreamWorks has a lot of work ahead of it to prove it is taking the right steps after a series of underperforming and disappointing film releases resulted in a loss of confidence in the direction the company was going and the management of the company.
Now that it has a new COO and CFO - both of whom appear to be highly qualified - it looks like the company is solidifying itself for the many strategies it is working on to diversify its revenue streams and boost earnings.
It was almost a must for Dragon 2 to do well in order for the company to gain some traction, and the company was able to successfully achieve that, bringing back some confidence in it.
That sets the stage for the highly-anticipated opening of the DreamCenter in China, which is positioned to do very well once it opens in 2017.
In the near term, it has its powerful Penguins of Madagascar set to be released later in 2014, which almost as sure a hit as you can get with a film.
Added together, it looks like DreamWorks may have a decent couple of quarters, although ongoing spend will likely offset a lot of that.
I want to see them get more aggressive with their consumer products unit, as the other segments are starting to gel and provide growth opportunities in the years ahead.
For the first time in a long time I'm liking what I see with DreamWorks, but it's going to take patient investors when taking a position in DreamWorks, as it's likely to take at least four years before the benefits of its current strategies and expenditures take hold.
Disclosure: The author has no positions in any stocks mentioned, and no plans to initiate any positions within the next 72 hours.
The author wrote this article themselves, and it expresses their own opinions. The author is not receiving compensation for it (other than from Seeking Alpha). The author has no business relationship with any company whose stock is mentioned in this article.