Gap's (NYSE:GPS) headline Q2 EPS of $0.74 beat consensus $0.69 mainly due to disciplined cost control. Revenue of $3.98b (+3% y/y) was in line with consensus and driven by strength in Old Navy where comps was +4%. Inventory management was encouraging as total inventory was up 6% y/y vs. 3% sales growth, the smallest gap since end of 2012. Inventory growth should be on par with sales growth going forward, which could be margin accretive. Athleta expansion is also on track, with 8 new stores in Q2 and with 100 stores in the US for FY14. However, the fluctuating comp sale is a cause of concern, reflecting unstable demand. Moreover, the softness in gross margin indicates that the company may continue to rely on promotional activities to narrow the inventory growth to sales growth gap. I am staying cautious despite the solid headline numbers.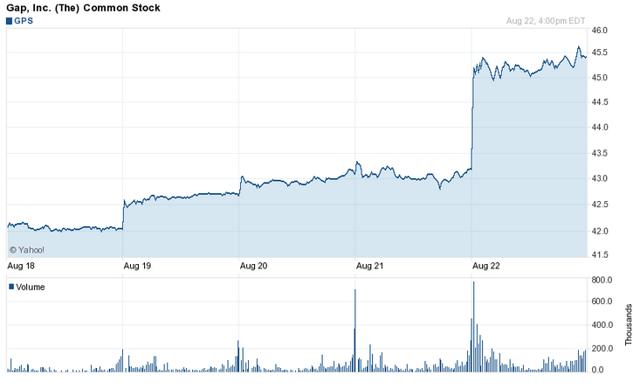 Volatile comps points to unstable demand
Total comp sale was flat for Q2 as strength in Old Navy (+4%) was offset by the weakness in Gap (-5%). Banana Republic closed the quarter with flat comps. Monthly comps points to an unstable demand environment with Gap saw -3/-7/-2% for the 3 months of the quarter and Banana Republic saw a bigger swing in comps with +3/-7/+6%. The volatility could indicate that the months with better comps were driven by promotional activities, which I view as unsustainable. I will be more constructive with the stock once I see a stable demand in the core brand and the upcoming back-to-school season could provide investors with vital clues on whether such stability can be achieved.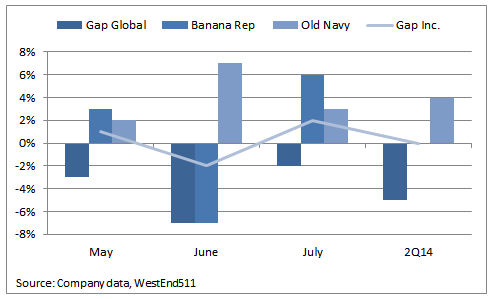 Gross margin to remain weak in the near-term
I expect gross margin to remain soft in the near-term as the company is unlikely to pullback on promotional activities. That said, investors can expect further margin pressure as Gap attempts to lower its inventory growth so that it is on par with that of the sales growth. Once the inventory is cleared up, margin expansion could follow due to the increased efficiency from the earlier investment in supply chain and infrastructure. On my observation, the company has made solid progress on improving its supply chain management to reduce raw material lead-time and improve the time to market to respond to consumer demand. This is critical in that Gap could achieve margin expansion in the second half of the year and effectively compete against the other fast fashion brands such as Zara and H&M. However, given the near-term headwind, I am remaining on the sidelines for now.
Disclosure: The author has no positions in any stocks mentioned, and no plans to initiate any positions within the next 72 hours.
The author wrote this article themselves, and it expresses their own opinions. The author is not receiving compensation for it (other than from Seeking Alpha). The author has no business relationship with any company whose stock is mentioned in this article.