In my last bullish article on Bankrate (NYSE:RATE), I said the stock was good for a fat short term return in May. It netted between 13-20% depending on how you timed it from $15. This fair value analysis was backed by a variety of measures, particularly a statistical assumption of $17.50 where it has traded time and time again. With a better price this time around, the stock is selling at $14.79 a share.
The Catalyst
In the last quarter, Bankrate missed analyst expectations on both the top and bottom line which generated a sharp decline in the stock by 15%. The consensus estimate was a non-GAAP figure of $0.17 but the company reported a $0.15 figure missing by roughly 12% on the bottom line. On the other side, there was an anticipated number of $135 which had a slight miss at $131, or 3%. While pretty disappointing on its face, management reaffirmed continued top line growth going forward for the year. Moreover, FCF generation is arguably what has made Bankrate such a valuable business in the first place, not short-term earnings.
Valuation
1. In the last article I said based on cash flows we could see a fair value averaging around $19 a share. Although, it seems the market is more concerned about the weakness in earnings and EBITDA, which also is a great reflective measure of value. So let's look at that. Management currently expects 81 cents in EPS can be achieved by the next fiscal year. A majority of analysts assume the business will be able to grow earnings at 19% annualized. If we apply that rate for the next 5 years with a terminal growth of 4%, fair value comes out to $20.84. If we cut the terminal rate in half, it still displays about $18 pps.
2. Bankrate has guided EBITDA of $141mm to $145mm, so let's take the average at $143mm. Right now enterprise value sits at the lower end of the historical range at $1.69b. Given we see a mean reversion to the yellow line that allots 10% upside.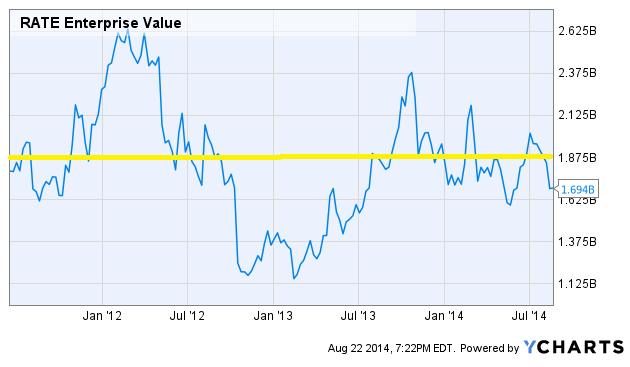 3. As of January 2014, EV/EBITDA for this industry comes out at an average of 15.21x. Despite that Bankrate has shown some near term headwinds impacting the bottom line, overall the company is fundamentally outpacing the industry very well (19% vs. 17.5%). To be conservative, say operations are comparable to that of an average business within the industry. Right now the company's EV/EBITDA is 11.85x. If we see it push back to the industry average, that would generate 28% upside, or $19 a share.
Technicals
Back in mid May, the stock set up very nicely on Stochastics and MACD histogram (both indicators agreed). Although, this case appears to be different where we are getting mixed signals.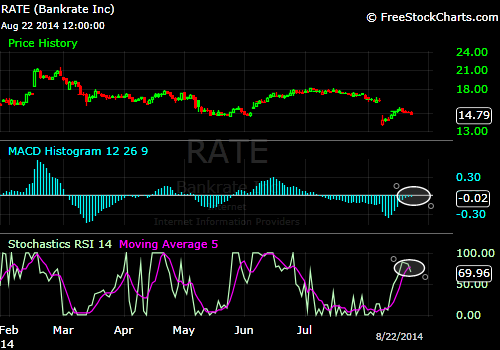 In the circles you will see that the MACD histogram is pushing back toward the zero point line, indicating imminent bullish price action. I think there is a pretty good possibility of upside from here given there was "emotional profit taking" directly after the near gap fill. From what I have seen, traders usually hop on this quick retracement. On the other hand, Stochastics RSI just experienced a bearish cross over which suggests selling will continue for the short term. Sadly this time it isn't such a clear call so waiting for a better set-up is likely warranted.
Bottom Line
Bankrate is a great company and appears to be unloved at the moment (be greedy when others are fearful). Fair value remains somewhere near $17-19 pps so it looks relatively undervalued by multiple measures. Hopefully selling continues over the next few weeks toward a lower price for an increased margin of safety. Again, I think this stock remains a better whipsaw prospect more than anything else, but long term investors could see a healthy annualized return as bottom line improvement will certainly revive bullish sentiment.
Disclosure: The author has no positions in any stocks mentioned, and no plans to initiate any positions within the next 72 hours.
The author wrote this article themselves, and it expresses their own opinions. The author is not receiving compensation for it (other than from Seeking Alpha). The author has no business relationship with any company whose stock is mentioned in this article.