My firm recently launched the ETF Analyzer app on Seeking Alpha, designed to help investors quickly find and evaluate ETFs based on forward-looking measures of investment merit. There is both a free version and a premium, subscription-based version, covering approximately 600 equity ETFs.
Before we describe the app in more detail, some background on our approach to ETF analysis is in order. Unlike some other forms of research that focus primarily on past performance, we instead apply traditional tools of security analysis to each underlying security, and then aggregate that data up to the fund level. The primary benefit of this approach is that it is forward looking. (For a more thorough discussion of the subject, download our guidebook, Research of ETFs, here.)
As a result, in addition to basic descriptive and performance data we are also able to calculate such fundamental metrics as sales, earnings, dividends, book value, etc.—both historical results and forecasts—for each ETF we cover. This way, investors can make more informed decisions about which funds best reflect their own investment strategy with critical information about profitability, changing expectations, and valuations. This is the same data set that we rely on to conduct research and write articles we've previously posted here.
The ETF Analyzer app distills this information into two tools: Fund Finder, which helps users find and rank ETFs according to criteria they select; and Fund Focus, which displays all of our data for any fund the user selects. In both modes, data is separated into four tabs described in the table below.
Table: ETF Analyzer App Functions
Tab
Contents
FREE

version

PREMIUM version
Descriptive
Sector & geographic allocation, top holdings, fees, AUM, etc.
Yes
Yes
Performance
Historical results and technical measures
Yes
Yes
Fundamentals
Sales, earnings, dividends, return on equity, margins,estimate revisions, etc.
Limited
Full
Investment

merit

Valuation metrics (P/E, P/CF, P/BV, etc.) and

our rating, the ALTAR Score™

Limited
Full
How is this useful to an investor? These tools help you view and value ETFs in disciplined yet familiar way, similar to how you would evaluate single stocks. Suppose you want to know which of the dozens of small cap ETFs is trading at the cheapest price-to-earnings multiple, or which Consumer-related fund is expected to see the fastest earnings growth next year? The Fund Finder can quickly find the answers.
Screenshot: Fund Finder- Fundamentals Tab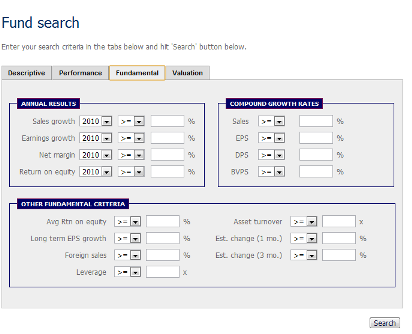 In reality, most screens will probably include multiple criteria. In any case, once an investor has narrowed the field, the Fund Focus tool can help in the final selection. Beyond differences in sector and geographic allocation between the dozens of emerging market ETFs, for example, the investor can quickly see what trade-offs may be implied by the underlying fundamentals. Does one have higher levels of profitability and faster expected earnings growth than others? If so, does it come at a valuation premium, and how much?
Screenshot: Fund Focus- Descrption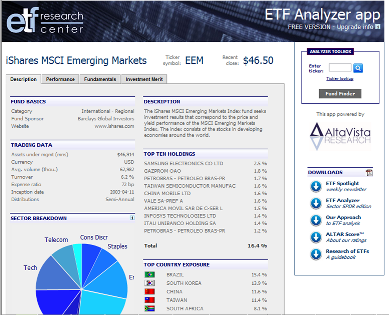 Screenshot: Fund Focus- Fundamentals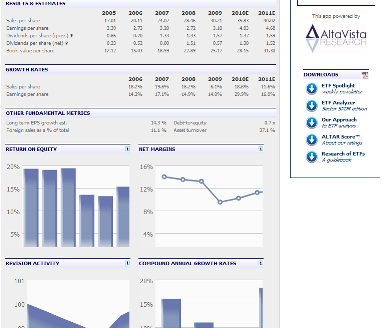 While opinions are what make a market and there may not always be clear-cut answers, these tools help investors select funds that are most consistent with their own strategy—whatever that may be and however they define it. We believe this puts investors in the position of being able to make a more informed investment decision based on their own preferences, rather than relying upon the recommendation an analyst (who may be a good analyst but has no knowledge of your individual situation or strategy).
Lastly, the app has quick links to each of the free reports that we publish, including the ETF Spotlight weekly newsletter, the monthly Sector SPDR Analyzer, and—coming soon—the Reporting Monitor, which will examine S&P500 earnings results during reporting season.