In 1996, Larry Page and Sergey Brin started Google (NASDAQ:GOOG) (NASDAQ:GOOGL) as a research project; they were collaborating on a search engine called "BackRub," which checked backlinks to estimate the importance of the site. In 1997, they switched servers and renamed the search engine "Google", and with encouragement from David Filo, Yahoo (NASDAQ:YHOO) Co-founder, Larry Page and Sergey Brin left Stanford to establish Google, Inc.
The rest is as they say history.
By the time of its IPO, Google had firmly established itself as one of the most dominant search engines in the world. The shrewd management of the Google team was on display with the decision to sell advertising based on search key words (an innovative/revolutionary model at the time). The result was a clean search-engine that was uncluttered by advertisements and allowed for faster speed.
Google was not satisfied and continued to expand its business through innovation and acquisition. The release of products like: Gmail, Google Maps, Google+, Google Play show management's commitment to further the Google brand and gain a larger consumer base.
Investors should also be greatly encouraged by Google's history of successful expansion through acquisition. In the course of its 14-year history, Google has purchased more than 100 other businesses - spending over $22 billion in the process. Notable acquisitions include: YouTube ($1.7 billion), DoubleClick ($3.1 billion), and Nest Labs ($3.2 billion).
Perceived gambles at the time have turned into massively successful hits. In 2005, Android was a 22-month-old startup that was relatively unknown. It's now become a core of Google's mobile operating system, and powers over 1 billion smartphones and tablets.
Google is one of the best run and most technologically advanced companies in the world. The internet pioneer's popular search engine controls nearly 90% of worldwide market share with no sign of relinquishing its stranglehold.
With the recent introduction of Google Fiber to Kansas City neighborhoods, there is no reason to believe that Google will not succeed in revolutionizing broadband service.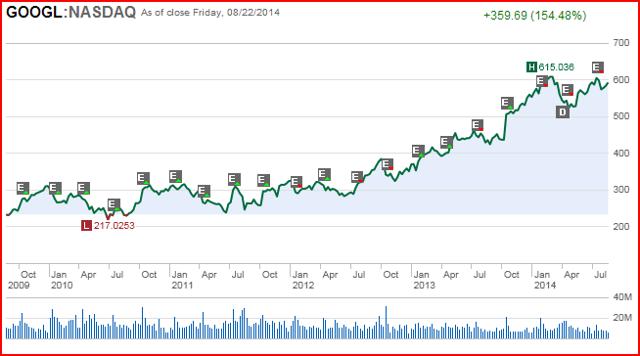 (Source: Schwab)
Background
Even without the poor service, slow speeds, and high cost of most broadband service, the need for a faster and more reliable broadband was evident with the growing popularity of websites like Hulu, Netflix, and Google-owned Youtube.
Google searched for ways to provide faster Internet speeds at lower cost, via everything from high-speed fiber to satellites. The result was Google Fiber.
At up to 1,000 Mbps, Google Fiber is 100 times faster than today's basic broadband. The result is instant downloads, clear high-definition TVs and lower cost to the consumer.
In 2011, Google accepted the application of both Kansas City, Kan., and Kansas City, Mo., to build the service based on customer demand.
Google divided the Kansas City region into areas of a few hundred homes that they called "fiberhoods" and asked residents to pay $10 to preregister for a service that would operate at one gigabit per second, about 100 times the U.S. average. The service now costs $70 a month.
Bernstein Research sponsored a survey of the five participating neighborhoods and learned that more than half of households had signed up for the service; they concluded that the service would be "very profitable."
Google Fiber has expanded to provide service in Austin, Texas and Provo, Utah. Google has also announced that "We've started early discussions with 34 cities in 9 metro areas around the United States to explore what it would take to bring a new fiber-optic network to their community."
Google Fiber will leave other broadband companies struggling to keep up.
Hiccups, competition, and controversy
Some non-profits and other advocates have spoken out against Google Fiber for not being "fair" in its neighborhood selection process. Many argue that Google Fiber has only been implemented in the best neighborhoods, leaving the poor and misfortunate behind. General Manager of Google Fiber, Kevin Lo, was quick to rebuke these concerns. He stated that Google isn't cherry-picking the best neighborhoods or ignoring poorer areas. Of the city's 20 lowest-income areas, he said 19 qualified for Google's fiber service. In addition, Google Fiber agreed to provide services for libraries and other public areas in Kansas City.
Hiccups
The rollout of Google Fiber hasn't gone perfectly. In Austin, Texas, the local government requested $1 million to help fund, "temporary staffing and other efforts related to Google Fiber and AT&T's (NYSE:T) major fiber optic projects."
In addition, Missouri residents have complained to officials that Google Fiber workers tear up their yards, leave huge messes during off-hours, and have broken gas lines, to name a few problems.
Competition
I think the biggest competition to Google Fiber is AT&T's U-verse. It has over 10 million customers and its fiber option, GigaPower, currently offers 300 Mbps internet to Austin residents for $99/mo. "Strong wireless growth, intro of U-Verse TV service and strategic business services, helped AT&T to achieve the best consolidated growth of 3.6% in two years." The battle in Austin may foreshadow future battles yet to be fought in other select neighborhoods across the United States.
Initially, AT&T may have underestimated the threat faced by Google Fiber. During Google's initial launch in Kansas City, AT&T signed a deal with Google allowing them to access their utility poles for an undisclosed sum.
In Austin Texas, AT&T has had a change of tune, fighting to keep Google from using its telephone poles. The Austin City Council is resorting to making those poles a type of public property to allow Google paid access to them.
Conclusion
Google has a history of success and innovation that is unparalleled. The introduction of Google Fiber will do more than push the cable companies to provide better service but will gradually see Google Fiber take more and more of the market share from the big broadband networks. One of the keys to Google Fiber's success is the management's team's ability to keep installation costs low by choosing their neighborhoods. Google has seen nothing but success and I would not bet against them here. The frontier of next generation broadband is Google's to lose.
Disclosure: The author has no positions in any stocks mentioned, and no plans to initiate any positions within the next 72 hours.
The author wrote this article themselves, and it expresses their own opinions. The author is not receiving compensation for it (other than from Seeking Alpha). The author has no business relationship with any company whose stock is mentioned in this article.