Whenever you do any fundamental analysis on a technology company, you have to compare it in relation to something else. But in the case of Amazon (NASDAQ:AMZN), there aren't that many comparative options. Comparing it to brick and mortar or eBay (NASDAQ:EBAY) doesn't do it justice. eBay's marketplace platform isn't likely to grow to be as large as Amazon's every-day-low pricing model.
However, Amazon's front-end retail business isn't its only growth business. It also has Amazon Prime Video, wholesale, third-party marketplace and fulfillment, and Amazon Web Services. These growth categories add significantly to Amazon's present valuation, even though the total revenue contribution remains small at the present moment.
Offering a fair valuation or even reading into the ratio metrics is rather difficult. Well, to be more specific, they're extremely miss-leading, because Amazon is going through an investment period, where costs are inflated. The lack of profitability comes from aggressively spending on head count, technology, development, back-end servers, media licensing, and etc.
Amazon doesn't define its success in terms of GAAP earnings metrics, but instead focuses on growing its top line revenue, and its non-GAAP cash flow figure. Again, this strategy has supported its extremely high valuation in relation to earnings and sales. But it doesn't offer capital returns in the form of dividends and share buybacks.
Fundamentals of the retail business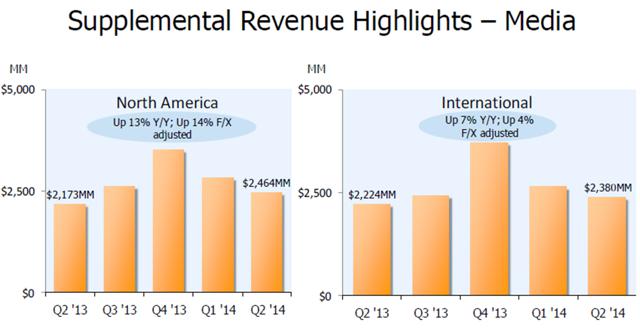 Click to enlarge
Source: Amazon
The media segment is the slower growing of the two segments; however e-commerce penetration has continued to trend higher. The media business faces some challenges as Amazon isn't going to be the only digital market place. Amazon's media segment is inclusive of books, music, movies, video games, console systems, software, and digital downloads.
If you look at the Android and Apple (NASDAQ:AAPL) application store, you can find many of the same products that Amazon markets in their digital format. However, the key differentiator between Amazon and Apple/Google is that Amazon is marketing these products on a web based store, whereas Apple and Google are selling media via an application that they monopolize.
Therefore, Amazon's growth rate in its media segment is declining due to competitive pressure even though the market opportunity is large. Amazon will grow alongside Apple, and Google app store. But it's unlikely that Amazon will monopolize media, as both Apple and Google are much better positioned in digital media.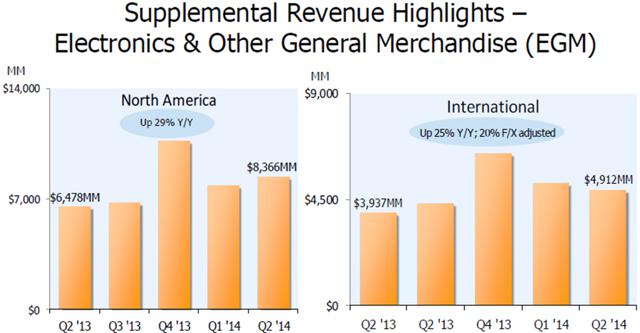 Click to enlarge
Source: Amazon
The electronics & other general merchandise segment still generates high growth rates. This is the segment that competes directly with brick and mortar retailers. The electronics and other general merchandise segment sells computers, office supplies, electronics, home and garden, grocery, health products, beauty products, toys, baby supplies, apparel, jewelry, outdoor goods, sports equipment, tools, auto parts, industrial parts, and digital devices(excluding console game system as that's part of the media segment).
This segment is the most important to the company, and it's what supports the vast majority of Amazon's present valuation.
Amazon's warehouse distribution, paired with various cost management techniques, allows the company to price physical products at a discount when compared to other retailers, inclusive of Wal-Mart (NYSE:WMT) and Costco (NASDAQ:COST). In fact, Amazon is so price competitive, that it's responsible for disrupting the whole entire retail ecosystem. Retail spaces are expected to shrink in size, as retailers are expected to become much more specialized, and more digitally focused.
Amazon Web Services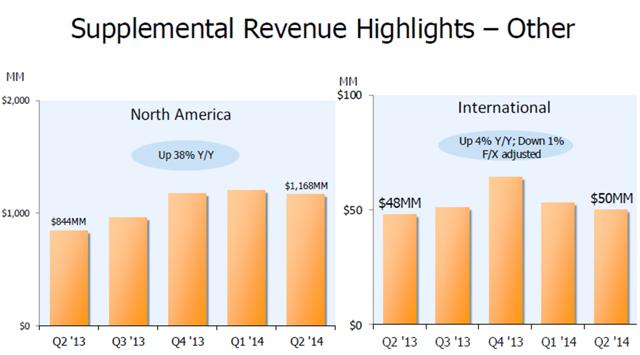 Click to enlarge
Source: Amazon
Amazon Web Services is Amazon's IaaS, PaaS, and SaaS platform. The vast majority of the potential lies in the infrastructure part, where companies rent Amazon servers. This business model is highly capital intensive, as server farms cost a lot of capital to build out. Also, because data needs are growing at such an exponential rate Amazon's capital investment will grow at a blistering rate.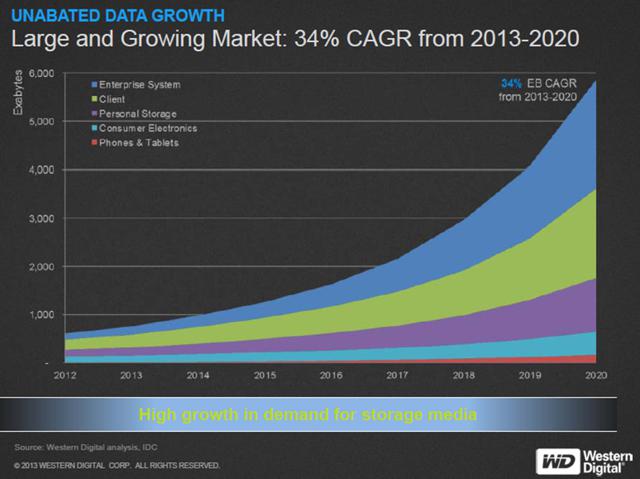 Click to enlarge
Source: Western Digital
Data is expected to grow at a 34% CAGR; however, enterprise system growth is the fastest growing category, paired with client.
As more data moves over to the cloud, the back-end infrastructure needs will grow exponentially. Amazon has the most market share amongst peers in its space, and it's likely that the company will continue to invest to keep up with forecasts in data consumption, usage, and storage.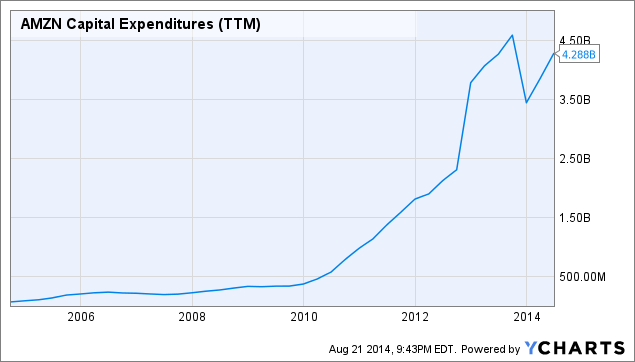 Source: Ycharts
Over the past ten-year period, Amazon's capital expenditures have consistently trended higher. As I have already mentioned earlier, this trend is likely to continue.
Because Amazon is hit with many non-cash charges like depreciation and share based compensation the company doesn't generate net income on a GAAP basis, even though it generates cash from its operation, which goes back towards capital investment. The cost flows makes the company look extremely expensive by conventional measures, as the company has both high capital needs, and low profit margins. However, the low profit margins, paired with excessive capital needs comes with great growth potential, as Amazon is a dominant player in high growth markets.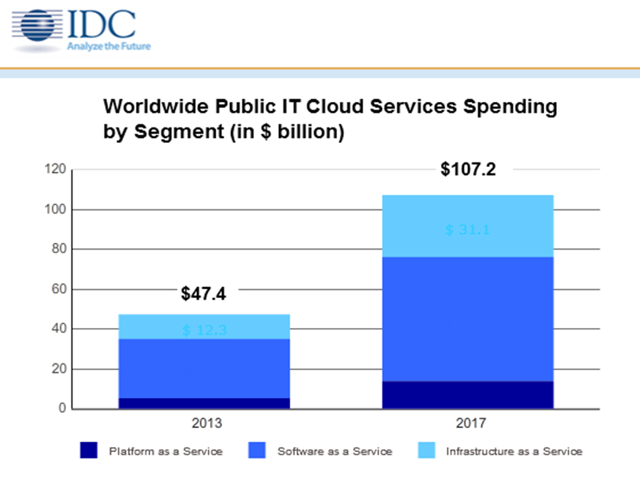 Click to enlarge
Source: IDC
The cloud is expected to grow at fairly high rates, according to IDC:
By 2017, IDC expects public IT cloud services will drive 17% of IT product spending and nearly half of all growth across five technology categories: applications, system infrastructure software, platform as a service (NASDAQ:PAAS), servers, and basic storage. Software as a service (NASDAQ:SAAS) will remain the largest public IT cloud services category throughout the forecast, capturing 59.7% of revenues in 2017. The fastest growing categories will be PaaS and Infrastructure as a service (IaaS), with CAGRs of 29.7% and 27.2%, respectively.
Conclusion
It's hard to penalize the company, for making the most of its financial resources. The company has great growth potential going forward based on outward looking forecasts. However, the stock is extremely sensitive to earnings results, especially when top line numbers miss. Also, the company doesn't have a capital return program in place, and it's not going to for quite a while. Every now and then Amazon's side projects cost shareholders significant amounts of money (Amazon Fire phone), and the Kindle does little to drive sales in the media segment.
Investors have to weigh the pros and cons of investing into Amazon very carefully. It's a very difficult investment opportunity to keep up with, and there are compelling opportunities in the tech space that are simpler to understand. Also, the retail business is a low margin business, and the cloud business is very capital intensive, when you combine the two under one entity, you have extremely thin profit margins that are compressed due to depreciation related expenses, and the on-going growth story causes the valuation to trend higher, which eventually results in share based compensation expenses.
The free cash flow metrics are also misleading, because the company has to invest on the front-end, as the needs of the business demand high investment in anticipation of future demand. Data needs are expected to grow at a really rapid pace, and to keep up, investment into infrastructure will be extremely demanding, and will eat into whatever cash that's left from operations. However, beyond data center needs, Amazon also needs to invest into warehouses, for its retail operation. The two combined make it difficult to value the business on a cash flow basis, earnings basis, and the inflated price to sales ratios are driven by the high growth potential.
Disclosure: The author has no positions in any stocks mentioned, and no plans to initiate any positions within the next 72 hours.
The author wrote this article themselves, and it expresses their own opinions. The author is not receiving compensation for it (other than from Seeking Alpha). The author has no business relationship with any company whose stock is mentioned in this article.