With its major Chinese competitor Alibaba accounting for 80% of the estimated $300 billion online shopping market in the country, Amazon.com (NASDAQ:AMZN) announced it has signed a deal recently to launch operations in the new free-trade zone in Shanghai.
This comes on the heels of the $126 million loss in the second quarter, as Amazon continues to spend millions on expanding to numerous markets and segments. At the same time, it is taking a hit because it is underwriting some of its delivery charges, which has become a big part of the losses.
In the next quarter the online retail giant is expecting losses to come in at about $810 million. Last year in the same quarter losses were a comparatively mild $25 million.
CEO and founder Jeff Bezos doesn't appear to be too concerned with this, even though the company has made a number of announcements recently concerning entry into a variety of markets and segments; presumably to show and remind investors what the company is spending the money on and get a feel for the potential future returns on those investments.
Among them are Local Register, its entry into mobile payment point-of-sales; online advertising software; pop-up stores; and starting to sell physical books in Brazil, among others.
(click to enlarge) source: StockCharts.com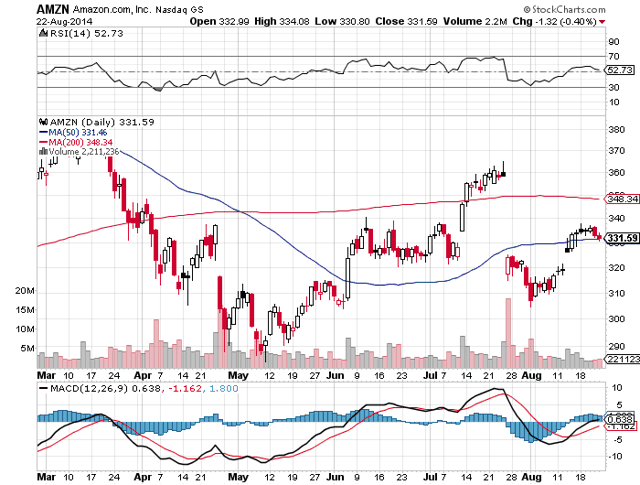 Amazon's China Strategy
Part of the strategy Amazon will deploy in the Shanghai free-trade zone is it will be able to sell more products from overseas to the Chinese market. That is the major impetus behind battling to take market share from Alibaba.
With about $300 billion at stake, with approximately $240 billion of that market cornered by Alibaba, any decent progress will result in some good numbers for Amazon.
From the Chinese consumer point of view, it will provide numerous options to what is offered by Alibaba and others, which should be a catalyst for Amazon over time, once it better establishes its foothold because of more options now available to it.
What China gets out of it
Municipal authorities in Shanghai said Amazon will be building a logistics warehouse for the purpose of increasing the number of exports that are made by Chinese companies.
With China's economy slowing down, this is a tantalizing offer it apparently wasn't able to refuse. The reach of Amazon around the world makes it a big win for China, while Amazon gets more flexibility in the Middle Kingdom.
That includes the freedom to make payments across borders, as well as being able to take advantage of the free trade zone with various innovations on the financial side, according to Shanghai authorities.
Alibaba
I can't help but think that this announcement, which is less than a month before the listing of Alibaba on the New York Stock Exchange, was an attempt by Amazon to steal some of the thunder of its Chinese rival as the day approaches.
It could also be a strategic move to keep the investing public from embracing its huge rival at the expense of interest in its own stock.
That's obviously not the main reason for the move to the free-trade zone, but the timing of it is without a doubt for that purpose.
With Amazon on a spending and expansion spree, Alibaba could look a lot better in the short term; assuming it gets a push in the near term after its debut on the NYSE.
What will be very interesting is if Alibaba uses some of its capital to aggressively come after Amazon in its own back yard, as well as other international markets. It's definitely a threat that Amazon has to deal with, which is one of the reasons it is pursuing the free-trade zone.
Conclusion
There are several moves lately I've liked by Amazon, and even though it's not overly concerned about the increase in spending and the time it's taking to reap the benefits of its many projects, there is no doubt in my mind it's not just a plethora of things thrown out just to see what will stick.
For example, its mobile point-of-sale launch has a number of possibilities that could boost revenue and earnings from domestic businesses, which over the long term could be huge. (You can click on the link right above the chart to see more on that.)
As for its free-trade zone presence, there is also huge potential there, where any increase in Chinese market share could add a billion to the top line of Amazon.
What's important is this and other projects aren't small ones, but have the potential to increase revenue in the billions over time, which would definitely push the share price of the company up.
For now, investors are remaining patient, but there are some rumblings of discontent, so Amazon will have to do something to assuage that. It could simply continue remind shareholders and potential investors of the potential many of these initiatives could bring, or find a decent size project which would become significantly and immediately accretive to the company. The latter isn't an easy step to take, and could backfire if the company were to give in to pressure.
So far I like the discipline of Amazon's management when under pressure, and over time I think many of these projects will generate significant revenue and earnings. China should be one of them.
Disclosure: The author has no positions in any stocks mentioned, and no plans to initiate any positions within the next 72 hours.
The author wrote this article themselves, and it expresses their own opinions. The author is not receiving compensation for it (other than from Seeking Alpha). The author has no business relationship with any company whose stock is mentioned in this article.