Whirlpool (NYSE:WHR) is the largest global manufacturer of home appliances. Exactly how large isn't obvious until you go to an appliance store. The company makes everything, and owns many of the major brands.
I bought a new washing machine a few weeks back. It was a real eye-opener on Whirlpool's market share. The store I bought from had 10 different brands of washing machines for sale: half of them were Whirlpool-owned brands.
The value of several brands
The component differences between a Whirlpool brand washing machine, a Maytag (owned by Whirlpool), an Amana (owned by Whirlpool) and so on is pretty negligible. On the surface, it may not be apparent why Whirlpool continues to make such a large number of brands of appliances.
The answer is brand loyalty. A customer who had a good experience with, for example, an Admiral washing machine is probably going to want to buy another. It makes sense, then, for Whirlpool to keep making Admiral-branded machines, since those machines would have an advantage in landing that customer. If after buying out a former competitor the company just shuts it down, the Whirlpool machine would only be one of many equal choices for that customer who wants an Admiral.
This is useful in the US, and even more so in foreign markets, where Whirlpool would be a "foreign brand," but some Whirlpool-owned label, like Consul in Latin America or Bauknecht in Germany, is seen as a domestic brand.
Flat sales but rising margins
Being the premier appliance manufacturer on the planet means there isn't a ton of growth opportunity for Whirlpool. Sales are largely flat year-to-year, and growth would primarily be driven by rising new home sales, since those new homes would need new appliances.
That doesn't mean there's no hope for increased earnings, however. Whirlpool has been doing an admirable job in decreasing its costs, both production costs and administrative costs, which is bringing up both its operating profits and net earnings.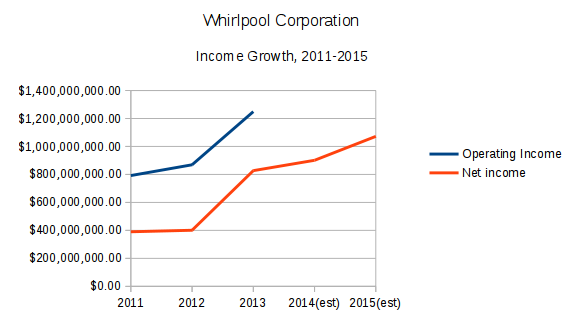 Net earnings have more than doubled from 2011 to 2013, and are expected to keep rising in FY2014 and FY2015. Its margins are best in North America and Latin America, which conveniently enough are also its largest markets. Sales are expected to grow very modestly while those margins keep getting better, meaning a healthy bottom line.
At current levels, we're talking about a 14.8 PE ratio, and a 13.1 forward PE. That's quite cheap when one is talking about a well-run market leader like Whirlpool.
The book value isn't a tremendous bargain, only about $5.3 billion in assets above and beyond total liabilities. That's understandable, however, because the company is executing so well, and with earnings growing as they are there's just no way the company would be trading any closer to its asset value.
Dividends on the rise
Whirlpool is the prototypical blue chip stock at this point - a market leader trading at a reasonable price with plenty of cash on hand, $945 million as of the end of Q2, to weather any conceivable storm.
What we want to see next in considering it as an income stock is whether it is paying a good, sustainable dividend. An eye toward dividend growth is just gravy on top of this, and we have good news again.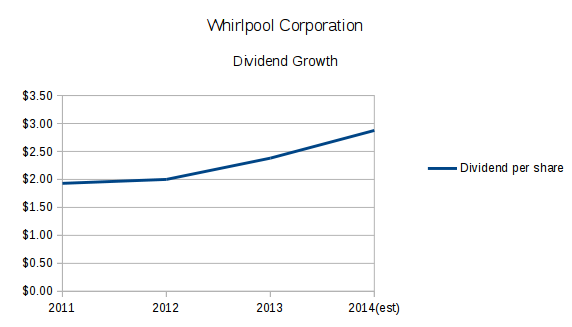 What we find is a very modest payout ratio, with the company putting just over a quarter of its earnings into dividends. That's very sustainable, and very growable.
The growth is more good news. In Q2 of FY2013, Whirlpool bumped its dividend from $0.50 per quarter to $0.625. Then, in Q2 of this year, the company bumped it again, from $0.625 to $0.75. Going forward that means a $3 per year dividend, about 2.2% yield, which is solid, and seems primed for further growth in the future.
Returning value to the shareholders is job one for any well-run company, and in addition to the dividends, Whirlpool announced a $500 million stock buyback program in April.
A company that's avoided the temptation to dilute, Whirlpool doesn't have a ton of shares outstanding, and the $500 million buyback, at the current price, would knock about 4.2% of the total shares out of the market. That should translate into an excellent return on investment for those holding shares long-term.
Conclusion
Whirlpool may not be the most exciting company for investors looking to make huge overnight gains, but it has proven time and again it is on the right track in both earnings growth and returning value to shareholders.
A growing dividend and a stock buyback program are both great ways to make long-term investors happy. Whirlpool's penchant for buying out competitors continues as well, with the latest deal acquiring a controlling share of Italian appliance maker Indesit. That's a great sign that the company is not simply resting on its laurels, but is continuing to execute on the strategy that has taken them from just one face in the crowd to the dominant player.
There are surely cheaper plays to be had out there, but none with the market position Whirlpool enjoys. For those looking for safe earnings and income growth at a reasonable price, Whirlpool definitely warrants consideration.
Disclosure: The author has no positions in any stocks mentioned, and no plans to initiate any positions within the next 72 hours.
The author wrote this article themselves, and it expresses their own opinions. The author is not receiving compensation for it (other than from Seeking Alpha). The author has no business relationship with any company whose stock is mentioned in this article.