Citigroup (NYSE:C) could soon seek an exit from the retail banking business in Japan, as the investment bank restructures its global operations following several problems with U.S. and international regulators.
For many years, Citigroup has been the leading U.S. bank in Japan, and it may consider divesting itself of its retail operations there through an auction. This would refocus Citigroup's Japanese division on corporate banking, trading and investment banking. Currently, Citigroup has 33 retail locations in Japan with total deposits of nearly 4.0 trillion yen (approximately $38 billion).
Citi's Global Operations
Citigroup has operations in approximately 100 countries, making it the most highly diversified U.S. investment bank across the globe. However, it has been reducing its exposure overseas since the financial crisis to streamline operations.
Earlier this year, the bank encountered a setback when the Federal Reserve Bank declined its share-buyback and dividend plans, noting that measuring the effects of the recession on international operations remained too difficult.
Citigroup indicated that it intends to focus on regions with the highest potential for growth in retail banking. Meanwhile it will avoid slow-growth countries and small cities.
Declining Growth in Japan and Other Markets
The loan growth in Japan has weakened lately, and interest rates continue to hover close to zero. This makes it very difficult for banks to produce lending profits.
Chief Executive Michael Corbat has led the bank's efforts to discard retail locations in countries including Turkey, Honduras, Uruguay, Romania and Paraguay. Over the summer, the bank sold its retail banking operations in Spain and Greece.
Over the last 10 years, Citigroup has streamlined and reduced its Japanese retail operations through restructuring and divestitures after facing problems from regulators.
Citi Operations Previously Suspended in Japan For Criminal Activity
In 2004, Japan's financial regulator, the Financial Services Agency (FSA), commanded Citigroup to close its private banking division in Japan, noting inadequate anti-money-laundering policies and improper trading procedures. Then in 2009, the FSA suspended sales at Citigroup's retail locations for one month after discovering continuing weakness in its anti-money-laundering practices.
In 2011, the FSA demanded that Citigroup improve its sales activities after employees sold financial instruments without properly disclosing the level of risk. In addition, the FSA found that staff had recommended improper financial products for some clients. Later that year, the FSA banned the bank from buying and selling some derivatives for 14 days in response to an alleged effort to influence the Tokyo interbank rate, the Japanese equivalent to the LIBOR rate.
Citigroup has faced continuing criticism from Japanese regulators over its lack of communication with the regulating agencies. Following the latest penalty, the FSA acted to investigate Citigroup's Japanese operations on a regular basis focusing on its business model, internal controls and financial instrument sales activities. As a result, Citigroup has restructured its senior management in Japan and recruited more local executives with excellent knowledge of the local culture to reassure the regulators.
Small Piece of Citi's Puzzle; Large Stigma For Investors
While Japan represents a small piece of the bank's overarching strategy (less than 1 percent of total consumer loans for the second quarter of 2014), greater stigma surrounds Citi overall.
Due to the bank's recent settlement ($285 million for fraud), Citigroup is currently barred from selling private offerings of hedge funds and private equity funds - an area in which rivals are quickly progressing (see Blackstone's recent moves in Asia). The SEC's bad actor" rule, adopted last July, bars companies, such as Citigroup, with a criminal conviction after September 2013, from participating in private offerings.
Citi has posted mixed results the past five quarters-beating expectations for both revenues and earnings-per-share three out of five times. Recently, despite some bright spots, such as a relatively strong gross margin profit of 40.66%, revenues were weak, and C's 0.78% net profit margin trails the industry average.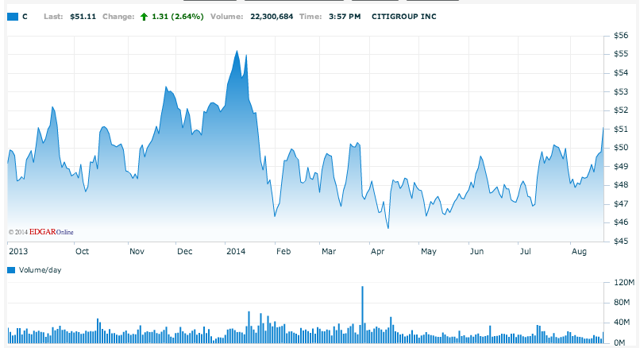 Click to enlarge
(Nasdaq.com)
C has not raised dividends since 2008.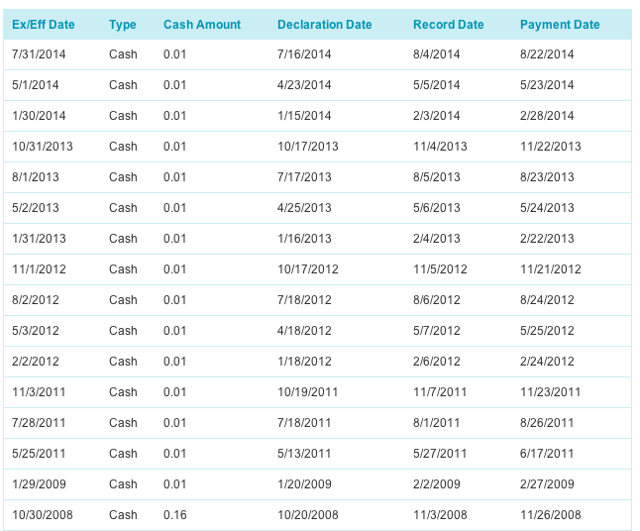 Click to enlarge
(Nasdaq.com)
We suggest alternatives to this financial institution, such as Morgan Stanley (NYSE:MS) and even, cautiously, Bank of America (NYSE:BAC), following its impending settlement, moving ahead in 2014.
We invite readers wishing to join the discussion on Citigroup and other mega-banks to click +FOLLOW above the title of this article, and those looking for the latest developments to click the +Get real-time alerts button.
Disclosure: The author has no positions in any stocks mentioned, and no plans to initiate any positions within the next 72 hours.
The author wrote this article themselves, and it expresses their own opinions. The author is not receiving compensation for it (other than from Seeking Alpha). The author has no business relationship with any company whose stock is mentioned in this article.