A nasty trend has become apparent over the past several months. While there has been irrational exuberance over a housing bounce back over the past year, the foreclosure rate has started to level off at a still very high level.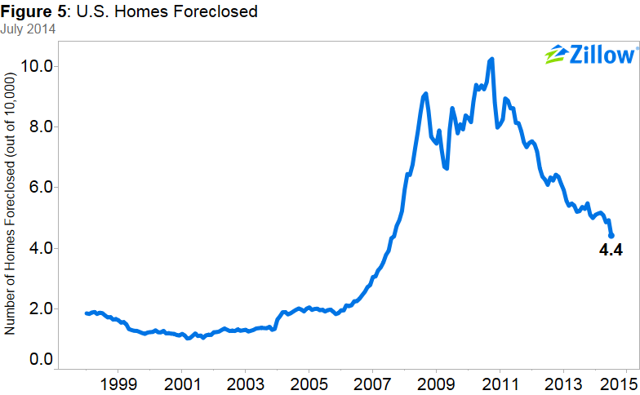 Click to enlarge
Source: Zillow
Other than a blip in July's numbers, we see a much flatter curve over the latter half of 2013 and the start of 2014. This foreclosure rate is still far above the pre-peak rate, indicative of a homeowner that is not as well-off as most market pundits seem to think. Still, interest rates have not risen and home prices have been rising, so what is behind these numbers?
Home Equity Lines of Credit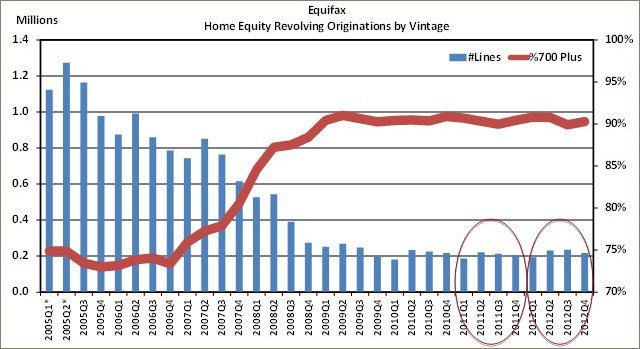 Source: Keith Jurow
Most HELOCs originated between 2004 and 2008. What is most interesting (or terrible) about these loans is that they were interest-only for about 5 to 10 years. After this window (i.e. right now), the loans would reset and become fully amortizing. This will cause a huge increase in payments. One has to wonder, with the amount of debt that most consumers are already in, is there any way that they will be able to pay these loans?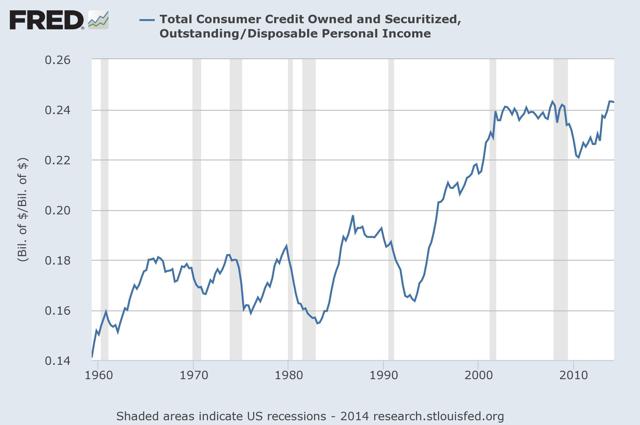 Click to enlarge
HELOCs are Rising Up Again
As if this ticking time bomb was not enough, a new trend has started. With rising home prices, we are seeing the same trends that forced many homeowners into foreclosure during the last cycle. Earlier this year, Equifax reported that new HELOC volume is up 18.4% year over year (as of April of this year). It is understandable that consumers would take out these loans. Consumers are facing large levels of debt, and the interest rate on a HELOC versus a credit card is massive. However, as we saw during the last bubble, betting on these home prices sustaining is a very risky one, and should home prices fall, homeowners will walk away.
Also noted from Equifax was the following:
Of total severely delinquent balances, 69% are from loans originated from 2005-2007.The total balance of severely delinquent loans in March 2014 is slightly more than $8 billion, a five-year low.
Important to note from this is that the 10-year interest-only payments have not reset for these group of loans. Even with that fact, the majority of the delinquent balances are from this 2005-2007 group. It does not take much to envision how delinquencies will change when the loans are reset and monthly payments soar.
Impact on Markets
An increase in default rates will be awful for the housing market. Home prices have already begun to decelerate their growth and it looks as if we are just a few months away from falling home prices year over year. With seasonally adjusted Case-Shiller 20 City data, we are already there month over month.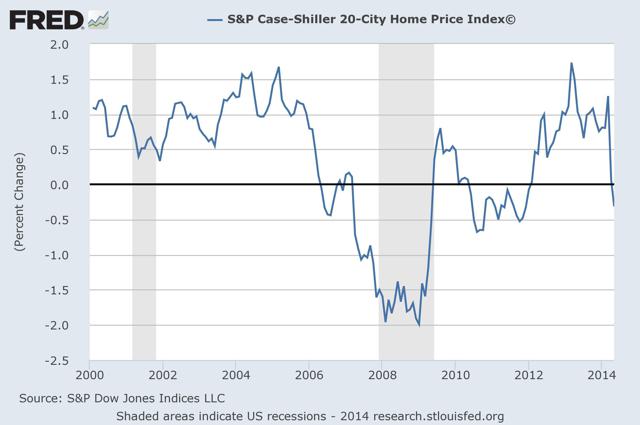 Click to enlarge An uptick in foreclosure rates due to rising defaults on HELOCs will exacerbate that trend and may bring on the collapse of the housing market sooner than expected. Not only will the housing market be impacted, but also the financial market will be affected.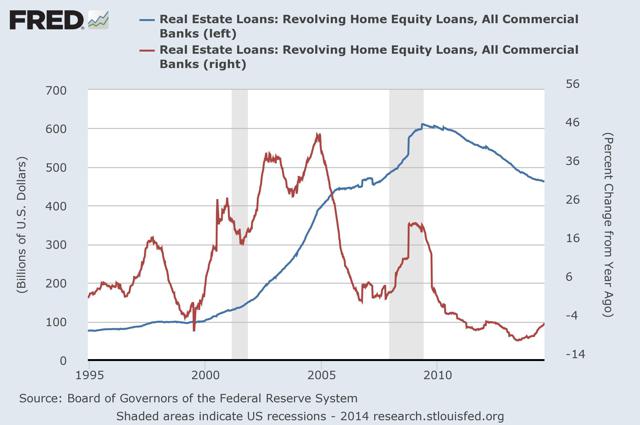 Click to enlarge
Banks are still on the hook for more than $400 billion in home equity lines of credit. A significant uptick in the default rate on those loans will be horrible for banks. Also concerning is the fact that the decrease in the total amount borrowed here has slowed down. Over the past year, there has been a definite slowdown, and with home prices still rising and rates still attractive, we may soon see growth in the total amount loaned out (though the HELOC default rate may rise before that happens).
Action to Take
As usual, I am still short on the housing market. An increase in foreclosures will bring homebuilders to their knees, as they have been ultra bullish on the market and have risen housing starts even above analyst expectations. I continue to short homebuilders through the SPDR S&P Homebuilders ETF (NYSEARCA:XHB) and short housing in general through iShares US Real Estate ETF (NYSEARCA:IYR). In addition, based on the massive debt levels that most consumers are carrying and the threat of resetting HELOCs, I am also short the financial sector and would recommend doing so by betting against the Financial Select Sector SPDR ETF (NYSEARCA:XLF).
Disclosure: The author is short XHB, IYR.
The author wrote this article themselves, and it expresses their own opinions. The author is not receiving compensation for it (other than from Seeking Alpha). The author has no business relationship with any company whose stock is mentioned in this article.