In this article, we explain why we are long Aeropostale (NYSE:ARO). ARO has historically been a well-managed retailer experiencing strong growth, above-average margins, and high returns on capital. While the company is operating at peak margins, has a maturing store base and faces tough prior year comparisons, the stock's current valuation nevertheless seems too cheap. ARO trades at 4.1x EV/EBITDA and 10x P/E.
In addition, in the event of a double-dip recession, ARO is better positioned than most other teen retailers, given its low-price status within the teen fashion segment.
Our full analysis can be found on our website by clicking here, but in this Seeking Alpha post, we'll highlight some of our key points.
Business Description
Aéropostale (the "Company") is a mall-based specialty retailer of casual apparel and accessories. As of October 30, 2010, the company operated 958 Aéropostale stores, consisting of 904 stores in 49 states and Puerto Rico and 54 stores in Canada. The Aéropostale banner designs, markets, and sells merchandise principally targeting 14- to 17-year-old young women and men. The company offers a collection of apparel, including graphic t-shirts, tops, bottoms, sweaters, jeans and outerwear, as well as accessories, including sunglasses, belts, socks and hats.
The company's IPO occurred in May 2002, and the company has grown from 300 stores, $550m of revenue and $60m of EBITDA in FY 2002 to 950 stores, $2.2bn of revenue and $440m of EBITDA in FY 2009. That tremendous growth was done with no acquisitions and no equity raises since 2004. In fact, outstanding shares have steadily declined from 127m shares in 2004 to 88m shares today, thanks to share repurchases. The stock has risen more than 7x in the past seven years. Here are some relevant charts demonstrating ARO's impressive growth.
click to enlarge images

As of October 30, 2010, the Company also operated 44 "P.S. from Aéropostale" stores, which cater to children ages 7 to 12, and pursuant to a licensing agreement, the company had an international licensee which operated eight Aéropostale stores in the United Arab Emirates.
Operating Trends
The ARO of today is obviously not the ARO of 2003. Management has previously guided that the Aéropostale store base would mature at 1,000 to 1,200 stores. At the most recent quarter-end, the Aéropostale store count stood at 958. If we assume a store unit growth rate of 5% to 10% in future years, which is below the company's historical average of 10% to 15%, we should see a mature store base within several years..
Second, the company's margins and revenue per square foot have reached peak levels, whether compared with historical metrics or the metrics of other mall specialty retailers. The company's EBITDA margin stood at 20% in the last twelve months ended 10/30/2010, compared with an average of 15% from 2005 to 2009. We've provided summary operating metrics for some comparable companies in this attachment, and we can see that the mean and median EBITDA margins for comparable companies is 13%-14%.
ARO's average sales per square foot are also at peak levels. They were $624 in fiscal year 2009, compared with $534, $543, $545, and $572 in fiscal years 2005 to 2008. In our comparable companies analysis, we can see that the mean and median sales per square foot are $353 and $426 for the comparable companies. Like its peak margins, ARO is also experiencing frothy sales per square foot. The problem with the company's excellent operational execution is that ARO's metrics are likelier to deteriorate than improve from current levels.
Finally, let's look at same-store sales growth. The company posted same-store sales growth of 10% in FY 2009 and 8% in FY 2008. While competitors like Abercrombie & Fitch are rebounding from double-digit same-store sales declines in 2009, ARO is struggling to match its strong sales from last year. Its same-store sales growth was 8% in Q1, 4% in Q2 and 0% in Q3 of this past year. Here is a table showing monthly same-store sales growth for ARO during the past 4 years.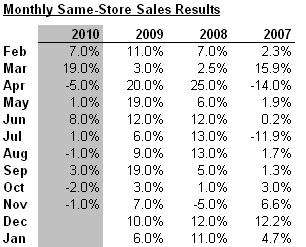 As we can see, ARO's same-store sales growth is slowing down and has been negative in three of the past four months.
Valuation
As our previous section demonstrated, ARO faces headwinds in its effort to maintain its historical growth trajectory. While we may not necessarily see declining profit numbers in fiscal years 2011 - 2014, we should expect growth to be lower than in prior years and for margins to potentially deteriorate.
All of that said, the company's valuation is too low. Here is a table comparing ARO's valuation multiples to other comparable companies: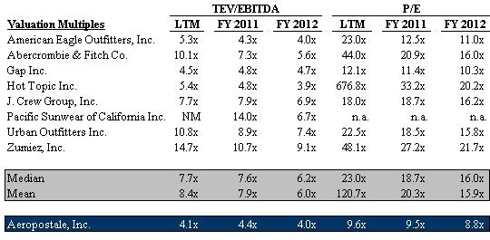 Note that "Fiscal Year 2011" refers to the year ending January 2012. Compared to our sampling of eight other teen and specialty retailers, ARO trades at the lowest 2012 P/E and second-lowest TEV/EBITDA. Its LTM P/E and EV/EBITDA is also the lowest within our comparable companies.
Here is a chart comparing ARO's current valuation multiple to its historical multiples: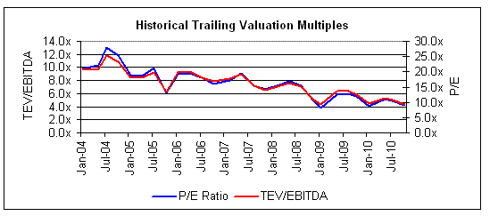 ARO is currently trading at approximately the lowest trailing EV/EBITDA multiple that it has ever experienced. I haven't put together a similar chart for the company's forward multiple, but at 9.5x 2011 P/E and 8.8x 2012 P/E, we'd expect the chart to show similar results.
A helpful exercise would be to examine the projected growth and margins implied by consensus estimates.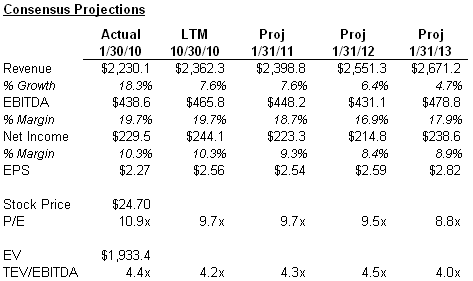 Are these declining margins and single-digit sales growth rates reasonable projections? Yes. But even with these uninspired projections, ARO still generates substantial free cash flow, and a healthy portion of that cash flow will likely be used to repurchase shares. The free cash flow yield is 10% (assuming FCF = CFO less CapEx). As well, ARO is not a declining business, but just one whose growth is slowing down. The company remains well-managed, and its historical allocation of capital has been intelligent. Unfortunately, insider ownership is low, with the CEO only owning $3 million worth of shares.
A final aspect of ARO that we like is that the company may be somewhat countercyclical. Compared with peers American Eagle Outfitters and Abercrombie & Fitch, Aeropostale's clothes are less expensive. In recessionary times, many analysts believe that shoppers shift to Aéropostale from its higher-priced competitors. In 2008 and 2009, this seemed to be the case, judging from ARO's strong margins, sales per square foot, and same-store sales growth during the recession.
Fashion
The key element missing from our analysis is the important factor of whether ARO is designing and selling fashionable clothes that kids deem "cool" and will continue to deem cool. The fashion element is tough to decipher. The high margins and strong sales per square foot in 2009 would indicate the company is driving substantial traffic through its stores, which would imply that its clothes are in sync with teen tastes. When we looked through the company's website, ARO's clothes seemed trendy enough. We've also read commentary that ARO has hit a chord with more urban, or "hip-hop" crowds, and that the company's healthy growth in 2008 and 2009 was partly driven by its appeal to hip-hop culture.
Then again, we've also heard negative reviews. One woman we spoke with thinks that our ARO investment will turn out miserably because Aéropostale has lost touch with today's teens. She says that Abercrombie has been gaining more traction in high schools, and American Eagle has also done a better job than Aéropostale in staying relevant to today's 15-year-olds.
In the end, we don't really know. Fashion risk is a key uncertainty with our investment. We're quite cognizant of it and we believe we've sized ARO appropriately within our portfolio to account for the possibility that ARO suffers design woes over the next few years.
Conclusion
Altogether, ARO seems too cheap. We recognize the headwinds that the company is facing, but still believe that the stock should be trading at least an EBITDA multiple higher.
This post does not constitute investment advice or a recommendation of any sorts. Kerrisdale Capital may buy, sell or short any of the stocks mentioned at any time. We may be wrong; it would not be the first or last time.
Additional disclosure: Read our full disclaimer at kerrisdalecap.com/legal-disclaimer-2.