By Mark Melin
Tiger disciples now manage over $159 billion, and use a common vision that generates very different exposure profiles
The Tiger Cubs, hedge fund disciples that follow the long / short relative value strategy of Julian Robertson of Tiger Management, like consumer discretionary and information technology stocks, according to a new report from Novus, a hedge fund research firm.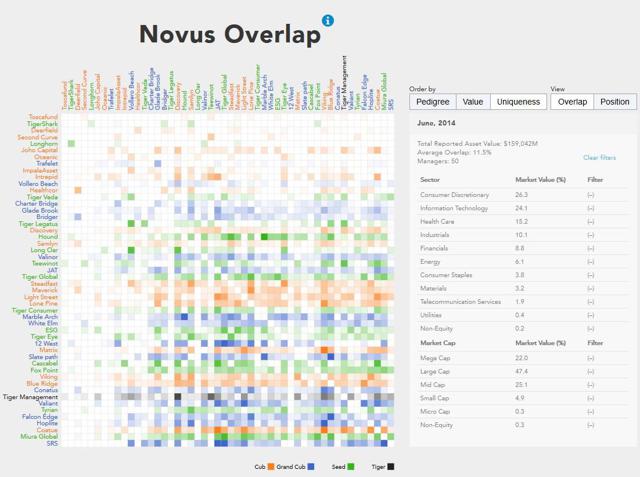 Tiger Cubs down slightly from previous month
While Robertson essentially espoused a common value formula that selected stocks to buy and sell, the Tiger Cubs, who all reportedly follow Robertson's strategy, have only 11.5 percent overlap in positions, down slightly from the previous month.
Tiger Management, for instance, likes Facebook (NASDAQ:FB), but less than 15 of the 50 Tiger-related hedge funds hold similar positions in the stock that has been questioned for its increasing "lack of cool" among younger audiences. Tiger Management also likes Netflix, Inc. (NASDAQ:NFLX), Google (NASDAQ:GOOG) (NASDAQ:GOOGL) and Citigroup Inc. (NYSE:C), while these holdings generally haven't attracted much attention from Tiger disciples.
Tiger Cubs ranking by AUM
The 50 Tiger-related hedge funds, which now manage over $159 billion in assets, are led in assets managed by Lone Pine, which manages over $27 billion. The fund's top positions include Chinese search firm Baidu Inc. (ADR) (NASDAQ:BIDU), Cognizant Technology Solutions Corp. (NASDAQ:CTSH), Valeant Pharmaceuticals Intl Inc. (NYSE:VRX), Microsoft Corporation (NASDAQ:MSFT), publisher McGraw-Hill Financial Inc. (MHFI) and high end consumer discretionary firm Michael Kors Holdings Ltd. (NYSE:KORS).
Viking, which manages $23 billion, second on the list of top funds in terms of assets under management, is generally invested in smaller stocks but has cross-over positions in Valeant Pharmaceuticals and Baidu. The firm is also invested in a hedge fund favorite Micron Technology, Inc. (NASDAQ:MU) as well as Time Warner Inc. (NYSE:TWX), subject of a recent takeover offer from Comcast Corporation (NASDAQ:CMCSA). The fund also has exposure to Netflix as well as MasterCard (NYSE:MA) and Visa Inc. (NYSE:V).
Coatue, with over $8 billion under management, has a more typical hedge fund exposure profile of a tech fund. The Fund's exposure is littered with names such as Apple Inc. (NASDAQ:AAPL), Netflix, Micron Technology, Avago Technologies Ltd. (NASDAQ:AVGO), Facebook and Time Warner in a list of its top ten holdings. The fund also likes media stocks, with significant investments in CBS among other media firms.
Overall the least loved stocks in the Tiger listing were utilities, telecommunications, materials and consumer staple stocks. The Tiger-related funds also liked large cap stocks, which represented 47.4 percent of total overall exposure. This was followed by mid cap and then mega cap stocks. The Tiger disciples don't like small stocks, as small and micro cap stocks trailed badly.
Sign Up For Our Free Newsletter
Disclosure: None