By Bryan McCormick
A few key reports will dominate traders' attention today, including Motor Vehicle Sales and Factory Orders. In addition, the FOMC minutes will be released at 2 p.m. ET, though it is likely to be a non-event unless the Fed suggests a change in stance.
There is no fixed timetable for the Motor Vehicle Sales reports, which are released individually by each company. They can begin in the mid-morning but most often start at noon ET. Ford, General Motors, Honda, and Toyota shares are likely to be active on the data.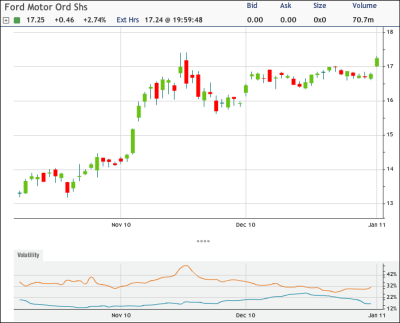 At 7:45 a.m. ET, the ICSC/Goldman Store Sales report will be released. There are two parts to the report, the week-over-week and year-over-year changes. Most traders focus on the year-over-year number because it is a better indicator of the longer-term trend.
The last week-over-week change came in at 1 percent. The year-over-year reading in the previous report came in at 4.8 percent. Stronger-than-expected positive numbers would be seen as bullish, while negative numbers would be bearish.
Redbook Store Sales will be reported at 8:55 a.m. ET. As with the ICSC-Goldman report, there are two components to watch: the more volatile month-over-month change and the year-over-year comparison, which shows the broader trend best.
The last month-over-month reading was 0.4 percent. The previous report's year-over-year data came in at 4.6 percent. Negative numbers in either series would be bearish.
Factory Orders will be released at 10 a.m. ET The consensus calls for a reading of -0.1 percent. The range of estimates is from a bearish -1 percent to a bullish 0.8 percent.
(Chart courtesy of tradeMONSTER)