Share price of ConocoPhillips (NYSE:COP) has recently experienced a 7% pullback from its 52-week high. The dip certainly has attracted a lot of attention from potential buyers who are interested in knowing the relationship between current valuation and the company's fundamentals. In this article, I will address this topic from a dividend investing perspective.
Free cash flow projection is a necessary step to understand a company's future dividend trend. I have run a free cash flow model for current and next 2 fiscal years. My analysis started with current consensus revenue estimates which predict the top line to grow by 3.3% CAGR from $61.9B in 2014 to $66.2B in 2016. COP delivered an average operating cash flow margin of 27% in the past 3 years. Given that the company has already generated $10B operating cash flow (or 32% operating cash flow margin) in the first half, I assumed a 28% operating cash flow margin for 2014, which is slightly above the 3-year average. I also modeled a 100 bps margin expansion through 2016, which is consistent with current consensus estimates on future EBITDA margin. Management has provided capital expenditure guidance of $16.7B for 2014 and expects the spending to be around $16B through 2017. Being consistent with this view, I modeled $16.7B capex in 2014 and assumed the figure to trend down gradually to $16.0B by 2016. Hence, free cash flow was projected to grow considerably from merely $645M in 2014 to $3.2B in 2016 (see chart below).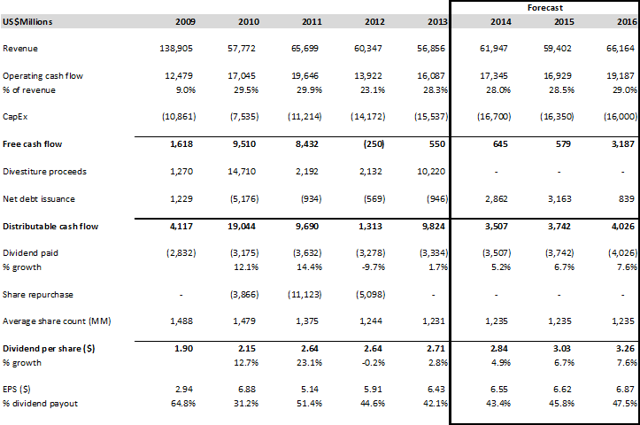 Click to enlarge
As COP paid quarterly dividends of $0.69 per share in Q1 and Q2 and an increased amount of $0.73 in Q3, the annual dividend in 2014 is expected to be $2.84. Based on my average share count estimate (discussed later), total dividend payment in 2014 would be approximately $3.5B (see the first chart). Apparently, my 2014 free cash flow forecast is way below this amount, and therefore the company will need to fund the shortfall by selling assets and/or issuing additional debt.
Assuming an annual growth of around 7% in total dividend payment through 2016, I estimated the total dividend funding shortfall to be about $6.9B between 2014 and 2016 (see the first chart). It is noted that a significant portion of the funding will be required in 2014 and 2015, as significant free cash generation beyond 2015 will help COP close the funding gap.
Based on my estimation, COP can comfortably finance the $6.9B shortfall through additional debt issuance. As of Q2 2014, the company carries $21.2B debt and has a trailing 12-month EBITDA of $22.1B, representing a debt to EBITDA ratio of 1.0x. Adding the $6.9B to the current debt level, the debt to EBITDA multiple will still be around 1.0x by 2016 based on consensus estimated EBITDA of $25.8B for 2016. In reality, I believe management will elect to fund a partial of the dividend payment by selling non-core assets which will mitigate the need for incremental debt. Essentially, the dividend funding should not present any issue to COP based on my growth scenario.
As COP will not be able to completely serve the dividend commitment by internally generated cash flows in the next few years, it is reasonable to assume no share repurchase in the forecast period. As such, average share count will stay roughly the same at about 1.2B. Based on my dividend payment projections, annual dividend per share is expected to grow by 7.1% CAGR from $2.84 in 2014 to $3.26 in 2016 (see the first chart).
Compared with current consensus EPS estimates, my dividend per share forecasts imply that earnings dividend payout ratio will increased modestly from 43% in 2014 to 48% in 2016, which is still very comparable to the company's historical level. As consensus view calls for a 7% long-term EPS growth potential for COP, which is in line with my dividend growth forecast, the dividend payout ratio will likely stabilize beyond 2016, meaning that the 7% dividend per share growth is within a sustainable range.
Based on the Gordon Growth Dividend Discount Model and 11% cost of equity (CAPM method suggests a 10% cost of equity based on 3% risk-free rate, 6% equity risk premium, and COP's 5-year beta of 1.22), COP's current share price implies a perpetual dividend growth rate of about 7%, which is consistent with my expectation (see chart below). The implication is that the shares are trading within their fair value range.

From a relative value perspective, one can draw a similar conclusion. As shown in the chart below, COP's forward 2015 P/E multiple trades slightly below the average of its global integrated O&G peers, while its forward 2015 EV/EBITDA multiple is at a premium. Given COP's above-average profitability but below-par dividend yield and long-term EPS growth potential, I believe the stock is trading at a very reasonable valuation relative to the peer group.

Click to enlarge
In conclusion, COP's current valuation looks very reasonable and long-term income investors should consider accumulating some shares. A further dip without material deterioration in fundamentals would present a very attractive buying opportunity.
All charts are created by the author, and historical data used in the article and the charts is sourced from S&P Capital IQ, unless otherwise specified.
Disclosure: The author is long COP.
The author wrote this article themselves, and it expresses their own opinions. The author is not receiving compensation for it (other than from Seeking Alpha). The author has no business relationship with any company whose stock is mentioned in this article.