The New York Times reported late Sunday that social-networking giant Facebook recently raised $500 million in new capital from Goldman Sachs (NYSE:GS) and a Russian investment firm in a transaction that values the company at $50 billion. That would make Facebook a top 50 market cap company within the S&P 500, already positioning it ahead of well-established, publicly-traded Internet companies eBay (NASDAQ:EBAY) and Yahoo (NASDAQ:YHOO).
By adding $500 million in new capital to fund its operations, Facebook can delay going public for at least another year, and avoid the intense public scrutiny that comes with it. However, while it has bought itself some extra time to continue focusing on long-term growth, the company is facing increasing pressure to go public as it grows.
Either way, it is amazing to just sit and think that a company with only 2,000 employees could earn a valuation of $50 billion (which just goes to show you the excitement surrounding the social networking industry and its potential for advertising revenues). But most investors are not overly concerned with Facebook's potential valuation as it is not currently a publicly-traded company. What is important to investors right now is, which of the current publicly-traded companies that are working toward that lofty $50 billion valuation (or market cap) are worth investing in. Therefore, we have compiled a list of companies currently worth less than Facebook's implied valuation, but according to AFG's valuation metrics look attractive and have some room to run (to close the gap).
The stocks listed below all meet the following criteria:
a) Less than $50 Billion market cap
b) Attractive valuation – according to The Applied Finance Group's valuation model
c) Expected to increase their Economic Margins (economic profit)
click to enlarge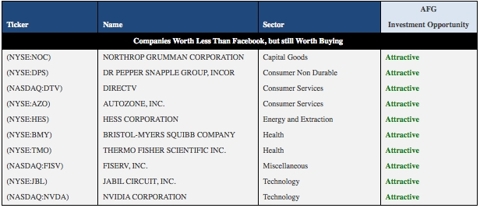 Disclosure: None