Shares of Calgary based Talisman Energy (NYSE:TLM) are down more than 35% over the past five years. Due to its poor performance, TLM has been exploring strategic alternatives.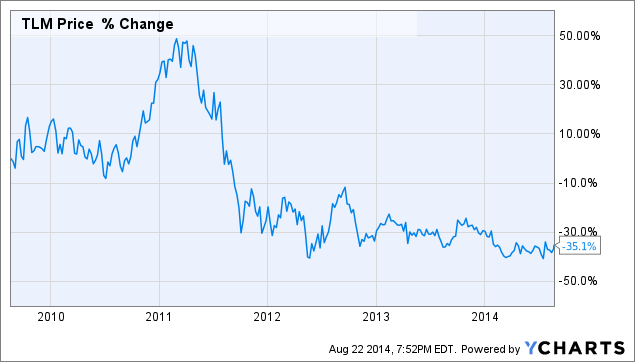 TLM data by YCharts
Asset Sales
For a number of years, TLM has been in the process of selling some of its assets. TLM has sold $6.6 billion worth of assets since 2011. TLM has said it plans to sell at least another $2 billion worth of assets over the next 12-18 months. Perhaps the most interesting assets owned by TLM are its Asian oil and gas assets. TLM's Asian assets are estimated to be worth $4 billion. The company has not said whether its Asian assets are for sale or not. Another option for TLM may be an IPO of its Asian business. In addition to reviewing its Asian operations, TLM is preparing to sell its Iraqi Kurdistan assets.
Carl Icahn Stake
Carl Icahn first disclosed a nearly 6% stake in TLM in October 2013. Icahn has continued to increase his stake in TLM and now owns more than 7% of the company. At the end of 2013, TLM announced that it was adding two of Carl Icahn's representatives to its board. While Icahn has yet to make a meaningful difference at TLM, it should be noted that Icahn's investment it Chesapeake Energy ended up working out quite well. Another successful Icahn investment in the energy space is CVR Energy. Icahn clearly sees value in TLM and I firmly believe that his involvement is a positive for other shareholders. Icahn's basis in TLM is said to be around $11.79. Since TLM is now trading below $11 per share, investors are currently able to buy TLM at a lower price than Icahn paid. This is highly unusual. Typically, after it is revealed that a well known activist, especially Carl Icahn, has taken a stake in a company the share price of that company immediately rallies sharply and investors who want to participate alongside the activist are forced to pay a much higher price. For this reason, following activist investors into a particular stock can sometimes be dangerous. However, TLM is unique in that investors can participate alongside Icahn at a lower price.
Repsol SA Has Approached Talisman
In late July, TLM said that it has been approached by Repsol SA, Spain's largest oil company "with regards to various transactions." It is currently unclear whether Repsol is interested in bidding for all of TLM or just select assets. While a bid for the whole company would likely lead to the most upside for TLM shareholders, this outcome appear to be less likely than a smaller asset sale to Repsol. Repsol is currently sitting on a large cash position after agreeing to a $5 billion settlement with Argentina over its holding in YPF S.A. In any event, whether Repsol is interested in making a play for all of TLM or just select assets, Repsol's interest is a positive.
Bullish Options Activity
OptionMonster's Jon Najarian recently pointed out some unusual bullish options activity in TLM. More than 20,000 October 11 call options were traded. The large size of the trades in TLM suggest that institutional money is behind the position. Institutional money is considered to be smart money and worth following. While the activity in TLM is not reason enough alone to buy TLM, it is certainly a positive given Carl Icahn's involvement and Repsol's recent approach.
Conclusion
I recently purchased deep in the money call options on TLM. Specifically, I am long the October $9 call options. I have chosen to use deep in the money call options instead of TLM in order to leverage my position. If nothing significant is announced by October expiration, I may consider rolling the position into a longer dated position. I also believe buying TLM stock outright is a good play. Despite Carl Icahn's involvement, a management team dedicated to taking actions to bring out shareholder value, and news of an approach by Repsol shares are trading roughly $1 above the company's 52 week low of $9.63. If TLM is able to execute a major deal with Repsol or another player, I believe TLM shares could trade significantly higher. Another potential interested party in TLM is Sinopec. In 2012, Sinopec struck a deal to acquire 49% of TLM's UK assets for $1.5 billion. I believe Sinopec could be interested in a deal to acquire all of TLM given its strong Asian assets. Due to Carl Icahn's involvement, Repsol's approach, and bullish options activity TLM is my top stock pick right now.
Disclosure: The author is long TLM.
The author wrote this article themselves, and it expresses their own opinions. The author is not receiving compensation for it (other than from Seeking Alpha). The author has no business relationship with any company whose stock is mentioned in this article.
Additional disclosure: long TLM call options