In part 1 we discussed the strong performance of REITs thus far in 2014 as a reason to dig deeper into each REIT subsector. We seek to determine where there is still strength without having to pay for it. This article will be about industrial REITs which have slightly underperformed the overall REIT market but are still up 11.72% YTD.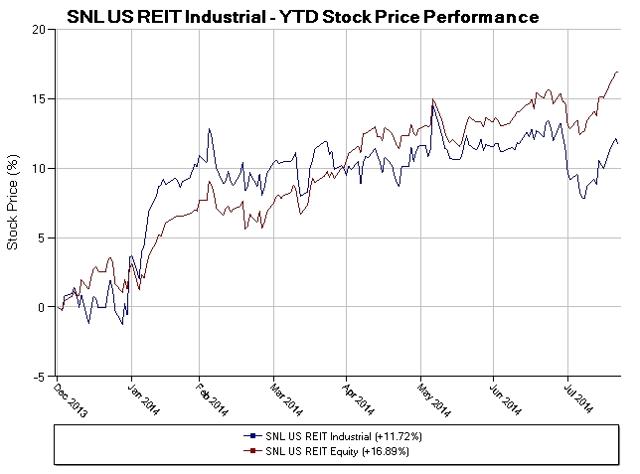 Over a 3 year period, industrials have shot up 67.6%.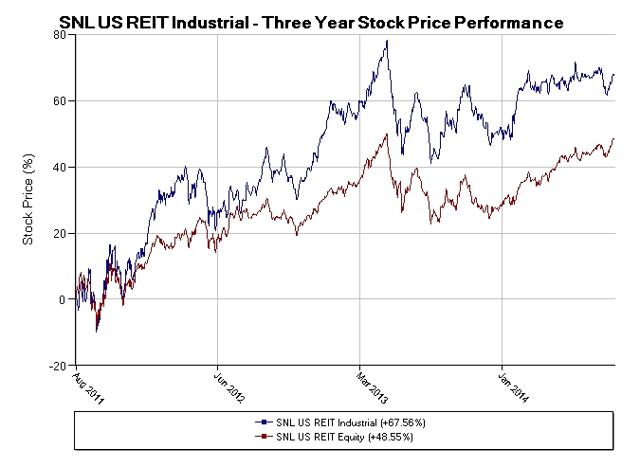 This leaves industrials with a median multiple of estimated NTM FFO of 16.7X which makes it the most expensive REIT sector with exception only to self storage.
| | | | | | |
| --- | --- | --- | --- | --- | --- |
| Company (ticker) | Market price $ (intraday 8/22) | 2014 FFO estimate* | 2015 FFO estimate* | YoY growth % | P/2015 est FFO |
| DCT Industrial (NYSE:DCT) | $8.01 | $0.47 | $0.50 | 6.4% | 16.02X |
| East Group Properties (NYSE:EGP) | $64.57 | $3.44 | $3.70 | 7.6% | 17.45X |
| First Industrial (NYSE:FR) | $18.22 | $1.14 | $1.26 | 10.5% | 14.46X |
| Monmouth RE (NYSE:MNR) | $10.73 | $0.57 | $0.61 | 7.0% | 18.82X |
| Prologis Inc. (NYSE:PLD) | $40.79 | $1.83 | $1.97 | 7.7% | 20.7X |
| Rexford Industrial (NYSE:REXR) | $14.61 | $0.87 | $0.94 | 8.0% | 15.54X |
| STAG Industrial (NYSE:STAG) | $23.42 | $1.48 | $1.62 | 9.5% | 14.46X |
| Terreno Realty (NYSE:TRNO) | $20.01 | $0.88 | $1.06 | 20.5% | 18.88X |
*FFO estimates are FactSet consensus as provided by SNL Financial
The valuations are lofty, but that alone does not make the sector overvalued. Perhaps there is a growth story here to justify the premium.
Industrials: The Bull Case
Industrial REITs were among the hardest hit of any sector in the Great Recession. In 2009, net absorption totaled negative ~225mm square feet. Occupancy tanked along with rental rates which dipped below $5/square foot.
Coming out of the recession, developers seem to still be a little shaken and hesitant to fully engage. Consequently, absorption has substantially outpaced supply growth.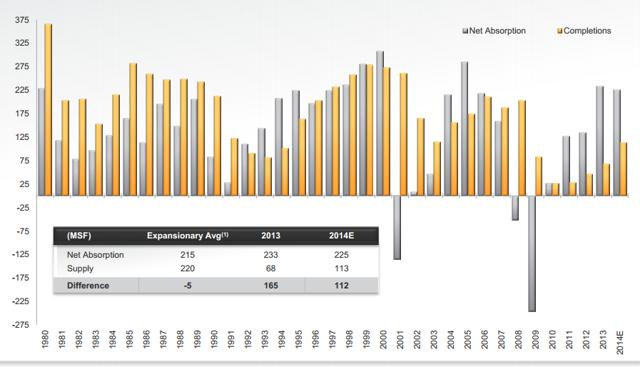 This has led to strong recovery in occupancy which has now surpassed the 2007 peak.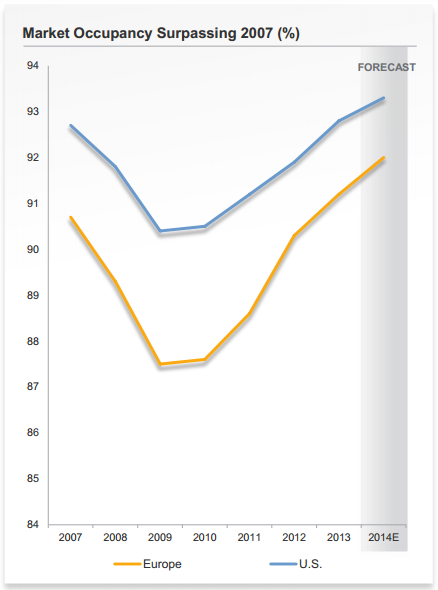 Source: CBRE and Prologis Research
Lower vacancy rates provide pricing power and fueled a recovery in rental rates. It seems that the industrial sector has fully recovered and is now heading into an expansionary phase.
Prologis is arguably the leader of the pack as the most established, most blue-chip industrial REIT. It has its own research department which has scoured the data and come up with a forecast for the next several years. As its forecast makes sense with the trading multiples, we believe that this forecast is roughly equivalent to the sentiments shared by most of the market. Prologis projects a 5.7% CAGR in U.S. market rents per square foot through the end of 2017.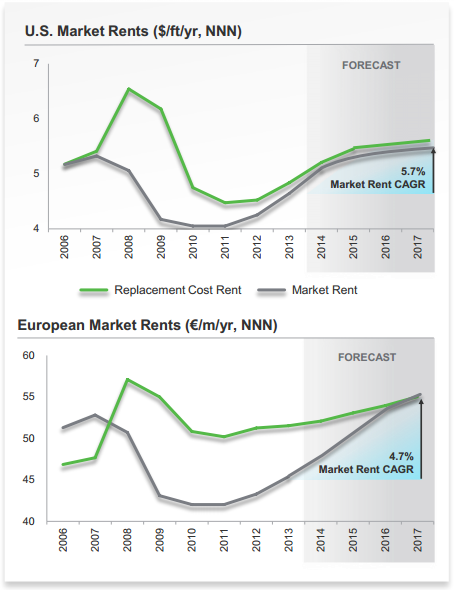 Source: CBRE and Prologis Research
Where does this figure come from? What fundamentals would lead to such pricing power?
Secular Demand Growth
e-commerce is still nascent with the potential to double in sales over the next few years. According to Goldman Sachs, the currently ~$750mm in annual e-commerce sales could increase to over $1.25B by 2018.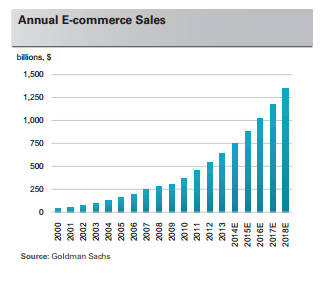 Some would argue that this is not a huge deal for the industrial sector as e-commerce sales have a tendency to replace brick and mortar sales. Thus, the distribution facilities necessary for the brick and mortar retail sales would simply be replaced by distribution facilities for e-commerce sales producing little net gain in demand. However, there is substantial reason to believe the exchange would not be 1 for 1.
Much of the inventory moved by traditional retail is actually stored in the stores rather than a warehouse. Therefore, the carrying amount of inventory in said warehouse will be lower resulting in less overall space needed. This is the result of each distribution facility servicing many retail locations through a standard hub and spoke system. In e-commerce, however, nearly 100% of the inventory has to be stored in distribution facilities.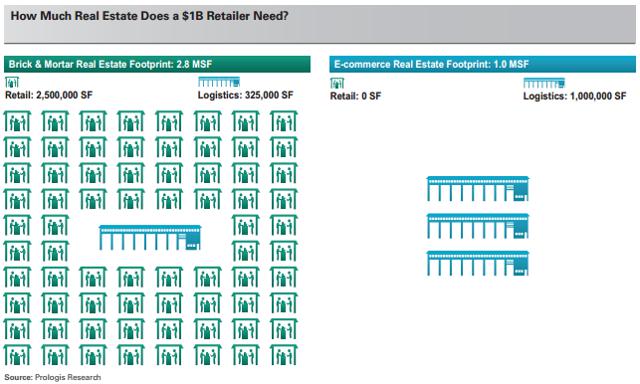 Prologis estimates that e-commerce requires approximately 3 times as much square footage of distribution facility for a given level of sales as compared to traditional retail. The reasons go beyond inventory levels as there are some key differences between a traditional warehouse for something like a Wal-mart (NYSE:WMT) and that which is desired for e-commerce.
Key differences
Storage strategy
At warehouses for traditional retail, most inventory can be moved on pallets which can often be stacked high and moved with an extendable forklift. This sort of storage is very efficient in terms of units/space. Many e-commerce facilities do not have this luxury as their inventory is moved in the form of single units rather than pallets of units. Thus, such facilities can typically only stack inventory to around 6 feet high and must place it in a way that it can be hand-picked. This results in less efficient storage in terms of units/space such that e-commerce facilities require more square footage for the same inventory load. Another important implication of the hand-picking is more labor.
Labor
Distribution facilities serve additional functions such as packaging inventory at an individual level and sending it directly to the customer. This encourages a portion of the square footage to be set aside for mail-room type functions. Still more space must be set aside to handle product returns for companies which allow that. All this hand-picking, package stuffing, and sending is fairly labor intensive as compared to forklifts loading pallets onto trucks. Thus, e-commerce specialized distribution facilities require more employee spaces (bathrooms, breakrooms, et cetera) which further cuts into storage space.
These seeming inefficiencies are simply the tradeoff for the facility being far more than just a warehouse, but it does require e-commerce to utilize substantially more distribution square footage than a traditional retailer would.
Demand trajectory
When the rapid growth in e-commerce is combined with general economic growth, it seems demand for distribution facilities has a long runway of growth. Other types of industrial properties have demand drivers as well.
The boom of domestic energy production stimulates development of specialized facilities capable of handling such products in compliance with regulation.
Globalization has been a sustaining trend that is steadily increasing intercontinental trade. Increased intermodal facilities may be necessary to handle the load.
Cost of labor has risen in many of the areas in which we used to outsource labor. By relative value, this could stimulate domestic manufacturing and consequently the properties for it.
The bull case calls for powerful demand growth through 2018, and I am in complete agreement. Demand for industrial properties should be very strong.
The bull case goes on to explain how the increased demand will translate to increased profits.
When a company needs a new distribution facility or other industrial property, it needs it. These locations are core to the operating business making it very difficult to find a work-around. Therefore, companies are left with 2 options.
Rent an existing facility at the market rate
Develop their own property (A build-to-suit for example)
Given these options, market rents for current industrial properties are somewhat a function of the rent that could be negotiated though a developer known as the replacement cost rent.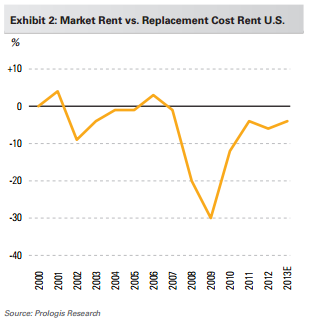 Prologis estimates replacement cost rent to be approximately 6% of replacement cost plus a 14% profit margin for the developer.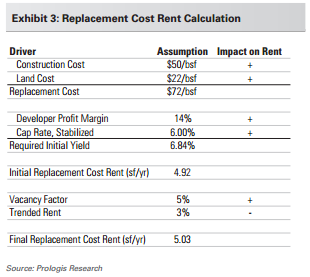 We believe these assumptions are reasonable in the current environment. So what does this mean for the outlook for rents on industrial space?
Well, assuming the correlation holds up, market rents would fluctuate directly with replacement costs. If replacement cost increased by 20%, rents would do roughly the same. Prologis anticipates a 20% increase in replacement costs by the end of 2018.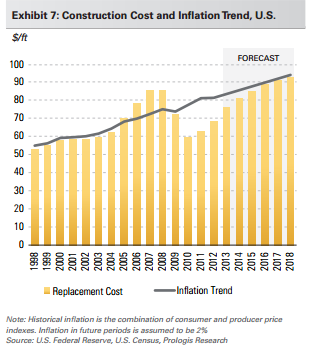 I strongly disagree with this projection. In order to allow readers to decide for themselves, I have parsed their exact argument (from a white paper published on prologis.com) below.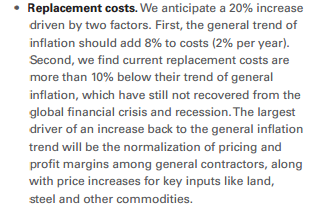 The 8% growth over 4 years from inflation seems very reasonable, but I cannot agree with the second factor stated as a return to trend. The trend to which they are referring is measured from 1998 onward; a period with generally higher interest rates and generally higher cap rates than the current environment.
Today's lower cap rates directly translate to lower replacement cost rents, and today's lower interest rate should lead to below trend profit margins for developers. Across nearly all property sectors, there are an increasing number of dollars chasing fewer and fewer available for sale properties. The decreasing cap rates on acquisitions of existing properties has flooded into the development world. Now there are increasing numbers of dollars chasing potential developments which is squeezing the profit margins of the developers.
If anything, we believe the cap rates will further compress along with developer's margins. Here is why.
Entrants could eat up the economic profits
Perhaps the reason industrial REITs are trading at such high multiples is that the market sees this tremendous demand story and assumes the REITs will be the beneficiaries. Unfortunately, there are few mechanisms in place which preserve the value for the incumbents. New entrants can come in and compete away the value in sating the increased demand. As more competitors enter the scene, cap rates could compress until economic risk adjusted profits begin to approach 0.
Thus far in the REIT cycle, industrial REITs have actually experienced less cap rate compression as compared to retail, multi-family or healthcare properties. This is one of the reasons industrial REITs have outperformed over the past 3 years and still have an ~8% FFO/share growth rate from 2014 to 2015. In our view, this is about to change.
The past few years have seen the creation of a few new industrial REITs such as STAG and Rexford, but there has been relatively less interest from other sources of capital.
Non-traded REITs are largely responsible for dragging down the cap rates in other sectors, but have only to a minor extent dabbled in industrial properties. We believe this is because these investment vehicles are sold primarily to retail investors. Consequently, the funds most able to raise money are those that have the best stories rather than those that are actually the best investment opportunities. While buying industrial properties at really deep discounts in 2009-2011 was a clear value play, the magnitude of hardship sustained by the sector in the crisis may have scared people off. The history screams "risky" and may have scared off most retail investors.
Presently the story for industrial properties seems a lot sexier. In addition to the modern feel as an e-commerce play, industrial REIT performance has been so strong that a chart can be manufactured to look like a 45 degree sloping line. That is the kind of story that sells, and I anticipate substantial investment in industrial properties coming from non-traded REITs.
Since the financial structure of non-traded REITs virtually forces them to invest the money right away, even the best run cannot be too discriminate in investment. A pickup in activity from non-traded REITs would be likely to reduce cap rate and trickle down to a reduction in profit margins for developers. In turn, this would make build-to-suits a relatively more desirable option as compared to renting an existing property. Thus, market rates would be held down as well.
Summary of industrial market outlook
While we are in complete agreement with the bull case on the demand growth, we disagree with the bulls on how that will translate to bottom line growth for the industry's incumbents. Specifically, we believe that replacement costs will only increase by around 8% through 2018 translating to roughly a 2% CAGR for same store rent growth.
This falls far short of Prologis' anticipated 5.7% CAGR. Given the median multiple of 16.7X NTM estimated FFO, it seems the market is pricing in much of the bull case. Industrial REITs are strong, but may be overpriced at the moment.
The actionable item
We anticipate underperformance across most of the major industrial REITs as their multiples adjust to reflect the lower growth rate we are projecting. Thus, those invested in such REITS should put some thought into getting out ahead of this.
I am not suggesting full abandonment of the sector, but rather restricting exposure to those stocks where you are not paying for the entirety of the bull scenario. Two hybrid industrial REITs exist that trade at substantially lower multiples than the rest of the sector. As a result, these companies have some upside if my outlook is right, and tremendous upside if Prologis is right.
Chambers Street Properties
Chambers Street Properties (NYSE:CSG) is an office/industrial hybrid that trades at just 11.19X its estimated 2015 FFO. Note that this is about a 50% discount from the sector median. It has an extensive pipeline of acquisitions/developments of distribution facilities and represents one of the entrants coming in to steal the profits of the industrial REIT incumbents.
Lexington Properties
Lexington Properties (NYSE:LXP) is a triple net REIT with extensive exposure to industrial properties. It trades at an even deeper discount with a P/2015 est. FFO of only 9.81X. LXP specializes in performing build-to-suit transactions with capabilities to develop a wide variety of industrial property types.
Each of these companies has full exposure to the demand growth of the industrial REIT sector, but does not force the investor to pay for the bull case. These stocks are positioned to yield strong returns in the scenario of mediocre rent growth, but maintain the upside of the bull case.
Disclosure: 2nd Market Capital and its affiliated accounts are long CSG and LXP. I am personally long CSG and LXP. This article is for informational purposes only. It is not a recommendation to buy or sell any security and is strictly the opinion of the writer.
Disclosure: The author is long CSG, LXP.
The author wrote this article themselves, and it expresses their own opinions. The author is not receiving compensation for it (other than from Seeking Alpha). The author has no business relationship with any company whose stock is mentioned in this article.