I am doing my usual research over the weekend trying to find actionable ideas for the upcoming trading week. One small cap name that is back on my radar is Abraxas Petroleum (NASDAQ:AXAS). I owned and wrote about this small well-diversified exploration & production (E&P) concern when it was trading at just $2 a share in the summer of 2013. However, I had to say goodbye to this old friend earlier this year when it was trading at just under $6 a share, as it was just too hard to resist taking those kinds of outsized profits in a short period of time.
However, the company continues to execute well, and the stock is down some 15% from recent highs on the recent decline in oil & natural gas prices. I think it is time to get back into this well-managed and attractive E&P name.
I have most of my funds allocated to the E&P sector in small cap plays. With the advances in hydraulic fracturing, granular 3D seismic outlays, and other vastly improved drilling technologies, there are few dry holes these days and the space is looking more and more like a manufacturing business model. Smaller E&P plays tend to have much faster production growth and no bloated corporate overhead costs or bureaucracy. Abraxas is a classic example of this type of fast growing, well-managed energy concern.
Company Overview:
Abraxas is a small (~$600 million market capitalization) E&P company primarily focused on the development of conventional and unconventional resources in its primary operating areas in the Rocky Mountains, Bakken, South Texas, Powder River Basin and Permian Basin. Two thirds of its proved reserves are oil & liquids.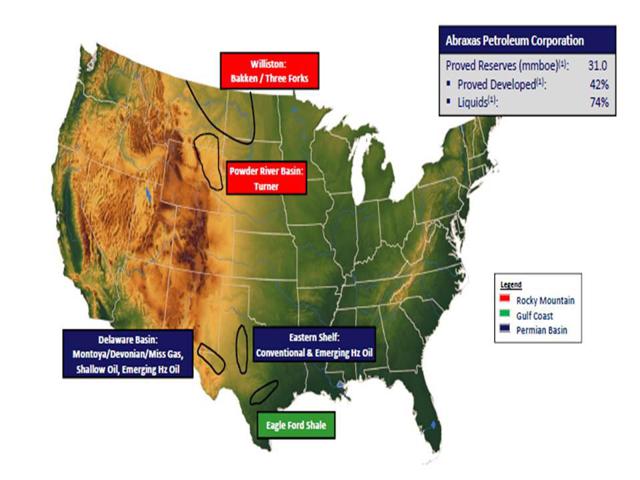 Click to enlarge
Huge Production Growth:
Over the last few years, the company has done a marvelous job of driving production growth. As can be seen from the graph below, Abraxas is getting a higher and higher percentage of overall production from "operated" assets which have higher margins.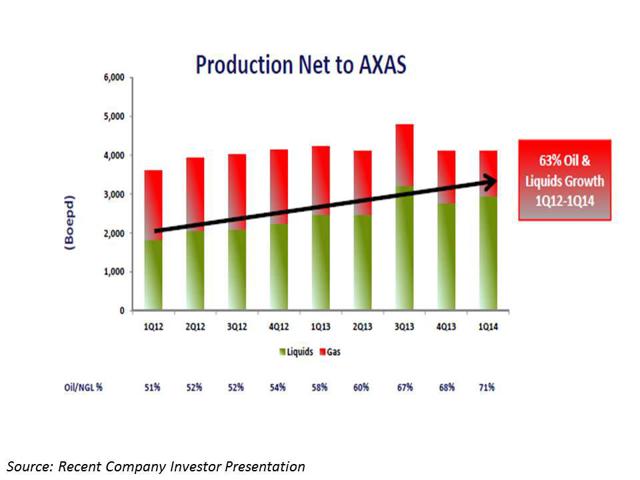 Click to enlarge
In addition, the company has a well-diversified production base in some of the fastest growing shale formations in the country. It also gets the majority of its revenue from oil sales which are less volatile and have higher margins right now than natural gas.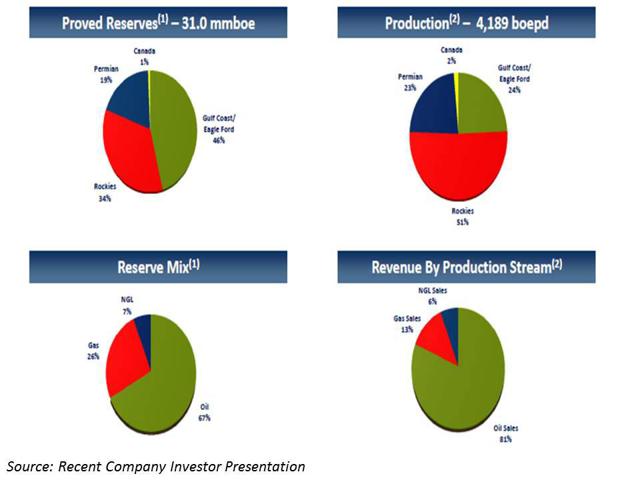 Click to enlarge
Earnings Growth:
This major increase in production has translated into major earnings growth as the company is showing an impressive earnings trajectory.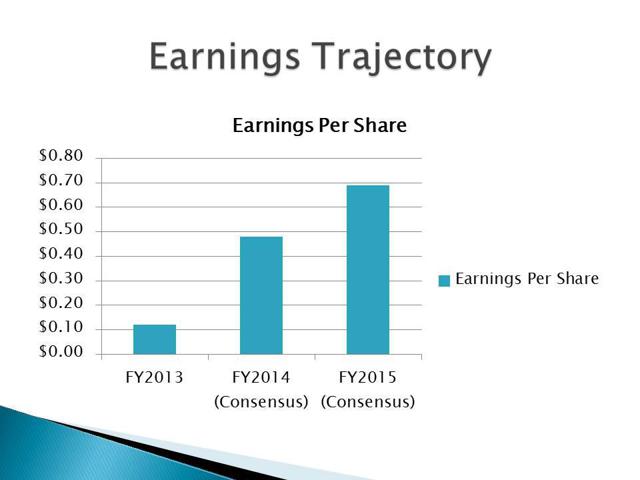 Click to enlarge
Chart Source: Yahoo! Finance
Summary:
The company is committed to allocating its capital budget to its most promising productive assets in the Bakken and the Eagle Ford regions with the best return on capital profiles currently. Abraxas also does a great job of maintaining an under leveraged balance sheet that enables financial flexibility. The stock is cheap at under 8 times next year's consensus earnings forecast. The five year projected PEG on Abraxas is also significantly below 1 (.51). My own conservative price target on Abraxas is 10 to 12 times the 70 cents a share it should earn in 2015, which equates to $7 to $8.40 over the next 6-12 months. This represents a solid return from its current price of ~$5.50 a share. BUY
Disclosure: The author has no positions in any stocks mentioned, and no plans to initiate any positions within the next 72 hours.
The author wrote this article themselves, and it expresses their own opinions. The author is not receiving compensation for it (other than from Seeking Alpha). The author has no business relationship with any company whose stock is mentioned in this article.