It has been just over a year since I provided a "deep dive" SeekingAlpha Pro article on lodging real estate investment trust Summit Hotel Properties (NYSE:INN). The shares are up some 20%, including dividends, since then. Although I have jettisoned a good portion of my property REIT plays due to their outsized gains in the first half of 2014 on the unexpected decline in interest rates, I am still holding on to my lodging REITs.
The business fundamentals within the lodging space are very strong right now and are likely to remain so for quite some time. New room construction almost came to a complete halt in the years after the financial meltdown and is still slower than the historical norm. Business demand for lodging is strong and even leisure travel is starting to come back. Demand should continue to outpace supply over the near term.
Company Overview:
Summit is a self-managed hotel investment company organized to continue and expand its existing hotel investment business. The REIT is focused primarily on acquiring and owning premium-branded, select-service hotels in the upscale and upper midscale segments of the U.S. lodging industry. Summit's current portfolio consists of 90 hotels with a total of 11,368 guestrooms located in 22 states.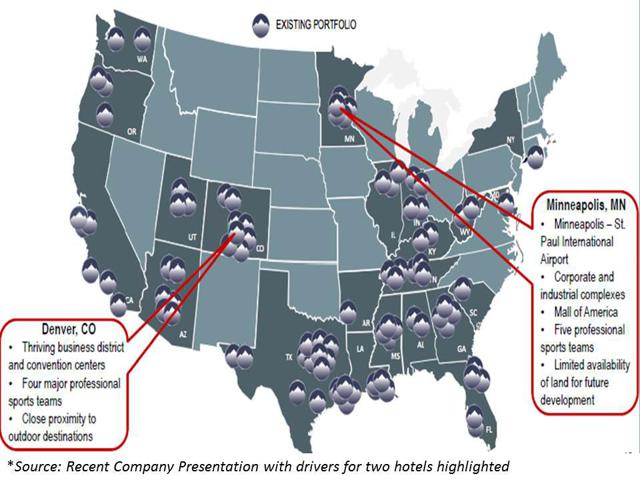 Click to enlarge
Successful Repositioning:
One of my original drivers of value when I did my "deep dive" on Summit last June was the company was becoming a more focused entity. Summit has continued this process by continuing to dispose of facilities in non-top 50 markets while making acquisitions in the top 50 hotel markets in the United States. As can be seen from the charts below, Summit continues to execute against this part of its strategic plan.
Click to enlarge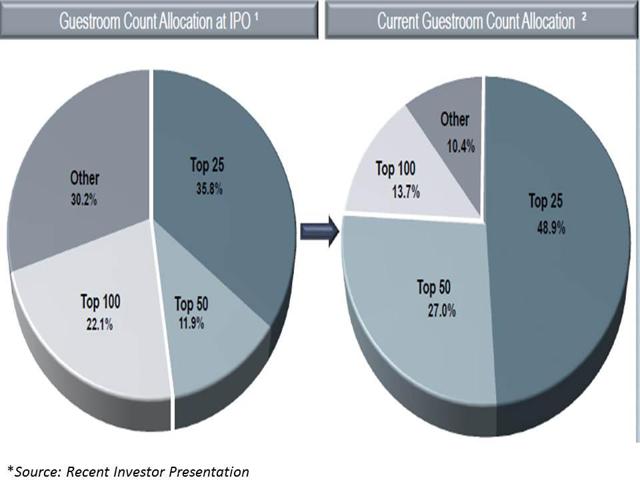 Click to enlarge
This repositioning has been one of the primary factors behind Summit's impressive improvement in several key hotel metrics since the REIT came public in 2011.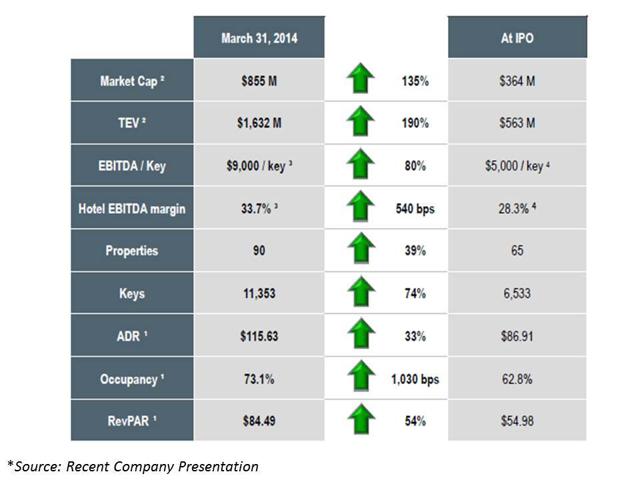 Click to enlarge
Yield:
Summit provides a 4.3% dividend yield. Summit has a payout ratio of approximately 50% of this year's expected FFO (Funds From Operations), so I would expect dividend payouts to have healthy increases in the years ahead.
Summary:
Summit is seeing FFO growth of roughly 10% annually, which should accelerate to ~15% in 2015 as new acquisitions boost cash flow. Both on a yield and valuation basis, Summit is attractive compared to peers. The company issues frequent secondaries to raise funds for additional acquisitions - usually one to two a year. I have found adding shares when they temporary dip due to the announcement of a new secondary has been a successful way to add shares at slightly lower prices. ACCUMULATE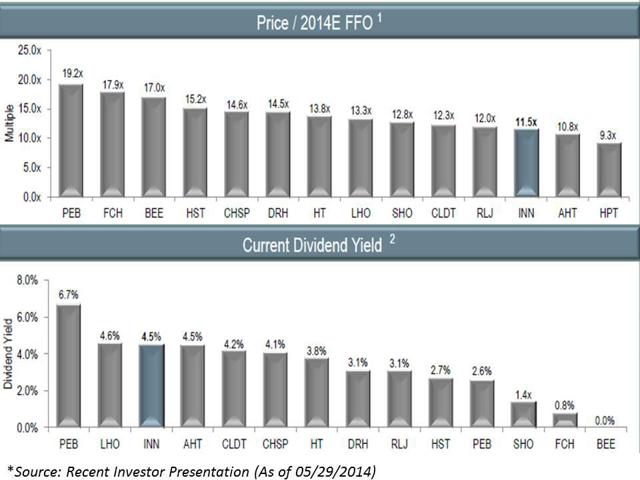 Click to enlarge
Disclosure: The author is long INN.
The author wrote this article themselves, and it expresses their own opinions. The author is not receiving compensation for it (other than from Seeking Alpha). The author has no business relationship with any company whose stock is mentioned in this article.