After falling off a cliff at the end of 2013 Best buy (NYSE:BBY) shares have rebounded and are up nearly 33% from February's lows. After checking Best Buy's valuations, fair value, balance sheet, technicals, and growth prospects I believe Best Buy shares are a bargain - particularly as the Q4 holiday shopping season approaches.
Valuation
Best Buy is a big box electronics retailer and competes with companies like Amazon (NASDAQ:AMZN), Walmart (NYSE:WMT), and Target (NYSE:TGT). To compare current valuation I will use P/E(price/earnings), P/S(price/sales), PB(price/book), PEG ratio(PE/growth), and Enterprise Value/EBITDA. The lower these ratios are compared to competitors and the broader market the more undervalued the company is. As the table below shows Best Buy compares favorably to peers and the S&P 500 and appears to be undervalued based on commonly used valuation ratios.
| | | | | | |
| --- | --- | --- | --- | --- | --- |
|   | P/E ttm | P/S ttm | P/B mrq | PEG | EV/EBITDA |
| Best Buy | 10.43 | 0.26 | 2.45 | .69 | 5.13 |
| Amazon | 872.61 | 1.87 | 14.42 | 21.35 | 36.92 |
| Walmart | 15.84 | .51 | 3.15 | 2.10 | 8.22 |
| Target | 20.62 | .53 | 2.35 | 1.63 | 9.09 |
| S&P 500 | 19.72 | 1.77 | 2.78 | NA | NA |
Source for PE, PS, PB, PEG - FinViz, Source for EV/EBITDA - Yahoo
Note: Amazon, Walmart, and Target are not exclusively electronic retailers but still offer a viable comparison.
What Is Best Buy's Fair Value
To determine the fair value or "intrinsic" value of a stock there are two easy and common methods - Graham's revised formula and discounted cashflow valuation (DCF).
Graham's revised formula - Benjamin Graham, known as the father of value investing, developed his formula to give investors a tool to quickly screen if a stock was above or below intrinsic or fair value.

V* = Fair Value
EPS = EPS ttm
g = EPS (5yr projected growth)
Y = AAA Corporate Bond Yield
If we plug Best Buy's numbers into the equation we get:
V*= $2.99(8.5+2*15.13)4.4 divided by 4.16 = $122.58
Seeing as Best Buy's shares closed at $31.20 Friday they are significantly undervalued according to Graham's revised formula.
Discounted Cashflows Valuation - The DCF method is a popular method for determining fair value and uses future free cash flow projections, then discounts them to come up with a present value. In using the DCF valuation we have to make some assumptions for discount rate(our expected annual rate of return on our capital) and projected growth after year 5.
Using this online DCF calculator and inputting a discount rate of 12% and a conservative 3% growth rate for year 6 forward we get a fair value of $55.53. Using DCF valuation Best Buy's shares appear significantly undervalued.
Best Buy's Balance Sheet Looks Solid
Best Buy's balance sheet looks good with $8.79 per share in cash and levered free cash flows of $1.82B. The company currently carries $1.65B in debt against $3.07B in cash. The company now has an annual dividend yield of 2.44% after announcing a 12% increase on June 10th. The CFO indicated in the Q1 earnings call that there were no plans for a share buyback but they would not rule it out in the future depending on the health of the balance sheet. The company appears to be on solid financial footing and reports Q2 results on August 26th.
Growth Prospects
Best Buy rolled out its "Renew Blue" initiative in 2012. The main thrust being to improve same store sales, improve profit margins by cost cutting, increase online sales and "reinvigorate" and "rejuvenate" the customer experience. Best Buy was a victim of "showrooming" where a customer would go look at an item at a Best Buy store then go home and order it online from a company like Amazon. Best Buy has done an excellent job of countering "showrooming" by offering price matching, beefing up online options, and offering 0% financing. Best Buy's online sales were up 29% last quarter generating about $640m of revenue. Best Buy's growth prospects look good moving forward.
Bullish Technicals
Best Buy's chart looks bullish. The shares recently broke strongly above the 200dma and the 50dma is crossing above the 200dma signaling a "Golden Cross" which often ignites programmed institutional buying. The RSI has broken the midline on an upswing signaling positive momentum and the MACD is showing a bullish cross over. The shares have been pretty hot the last few days and could take a breather which, in my opinion, would present a good opportunity to start building a position.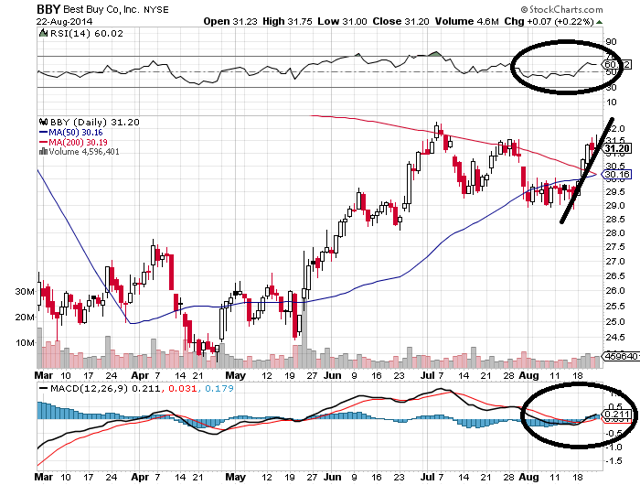 Conclusion
By almost any metric, Best Buy's shares are undervalued relative to peers and the broader market. Additionally at $31.20 the shares are significantly below fair value as calculated by Graham's revised formula ($122.58) and a very conservative DCF valuation ($55.53). The company has a solid balance sheet, good growth prospects, and bullish technical indicators. I believe Best Buy offers a buy at current levels with a considerable margin of safety.
Disclosure: The author has no positions in any stocks mentioned, and no plans to initiate any positions within the next 72 hours.
The author wrote this article themselves, and it expresses their own opinions. The author is not receiving compensation for it (other than from Seeking Alpha). The author has no business relationship with any company whose stock is mentioned in this article.
Additional disclosure: This article is informational and intended to spur thought and discussion. This article is not a substitute for your own extensive due diligence and does not qualify as investment advice. Do not buy or sell stocks based on this article.