When it comes to Netflix (NASDAQ:NFLX), the bull/bear debate continues to rage on. There are those that believe the company is just scratching the surface of its potential, while others see a stock that is extremely overvalued. As someone who has been on both sides of the fence, I've found a growing number of bears that miss a number of key points. Today, I'm going to discuss a couple of key items the bear side misses, and why they are extremely important for Netflix and those who wish to be long.
Point 1 - The importance of DVD:
Because contribution margins are highest in the DVD segment, the bear camp seems to overstate this segment's importance. Two years ago, the DVD segment represented a third of Netflix's total revenues. However, in the latest reported quarter, DVD revenues represented just over 14.5% of Netflix's total. Most likely within the next year, the DVD segment will represent less than a tenth of Netflix's total revenues. Additionally, DVD contribution margins, as a percentage of the domestic business, have dropped from more than 60% to less than 29% in the past two years. Within the next year, that percentage could fall to less than 20%. Yes, the DVD business used to be the bread and butter of Netflix, but today it is not as important as the bear camp makes it seem.
Point 2 - The margin issue:
Sure, Netflix is not a profit monster like Apple (NASDAQ:AAPL), but there are a number of low margin businesses out there. A lot of people point to Amazon (NASDAQ:AMZN) as a key competitor. Despite projections for more than $90 billion in revenues this year, Amazon is expected to lose money in 2014. In the 18-month period ending with Q2 2014, Netflix reported a profit of a little more than $236.5 million. That might be more than Amazon makes in the years 2012, 2013, and 2014 combined.
But let's get back to Netflix. In Q4 of 2011, the company started detailing contribution margins for each segment of the business. In that quarter, the company's total reported contribution margin, as a percentage of total revenues, was 22.02%. We know that the total number dropped right after that as the more profitable DVD business was thrown to the side, but what's happened since may surprise you. In the chart below, I've tracked that contribution margin to revenue percentage number since Netflix started reporting it.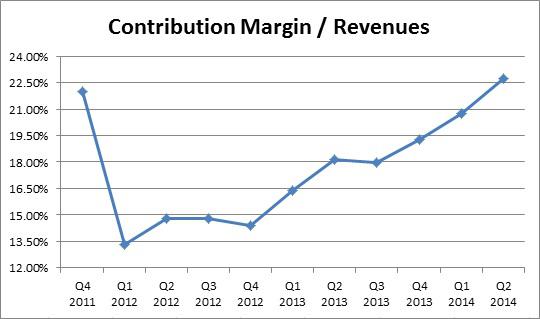 Yes, in Q2 of 2014, the percentage came in at 22.74%, higher than the Q4 of 2011 value. Netflix may not be as profitable as it used to be, but you're making an apples to oranges comparison. Netflix as a DVD business versus Netflix as a streaming business are two vastly different business models. Now that Netflix generates a majority of its revenues and profits from streaming, profits are at an all-time high if you look at the period where the company began to primarily focus on streaming.
This argument brings up another key related point. Netflix faces two-sided criticism when the company looks to expand. In Q3 2014, the above mentioned percentage will most likely decline as the company undergoes a major European expansion. Netflix will be criticized as profitability declines a bit. I can see why declining profitability is an issue, but the company is adding expenses to grow the business. The flip side is that Netflix does not expand and increases its profitability further. In that case, the company would surely be criticized for slowing subscriber growth and slowing revenue growth. Sorry, you bears can't have it both ways. If you want subscribers and revenues to grow, it comes with a short-term profitability hit. I'm sure that the bears here are also ignoring the point that Netflix's international operations would be profitable for the first time ever if you exclude the expansion. The international business is about to take a major step forward, and when you combine the efforts made in domestic streaming, profitability is a lot better than most make it seem.
Point 3 - The balance sheet is in trouble:
A lot of bears continue to believe Netflix is in some sort of financial trouble. A lot of times, the bears discuss the growing content liabilities pile, which according to the most recently filed 10-Q was up to more than $7.7 billion. One key point that is missed is that the streaming content number includes liabilities already on the balance sheet, which total more than $3.2 billion at this point. Additionally, as you can see in the table below, a number of balance sheet metrics have gotten better in the last couple of years. Dollar values below are in thousands.

*Liabilities to Assets ratio.
Net cash and working capital are at new highs and have basically doubled in the past two years. The debt ratio has also come down to its lowest point in a couple of years. Additionally, the bears will cite almost $4.5 billion in off-balance sheet liabilities. Those off-balance sheet liabilities represent about 95% of Netflix's total liabilities. A year ago, the percentage was over 116%, so that number is coming down. Netflix may not have the prettiest balance sheet, but it's not the worst one either.
Point 4 - The valuation is completely ridiculous:
There are plenty out there that say Netflix as a stock is completed overvalued, and that camp will use a variety of metrics. Well, for every number you could use that says Netflix is overvalued, I could probably come up with one saying it is undervalued. Here are just a few examples, based on Friday's closing data and current analyst estimates for each name.
Netflix trades at 4.20 times 2015 revenues. Google (NASDAQ:GOOG) (NASDAQ:GOOGL) trades at 5.08 times. Netflix has a lot more revenue growth potential in the next few years than Google does mostly due to the law of large numbers hurting Google's growth.
Netflix trades at 73 times 2015 EPS. Amazon trades at 171 times. Netflix has more earnings growth potential, and isn't losing money like Amazon is.
Netflix trades at roughly the same P/S as Keurig Green Mountain (NASDAQ:GMCR) for their next fiscal year. GMCR's fiscal year ends in September 2015. Netflix's projected revenue growth is more than double that of GMCR this year and next.
These are just a couple of examples showing how you can make a case that Netflix is undervalued. The median price target among analysts is $500 a share, so they see further upside in shares as well, and don't see a huge crash coming.
Final thoughts:
There are a lot of Netflix bears out there, and some of the arguments used to discredit the company are just wrong. The DVD segment is not that important anymore, and Netflix has done a great job of increasing margins recently. International revenue growth will help push Netflix through the next couple of quarters with a major European expansion. The balance sheet is getting better in many respects, and you can argue that Netflix's valuation is too low. I think Netflix has further upside, and it would not surprise me at all if we see $500 a share at some point this year. That's not too bad for a name that barely was above $50 about two years ago.
Disclosure: The author has no positions in any stocks mentioned, and no plans to initiate any positions within the next 72 hours.
The author wrote this article themselves, and it expresses their own opinions. The author is not receiving compensation for it (other than from Seeking Alpha). The author has no business relationship with any company whose stock is mentioned in this article.
Additional disclosure: Investors are always reminded that before making any investment, you should do your own proper due diligence on any name directly or indirectly mentioned in this article. Investors should also consider seeking advice from a broker or financial adviser before making any investment decisions. Any material in this article should be considered general information, and not relied on as a formal investment recommendation.