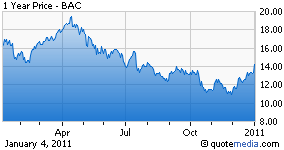 By Angus Robertson
Bank of America (NYSE:BAC) may escaped the mortgage putback frying pan, but the smoldering threat of a Wikileaks expose fire is likely to keep a lid on the bank's stock price after Monday's rally.
The bank's agreement to buy back some $2.8 billion of bad mortgages from Fannie Mae (OTCQB:FNMA) and Freddie Mac (OTCQB:FMCC) has been welcomed by analysts. FBR Capital's Paul Miller writes that it removes the "doomsday scenario" overhanging Bank of America, though the company remains exposed to litigation over private-label putbacks. (Miller previously opined that the concern over putbacks was overblown.)
But losses from private label mortgage put backs aren't a systemic risk for big banks, according to Bose George, analyst at Keefe, Bruyette & Woods.
"This is a gift to Bank of America," according to Christopher Whalen, senior vice president and managing director at research firm Institutional Risk Analytics.
Barry Ritholz at the Big Picture goes further:
My biggest complaint about the GSEs post government takeover is that they have been used as a back door bailout of the banks. This latest deal reconfirms that view.
Dick Bove, bank analyst with Rochdale Securities, said he previously estimated Bank of America would pay $5 billion annually for the next four years on mortgage buybacks, but now he expects it will pay less.
The settlement was not enough to cause Standard & Poor's to change its ratings on Bank of America Corp. from A/Negative/A-1. S&P wrote:
The agreement reduces the uncertainty regarding BofA's exposure to GSE mortgage representation and warranty liability. However, the recent court decision allowing MBIA, a monoline insurer, to use statistical sampling in making its case for representation and warranty claims on securitization deals it insured for BofA tempers the positive aspects of the settlement.
Analysts have so far not changed their recommendations or price targets on Bank of America as a result of the settlement. In our last prognosis, the mean 12-month price target stood at $18.71, which would still represent a gain of over 30% from Monday's close of $14.19.
As Bloomberg points out, Bank of America has significantly underperformed other big bank stocks over the last year, so it does have the potential for significant gains if and when it gets past the putback and Wikileaks hurdles.
Though his 12-month price target is $19.25, bank bull Bove recently told TheStreet the stock could reach $32 in three years.
While it can be argued that there's not much more embarrassment that Wikileaks can heap on Bank of America, the threat is enough to scare off risk-averse investors.
Disclosure: No position