After a good performance in 2009 and even better numbers last year, this is the first stock pick of the New Year and it should certainly be a very interesting one. Yesterday, we opened up the year by going long Apple against Blue Nile, one of our "classic trades." Today, I am going long Priceline (NASDAQ:PCLN). I have usually preferred trading Priceline against other internet travel companies but none of them seemed to be a good fit this time around.
Before getting started, here are the main numbers that I used to decide on this trade:
| Ticker | Price | EPS | PE Ratio | PE Next Year | Return YTD | Sales Growth | Analyst rating | Book Value | Trend Analysis |
| --- | --- | --- | --- | --- | --- | --- | --- | --- | --- |
| PCLN | 399.8999 | 11.54 | 41.92 | 22.87 | 83.89 | 24.06 | 4.67 | 33.35 | (70.00) |
| IACI | 28.8475 | -6.98 | #N/A N/A | 20.21 | 42.19 | (4.80) | 4 | 26.42 | (70.00) |
Trend Analysis
Both of these stocks have negative momentum right now which is reflected by their trend analysis scores, both at -70
Long Priceline

Priceline remains the leader in the U.S. for travel booking and it continues to sit at the top of smaller players such as Travelzoo and Kayak. There have been no signs of slowing down and despite the surprising drop in traffic (see chart lower in this post), indications are that Priceline can keep up solid growth despite its size. The main thing here is that on P/E ratio basis, Priceline does seem undervalued relative to IAC Interactive.
Short IAC Interactive

IAC Interactive (IACI) is one of those Internet conglomerates that has been trying to do everything all at once. That has resulted in a loss of focus and becoming a company similar to Yahoo (NASDAQ:YHOO), good at many different things but excellent at too few. It's not surprising to see growth be very slim for the company that is now turning to a new leader after Barry Diller announced he would be stepping down. I do not see anything that points to a turn around or a philosophy change.
Getting traffic stats for IAC Interactive is more tricky since it is spread out into so many different properties. But here are the numbers for Priceline, which are not very impressive. It's not a huge source of concern but I will certainly be tracking the progress here.
Click to enlarge

Just take a look at the charts for both companies:
Click to enlarge charts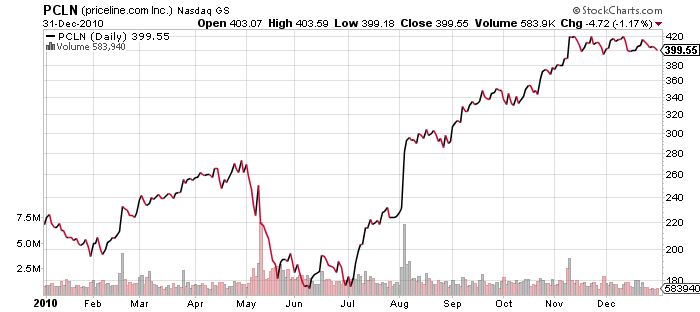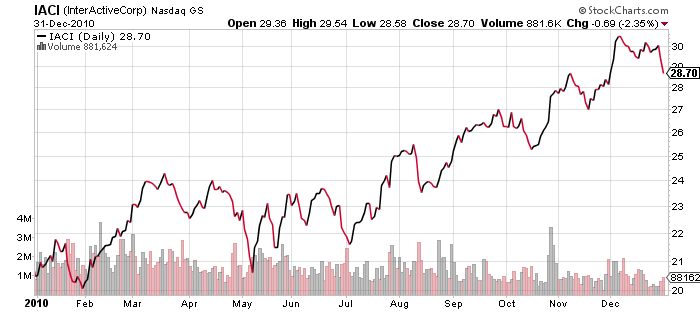 Disclosure: I do not hold positions on either stock.