Despite the series of new measures announced by Italy's new Prime Minister Matteo Renzi, the country's gross domestic product is not picking up. The Italian second-quarter GDP data released on early this month showed a surprise contraction of 0.2%, making investors worry about the ability of the country to get out of recession.
The economic growth forecasts for this year are not promising either. The Bank of Italy lowered its 2014 growth expectations to 0.2%, less than a third of its previous prediction. What is behind the lackluster performance?
Basically, Italy is suffering from a very low level of private investment and, as ECB President Mario Draghi stated, the reason is certainly not the cost of capital. "Interest rates, nominally and real interest rates, have been low and in some parts of the euro area are negative, have been negative for quite a long time," Draghi said.
The numbers are quite shocking. Borrowing costs for the country are at all-time lows. The Rome-based Treasury sold 7 billion euros ($9.3 billion) of 365-day bills maturing in August next year at 0.279%. Just to give you an idea, at the previous auction of similar-maturity debt, the rate was 0.387%.
Renzi's strategy
The Italian PM is trying to boost euro-area's third-biggest economy, but things are not that easy. His short-term goal is to get a marquee bill passed that would allow his party to pass new laws easier and faster. The new bill would end the Senate's equal status within the Italian legislature, which would ease passing new laws and allow deeper, structural reforms.
In a few words, Renzi aims at making the labor market more flexible, speeding up the justice system, and making public administration more efficient. These reforms should have a positive impact on private investment and eventually boost Italy's activity levels.
One outperforming Italian asset
The short-term context for Italy might not be the most promising, but there's an Italian ADR that could beat the country's contraction, the oil giant Eni (NYSE: E). Why?
Renzi's moves have a little to do with this. Since the Italian government owns a 30% stake at Eni, he can intervene. Right after he took office, he appointed Claudio Descalzi for CEO, and made his mission to accelerate cost cuts and disposals, while preparing to sell Saipem SpA, an oil-services unit. The cost reduction in particular is estimated at 1.7 billion euros ($2.3 billion) and the planned disposals exceed the 20% to 11 billion euros. Letting Saipem go will mean a 50% reduction to the company's 774,000 barrel-a-day refining capacity. The idea is to focus the company on its main oil and gas business, dismissing Saipem as a "core" holding.
Global play shift
Descalzi was head of exploration and production when Mamba South, Eni's biggest natural gas discovery off Mozambique's coast, took place. Production in this country is key for the company's future and recent developments make it even more interesting.
The recently approved petroleum laws in Mozambique allow a special tax break for offshore fields operated by Eni, and will aid further development of these assets. Plus, it will open the way for new oil and gas bids as well. The law prevails that at least 25% of gas produced must be for local consumption, but the rest will feed liquefied natural gas export plants for shipment to world markets.
Eni is shifting its focus away from Northern Africa, which supplies Italian demand. The civil war in Libya and dwindling volumes from Algeria have affected deliveries. The growing population in Algeria as well as the artificially low domestic energy prices are reducing exports. As a consequence, Eni's long-term gas supply deals with Algeria expire in 2019 might not be renewed.
Eni remains the biggest foreign producer in Libya, and the circumstances in Ukraine, where sanctions threaten to disrupt supplies from Russia, made Libya's natural gas deliveries to Italy to reach their highest in 11 months, meeting more than a third of the country's needs. However, this situation could be momentary, as the political situation in the African country is not improving. On the other hand, Russia is looking at ways of supplying Europe avoiding Ukraine.
Hence, producing gas in Mozambique looks like a safer and larger business. Proximity to gas-hungry India and the Far East is expected to spur investment and margins looking forward.
The financials
Eni plans to achieve cash break-even at its refining and marketing division by the end of 2015. At the same time, thanks to renegotiation of long-term gas contracts, it is looking at bringing forward the break-even point for its gas and power business to this year. So, things have started to move. According to Eni, its objective to realign its gas supply with market prices is 60% complete, and full realignment is targeted for 2016. There is more to do.
According to the company, disposals and cost reductions will boost operating cash flow by more than 40% to over 15 billion euros on average this year and next. Eni's projections contemplate a 20% year-over-year increase in annual free cash flow in the 2014-2015 period. The recent release of Eni's second-quarter operating cash flow of 3.59 billion euros is the highest figure since the second-quarter of 2012. Plus, more cash will come from the sale of as much as 20% of Eni's giant Rovuma gas field in Mozambique.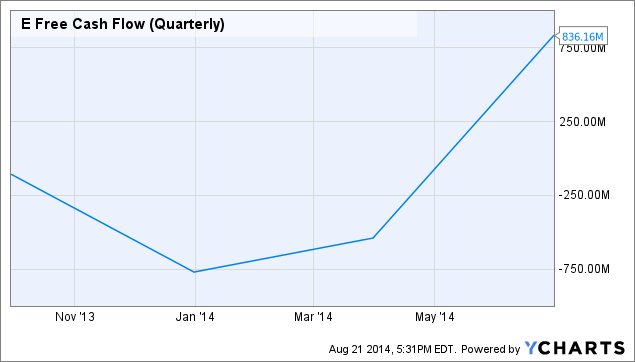 E Free Cash Flow (Quarterly) data by YCharts
Final words
Italy's lack of structural reforms will sooner or later come to an end. But seeing significant growth in the country will take more time as private investment needs stronger incentives and higher confidence levels. Despite the impact in the short term, the reforms in the labor market, in the product markets, in the competition, and in the judiciary will be extremely positive for the country to allow it to move from its stagnant position.
Regarding Eni, its stronger focus on what works and the new benefits of operating in Mozambique should be more than enough to outperform its home country.
Disclosure: The author has no positions in any stocks mentioned, and no plans to initiate any positions within the next 72 hours.
The author wrote this article themselves, and it expresses their own opinions. The author is not receiving compensation for it (other than from Seeking Alpha). The author has no business relationship with any company whose stock is mentioned in this article.