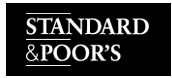 Standard & Poor's Ratings Services anticipates that conditions will remain supportive for the EMEA chemical industry in 2011.
Excerpts from Industry Report Card: Strong Balance Sheets Place EMEA Chemical Companies Well To Pursue Acquisitions And Growth.
We expect that most of our ratings on chemical issuers in Europe, the Middle East, and Africa (EMEA) will remain stable, despite increased acquisition activities. A relatively supportive global macroeconomic outlook, including forecast sustained strong growth in emerging markets, underpins these expectations. We also take into account the generally strong balance sheets and liquidity of most rated chemical companies, as well as our expectation that they will report strongly improved profitability for 2010.
Tempering these positive factors, however, are continued risks relating to the sovereign debt crisis in Europe, and the still uncertain pace of recovery in the U.S. Also, some uncertainty still exists with respect to the sustained recovery of key end markets like construction and automotives. Other risk factors could include more aggressive acquisition plans than we currently anticipate and likely increases in companies' pension liabilities at year-end 2010, in light of the expected contraction in discount rates.
Our overall positive sector view is underpinned by current strong profitability and credit metrics, which we expect to continue in 2011, although we anticipate that margins will decline somewhat from 2010 record levels.
We think though that free cash flow generation and excess liquidity will be increasingly used for new projects and acquisitions. Of a series of recent acquisitions, none have led to rating changes, thanks to companies' generally modest debt and strong liquidity.
S&P's highest rated EMEA chemical companies are Saudi Basic Industries, Qatar Fertilizer and BASF (NYSE:BAS), while the weakest are Ineos Group Holdings, Dynea and Kerling. Full list available here.