Background
Investors are well aware that General Motors (NYSE:GM) has received a lot of bad press of late. Dividend and income focused investors should take note as GM now yields 3.6% a stark premium to the large capitalization averages hovering around 2.0%. My income and capital preservation brethren should take note of GM in particular for three reasons.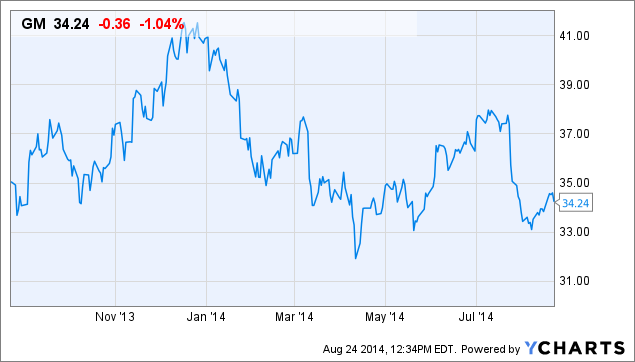 Highly Attractive Relative Valuation
GM boast a forward price to earnings of just 7.6 times projected fiscal year 2015 earnings. This is a level half of the S&P 500 with a forward PE of 15.0, according to S&P. Further lets examine GM to one of its most similar competitors, Ford. Ford (NYSE:F) boasts a 2.9% dividend, relatively attractive to the S&P 500 but 70 basis points below GM. On a projected earnings basis F trades at 8.9 times estimate fiscal year 2015 earnings. Again, F is attractive versus the S&P 500 but is still nearly 20% more expensive than GM.
Given these metrics GM trades at a substantial bargain on both a market and sector basis indicating the shares have some upside.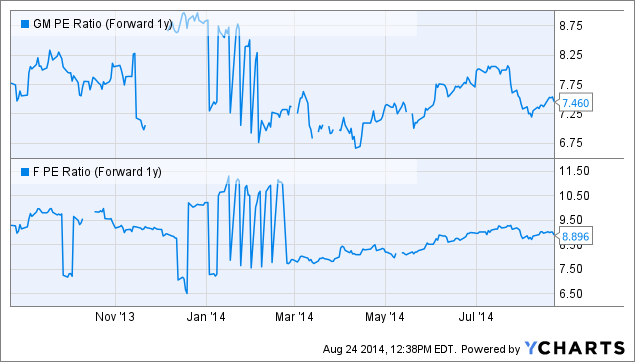 GM PE Ratio (Forward 1y) data by YCharts
Above Average Growth
Normally we would expect to see such a substantial discount applied to a slow growth company, yet analysts expect GM earnings to grow at 16.1% annual rate over the next five years according to Yahoo Finance. This compares to much lower 10.0% projected rate for the S&P over the same period.
Again we compare GM's growth rate to F. According to Yahoo Finance, F is expected to grow at a 12.2% annual rate over the coming five years. GM investors can expect nearly 4% more annualized growth.
Continued Momentum
Investors are all too familiar with the recent challenges GM has faced. We are encouraged given the latest from GM management that continued growth momentum remains on track. On its most recent earnings call, GM indicated sales in key North America and China markets, the two largest and most profitable, were up 6% and 8% respectively. In line with a quarter which saw their volume at the highest level since 2005 at 2.5 million units.
GM is taking steps to streamline their business including winding down Chevrolet Europe and we expect drags from Russia and Venezuela to subside.
Dividend and Income Investors
GM shares pay a healthy 3.6% dividend and given the substantial discount to competitors and overall market expect limited downside for the capital preservation conscious. One last data point to note is GM's payout ratio of 68% indicates some buffer exists to maintain the dividend.
Disclosure: The author is long GM.
The author wrote this article themselves, and it expresses their own opinions. The author is not receiving compensation for it (other than from Seeking Alpha). The author has no business relationship with any company whose stock is mentioned in this article.