Microsoft's (NASDAQ: MSFT) tablet venture hasn't exactly been a financial success. The software giant took a $900 million write down last year due to poor Surface RT sales, and thus far, its Surface division has lost $1.7 billion. So when Satya Nadella announced earlier this year that Microsoft would combine all iterations of Windows into one unified operating system, the Street assumed that the Surface RT line-up is being killed off.
David Goldman of CNN went so far as to say that, "Microsoft is about to take the ax to one of the stupidest products it ever created." But the story for ARM-based (NASDAQ: ARMH) Surface tablets doesn't appear to be over yet.
Quick primer
Microsoft's Surface division manufactures two iterations of tablets - Intel and ARM-based. Its Intel-based (NASDAQ: INTC) tablets belong to the Surface Pro line-up, with the latest one being Surface Pro 3. These tablets are equipped with mobile Haswell chips - i3, i5 and i7 - which allow them to perform in-line with high-end laptops and ultrabooks.
On the other hand, Microsoft's ARM-based tablets are named Surface RT and Surface 2. These tablets - competing against the likes of the iPad and Galaxy Tab - are powered by relatively less powerful Tegra chips to allow for cost and power savings. These tablets operate on a completely different Windows RT OS.
The exclusivity of Windows RT drastically limits app availability, and is one of the main reasons sales of Surface tablets failed to takeoff in the first place. So, it makes sense to chop-off the ARM-based troublemaker, right? Microsoft would like to disagree.
Unifying means RT lives?
Thus far, Microsoft hasn't made it clear as to what exactly it means by unifying. But from what it appears, unifying probably means that Windows will share common APIs across all platforms - something that will allow apps to be cross compatible with Windows Phone, Windows RT and Windows PC.
On being asked whether Windows RT has a future, the head of Microsoft's unified operating system's group, Terry Myerson, replied to ZDNet's Mary Jo Foley:
Windows ARM processors have a future, and there's tremendous innovation in the ARM ecosystem. I think Intel has a fabulous future. There's tremendous innovation going on with Intel…We will have great version of Windows on ARM. One thing we're working through is how do we really delight customers in all the form factors that will have ARM chips.
What does that give you? Surface RT line-up is not necessarily being killed. Corroborating this theory, Myce recently found out from its sources that Microsoft's upcoming RT devices (including Surface 3) wouldn't include the desktop interface. Apparently, these devices will come locked-in with a Metro interface.
Regardless, the point to be deduced here is that Microsoft intends to continue with its Windows RT and ARM-based Surface tablets
Final thoughts
This move makes operational sense because Surface RT singlehandedly commands about 14.5% share of the Windows tablet market - far higher than Surface Pro's combined share of 2%. Discontinuing the ARM-based line-up would not only destroy this market, but also discourage OEMs to build Windows RT-based tablets in future.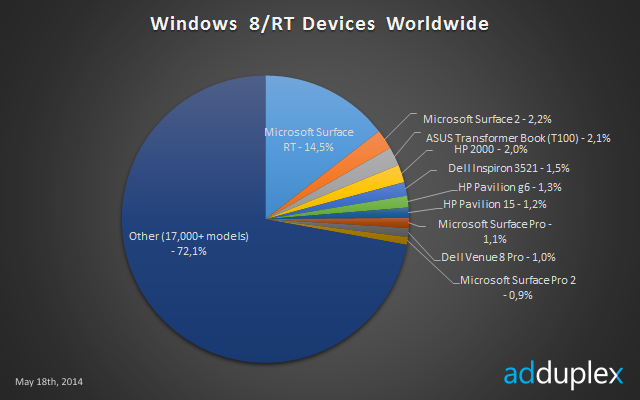 (Source: AdDuplex)
On the other hand, Microsoft's Surface division has lost $1.7 billion to date. Surface RT sales have failed to takeoff in the past, and its line-up has only hemorrhaged cash. So, it makes sense to chop-off the segment.
Therefore, whether continuing the ARM-based Surface RT line-up is a smart business decision or a financial disaster will depend greatly on how Microsoft unifies the tablet and PC platform. Increased app availability from common APIs will of course be a positive trigger for Surface 3.
Disclosure: The author has no positions in any stocks mentioned, and no plans to initiate any positions within the next 72 hours.
The author wrote this article themselves, and it expresses their own opinions. The author is not receiving compensation for it (other than from Seeking Alpha). The author has no business relationship with any company whose stock is mentioned in this article.