As if the continued poor news from U.S. housing is not enough, the recovery in U.S. auto sales continues to be anemic, with total sales in 2010 just about 75% of their 16.8 million annual level before the crisis.
A seemingly permanent loss of 25% of the single largest consumer sales item is surely the stuff of a depression, not a recession. And it is against this benchmark that any report of rising sales in December ought to be compared.
But Wall Street is looking for good news for a New Year rally, so do not expect too much realism from analysts. For the reality of 2011 will not be a great recovery; just more of the same bumpy road, unless the economy takes another whack from higher interest rates and falling financial markets.
Bond market yields point to a rise in the cost of consumer credit, and that will not be good for the auto sector in 2011. A double dip recession for the U.S. auto industry is perfectly likely. This chart reveals a sector that looks like it has fallen down a hole:
[Click to enlarge]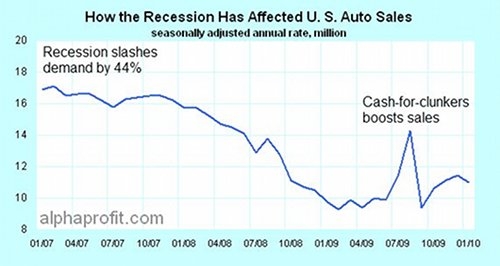 Disclosure: I have no positions in any stocks mentioned, and no plans to initiate any positions within the next 72 hours.