One of the most surprising and impressive areas of the stock market has been the consumer discretionary sector (XLY), and more specifically retailers (XRT). Since January 2009 (before the March lows), the XRT ETF is up a little over 128%, while the S&P 500 (SPY) is up over 40%. The outperformance of retailers is stunning, especially when you consider that we're talking about the average of the group. Rumors of the consumer's death had been greatly exaggerated following the Lehman crash.
However, despite strong holiday sales and continued optimism regarding the economic recovery that really picked up in December, retailers have suddenly started to show weakness. While the the S&P 500 was up over 6.1% in December, the Retailer XRT ETF was up just 2.6%. Take a look at the price ratio of XRT divided by SPY below.
Click to enlarge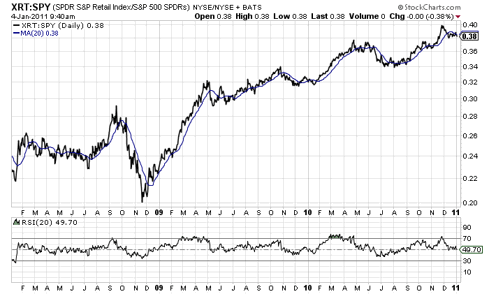 A rising ratio means the numerator (XRT) is outperforming (up more/down less) the denominator (SPY). Notice that the ratio appears to have had a last-gasp spike in late November and has rolled over since. The price ratio is at multi-year highs (even going back further than the above chart). On any kind of a correction, I suspect retailers in particular would get hit the hardest given the incredible outperformance that started just two years ago. Furthermore, if we have indeed hit a peak in retailer outperformance, one must consider the implication the sector has on overall market performance given the importance of the consumer in the overall economy.
Additional disclosure: The author, Pension Partners, LLC, and/or its clients may hold positions in securities mentioned in this article at time of writing.