Best Buy (NYSE:BBY) will report Q2FY2015 earnings on Tuesday before the market opens, with a call scheduled at 8 am. The webcast of the call can be found on the investor relations website.
Consensus expects $0.31 non-GAAP EPS on $9b in revenue. The stock has recovered since its Q1 earnings, after which it fell sharply, despite reporting better-than-expected EPS. Going forward, comps could be relatively easy and we could see gross margin recovery on the back of an improved product cycle. The impact of cost saving could flow through in the future quarters and, when coupled with improved traffic post Black Friday period, we could see further upside surprise to earnings. The stock is cheap at 13x forward earnings, and sports a 2.4% dividend yield.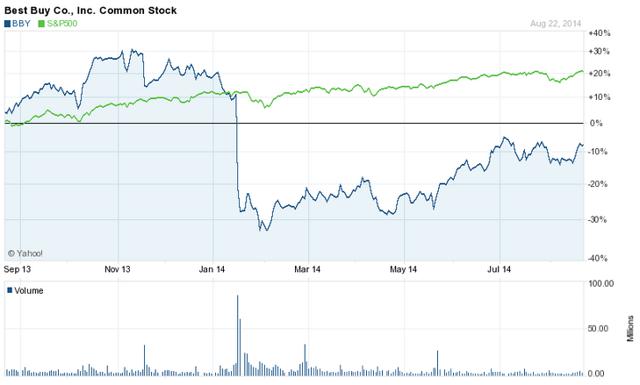 Click to enlarge
Positioning for a turnaround
The momentum of e-commerce is having a material impact on the traditional offline retailers, and it seems that the trend is unlikely to reverse anytime soon, if at all. From the prior Q1 results, it was evident that those with the most direct to consumer exposure could withstand the headwind, and the one with the least e-commerce exposure saw a sharp drop in store traffic and sales.
Interestingly, BBY has pursued a differentiated approach by renting out its store space to suppliers, which results in more well-trained product sales team (read: a better shopping experience) and lower overhead cost. It is worth noting that the store-in-store concept isn't anything new, as we have seen Asian electronic giants such as Gome (OTC:GMELF) and Suning both rent out their store space for companies such as Samsung (OTC:SSNLF), Lenovo (OTCPK:LNVGF) and Sony (NYSE:SNE), but I see BBY's decision to pursue this strategy as quite innovative here in North America.
Management pointed out that the concept has so far been proven to be successful, with good feedback from both suppliers and customers, so it is safe to say that we could see additional rollout of this strategy down the road. Long-term speaking, BBY could become a critical offline channel for companies that sell products that place heavier emphasis on user experience, and/or an offline distribution/fulfillment for online players such as Amazon (NASDAQ:AMZN) and the soon-to-be-listed Alibaba as it looks to expand its footprint in the US. I note that Alibaba already invested in the Intime department store to strengthen its offline distribution capability. I would not be surprised to see Alibaba making a similar investment in BBY, given the company's store footprint and the value of its real estate asset. At the current valuation, the stock looks attractive, and I am positive on the fact that it is gradually putting the pieces together for an eventual turnaround.
Disclosure: The author has no positions in any stocks mentioned, and no plans to initiate any positions within the next 72 hours.
The author wrote this article themselves, and it expresses their own opinions. The author is not receiving compensation for it (other than from Seeking Alpha). The author has no business relationship with any company whose stock is mentioned in this article.