Shares of Darden Restaurants (NYSE:DRI) have traded down recently pushing the dividend yield to 4.6% and hitting the radar of value dividend investors looking for stocks on the clearance rack. We think dividend investors with a capital preservation mentality should be cautious with this stock for several reasons.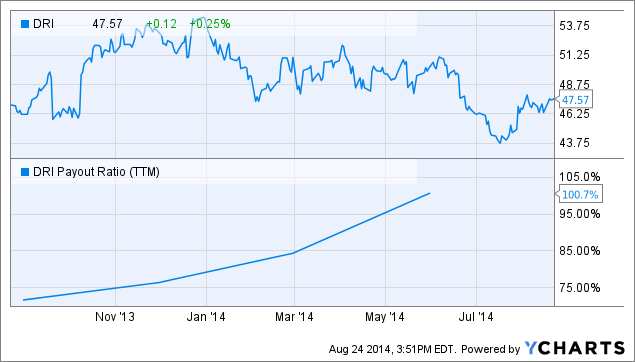 Background
DRI is a large restaurant operator primarily in the casual and upscale dining space. DRI owns such brands as Olive Garden, Yard House, Capital Grill, Longhorn, and recently sold the Red Lobster chain.
Drama in the Corner Office
Darden's CEO recently resigned after fighting a bruising battle with activist investors. What's most fascinating with this story is the board is now aiming to appease the activists with a few board seats after blatantly ignoring a shareholder request for a vote on the sale of Red Lobster. It seems just after letting the sale go through the board is now looking for a compromise and a new CEO. While the war seems far from settled and both sides finger pointing on the best path forward and flaws in the other's path, one thing is clear, the surety and safety of the dividend is far from assured. One risk is a new management may change it but as we'll look more closely below, DRI pays out more than their annual profits. According to Yahoo Finance, DRI has a payout ratio of 102%.
Too Much of a Premium Valuation
DRI shares are anything but a bargain. Currently DRI trades at 19 times current earnings and 19.3 times projected earnings. This compares to a market multiple of 15 times forward earnings for the S&P 500. Looking at similar competitors in the casual dining space DRI commands a premium to Brinker International (NYSE:EAT) and Dine Equity (NYSE:DIN) with projected forward earnings multiples of 14.1 and 15.3 respectively.
Growing Pains
With DRI trading at a premium multiple an investor may justify it for more rapid earnings growth. Here again, DRI doesn't seem to measure up with analyst anticipating a mere 0.1% annualized growth over the next five years. Again looking at the S&P 500 barometer we see the market earnings growth is 10% annualized over five years. Even competitors EAT and DIN are anticipated to grow more rapidly than the market at 13.1% and 11.0% respectively.
Conclusion
DRI pays a handsome dividend of 4.6% however, investors should be cautious before committing dollars to this stock. DRI trades at a premium valuation in exchange for little growth and a lot less certainty.
Disclosure: The author has no positions in any stocks mentioned, and no plans to initiate any positions within the next 72 hours.
The author wrote this article themselves, and it expresses their own opinions. The author is not receiving compensation for it (other than from Seeking Alpha). The author has no business relationship with any company whose stock is mentioned in this article.