Carlyle Group LP (NASDAQ:CG) has announced that it has hired Goldman Sachs (NYSE:GS) and Citigroup (NYSE:C) to float a U.S. initial public offering (NYSEARCA:IPO) of Axalta Coating Systems. Sources close to Carlyle have reported that the IPO expects to raise approximately $1 billion.
As the auto-paint division of DuPont, Axalta was acquired by Carlyle last year. Other managing members of the underwriting group include J.P. Morgan Chase (NYSE:JPM) and Deutsche Bank (NYSE:DB) . Exact details regarding the IPO have not been publicly disclosed because the deal is private. Moreover, the timing of the underwriting has not been announced.
Fast Turnover
This IPO represents a very quick turnover of Axalta, which Carlyle acquired in February 2013 for almost $5.0 billion. Based in Philadelphia, the company is on track to realize $7.0 billion in revenue by 2018. This would represent a 63 percent increase over revenue of $4.3 billion in 2012, according to Chief Executive Officer Charlie Shaver.
Executives and spokespersons for Axalta and Carlyle have declined to offer any comments regarding the strategy for the IPO. Moreover, representatives for the underwriting group, including Goldman Sachs and Citigroup, have not offered any official information.
Carlyle's third European leveraged buyout pool and fifth U.S. buyout pool purchased Axalta from DuPont. The private equity firm paid approximately 10 times Axalta's earnings before interest, taxes, amortization and depreciation.
Several Wall Street watchers and company insiders indicated that Axalta was looking for methods to reduce the interest rates on approximately $2.8 billion in loans obtained for the buyout.
DuPont has had operations in the auto-paint sector since the earliest automobiles. However, the company has exited the sector as part of a greater strategy to shift into other markets such as biofuels and food. Carlyle assumed the unfunded pension liabilities from Europe, which increased the value of the transaction to $5.15 billion, the largest acquisition in the coatings sector in at least 10 years.
Carlyle's Penchant for Corporate "Orphans," Along With Various Other Business Sections
David Rubenstein, Dan D'Anielle and Bill Conway founded Carlyle in 1987, and it has shown a continued penchant for corporate orphans since it began acquiring defense firms as a result of the Berlin Wall falling. In addition to conducting leveraged buyouts, Carlyle also manages credit investments, hedge funds and real estate with over $200 billion in assets in 139 fund of fund vehicles and 126 funds as of June 30. The private equity firm focuses on four market segments- global market strategies, corporate private equity, real assets and solutions- in Asia, Africa, Australia, the Middle East, Europe, South America and North America.
In addition, Carlyle Group has expertise in many segments including defense & government, aerospace, consumer & retail, financial services, energy, industrial, healthcare, telecommunications, technology and media.
Recent Earnings Report
At the end of the second quarter for 2014, Carlyle reported $324 million in distributable earnings pretax and $1 billion for the previous 12-month period. This amounted to $0.93 per common stock post-tax. Net income came to $3.8 million pretax and $0.73 per adjusted unit post-tax. The company declared a $0.16 distribution per common share for the second quarter.
Outlook For Carlyle Shareholders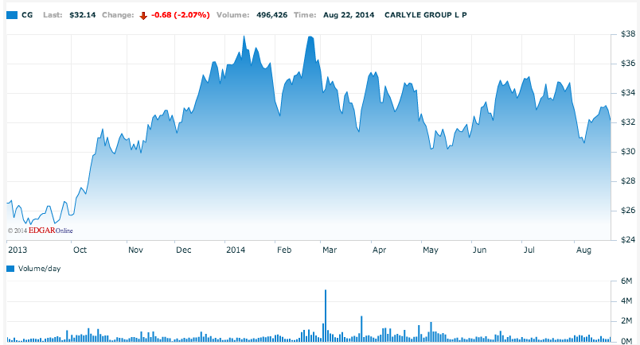 (Nasdaq.com)
With 2014 already appearing a very strong year for M&A and IPOs, the outlook for Carlyle and the greater private equity industry could be boosted.
The firm beat estimates for revenues seven out of the past eight quarters and-to us-looks increasingly strong heading into the second half of 2014.
We invite readers wishing to join the discussion on Carlyle and other private equity industry updates to click the +Get real time alerts button above the title of this article.
Disclosure: The author has no positions in any stocks mentioned, and no plans to initiate any positions within the next 72 hours.
The author wrote this article themselves, and it expresses their own opinions. The author is not receiving compensation for it (other than from Seeking Alpha). The author has no business relationship with any company whose stock is mentioned in this article.