By Scott Tzu
Renren (NYSE:RENN) is China's biggest social networking site and it's set to report earnings on Monday after the market closes. The company's conference call is going to be at 9PM EST. Consensus estimates for this quarter are a loss of ($0.07) EPS compared to ($0.03) last year and revenue of $21.87 million, compared to $49.62 million last year.
The estimates versus last year aren't even the worst part, either. The expectation among analysts is for continued slower YOY growth in revenue as the company gets finished restructuring and preparing for mobile game launches, which have been delayed time and again and are causing RENN stock to look anemic.
Renren stock has been trading in the same tight range for the last three years since coming down off of highs in the early 2010s. At one point, the stock was worth over $16/share, and it's now trading 80%+ lower.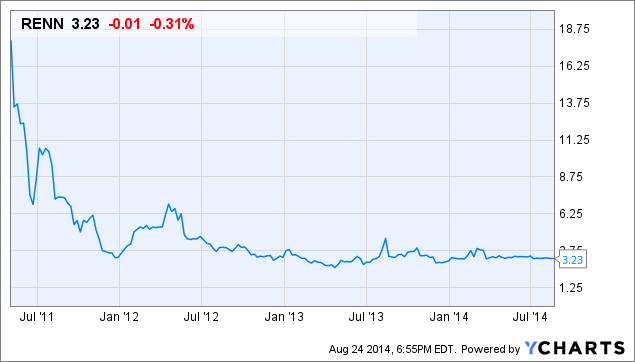 RENN data by YCharts
Renren, as some might recall, had a horrible first quarter. They posted a 40% YOY decline in revenues and operated with a loss of ($29.2 million). Analysts like Trefis aren't expecting much of a change for this coming quarter.
The quarter prior, reported in March of 2014, also found the stock hit hard as the company's guidance overshadowed the fact that it had beat on revenue. Online game revenue and unique monthly logins were both guidance metrics that fell well below consensus for the company heading into this quarter.
Revenues are derived mostly from online gaming, but Renren has failed to launch a game recently even though it's planning for new games in the second half of 2014 leading into 2015.
Renren recently sold off its video site, 56.com, to Chinese video site Mango TV. The company also sold its Nuomi daily deals site to Baidu (NASDAQ:BIDU) earlier this year and it has tried to curb costs and narrow its losses.
The company has also failed to monetize mobile advertising. Trefis notes that this is due to a slower adaptation of mobile ads in China:
Even though users spend 80% of their time on Renren via mobile devices, mobile accounts for only 11% of the company's online advertising revenues. That's because the adoption of mobile advertising in China is low and the company only started selling mobile ads in the final quarter of 2013. Renren's online advertising revenue declined 19% annually in Q1 2014. Demand for PC advertising has been declining due to increasing competition in the advertising space and due to a rising proportion of traffic coming from mobile. Renren's competitors, Weibo and WeChat, have done well to overcome such problems by focusing on e-commerce and online payment.

Renren is still in the early phases of expanding its mobile advertising business. It is bolstering its mobile apps, mobile commerce and mobile gaming to enhance growth in the mobile channel. While we do not forecast any significant revenue contribution from this strategy in the near term, we believe a successful implementation could lead to an acceleration of revenue growth in the longer run.

The Peel's Feel:
There are certainly a lot of reasons to avoid Renren. Aside from net losses widening and the company failing any type of timely turnaround, the company is going to be eventually banking on mobile gaming, a "fad" revenue generator here in the U.S. right now.
There is no doubt to us that this quarter isn't likely going to be pretty. One item that I know to be true is the fact that mobile gaming is still an emerging part of the social networking business in China. While Renren has a chance of a temporary improvement via mobile gaming, we don't see any long-term prospects for the company at this time.
Items like mobile games are the sole reason companies like Zynga (NASDAQ:ZNGA) and King (BATS:KING) have had IPOs in the first place. Both have subsequently been crushed.
While Renren doesn't present any appealing investment opportunity now, the company is worth re-evaluating after earnings, and then 2-3 quarters out to see if they have made any traction with launching new mobile games.
Disclosure: The author is short KING.
The author wrote this article themselves, and it expresses their own opinions. The author is not receiving compensation for it (other than from Seeking Alpha). The author has no business relationship with any company whose stock is mentioned in this article.