In Vermont, the general store is as common as muddy back roads. These local hangouts are commonly the closest available option for bread, milk, and coffee - as well as any fresh produce that may have been grown by local farmers.
They are sort of a potpourri of variety - selling everything from food to Frisbees, and even a few bags of cat food too. If I could buy stock in them I would - because they always have customers and are always open when I need something.
Perhaps it was my fondness for the venerable general store that led me to the subject of today's letter. This company has roots in the agricultural industry but the family-run, publicly traded company operates more like a country store. And it has handsomely rewarded investors with solid earnings and a decent dividend that has more than doubled over the past five years.
The Andersons (NASDAQ:ANDE) is a company that competes in five agriculture-related arenas. The stock rose 45 percent in 2010, but I believe that there is still some room for it to climb past its October high of $42.44.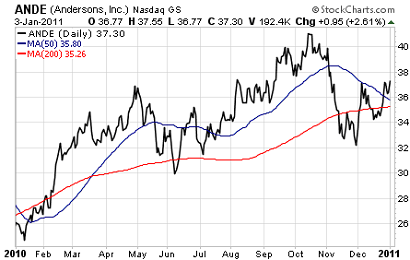 Since the Toledo, Ohio-area company began with a single grain elevator six decades ago, The Andersons has expanded far beyond grain. The company now separates it operations into grain and ethanol, plant nutrient (fertilizer), rail, turf and specialty, and retail (a handful of stores in Ohio). Yet grain remains at the heart of its operations, which are located in 16 states and Puerto Rico. It also has rail-leasing interests in Canada and Mexico.
The weakest link is its rail operations, which encompasses 24,000 railcars nationwide and two repair facilities. However, the rail business felt the impact of reduced demand for grain hauling from farm to market in 2009. Retail also has faced intense competition, and the company closed one of its stores in recession-weary Ohio in 2009.
The company traded some 385 million bushels of grain in 2009, and it can produce nearly 300 million gallons of ethanol annually -- an established business that has weathered volatile demand for this vital gasoline additive. But even that doesn't really cover the diversified portfolio of businesses that The Andersons has.
It's difficult to compare The Andersons with other stocks, simply because it is a small-cap conglomerate. But it's interesting to note that the company is outperforming Tyson Foods (NYSE:TSN), Smithfield Foods (NYSE:SFD), and Ralcorp Holdings (RAH). Broad-based agri-conglomerates such as Con-Agra (NYSE:CAG) and Archer Daniels Midland (NYSE:ADM) were actually down slightly in 2010.
The Andersons is a dependable dividend payer, currently yielding around 1.3 percent, and it stayed profitable during the recession. It took its licks, to be sure, but still it surpassed $3 billion in revenue for 2009.
The stock has more than tripled in value since its 2009 low. Pre-recession in 2006, The Andersons was trading in the mid-$50s. While it's unlikely to hit that plateau anytime soon, a return to its 12-month high is a reasonable expectation as the economy recovers.
For the third quarter, The Andersons missed estimates on earnings per share by posting $0.08, but beat expectations with revenue of $707 million. Still, that led to a November pullback in share price from around $40 to the $33 range. The stock is trading at 11 times expected 2011 earnings per share of $3.37 and has a trailing P/E of 12.5 - a discount to many competitors.
When The Andersons report full-year results in February, analysts surveyed by Thomson Reuters expect revenue to rise 9 percent to $3.3 billion, while EPS could jump 43 percent to $2.98.
I love dividend-paying stocks, and with the quarterly increase the annual yield for The Andersons is up to 1.3 percent.
Disclosure: No position