For those that don't know who Barry Bannister is, he's the chief portfolio strategist at Stifel Nicolaus.
He began this year with reasonable and flat view on the equity markets, basically the same outlook we also had to begin the year, even though we were looking for about 2%-4% growth in the S&P 500 for the year. He made smart, measured points about what the Fed taper could do to the market, and based his outlook on those points. While he's been wrong so far this year, we think his initial outlook on the equities market (and the bond market, for that matter) were correct fundamentally, and that the market is just taking time to adapt out of its melt-up phase.
As you can see from this list sourced from Business Insider, Bannister started the year with one of the most bearish outlooks on the markets compared to other major analysts.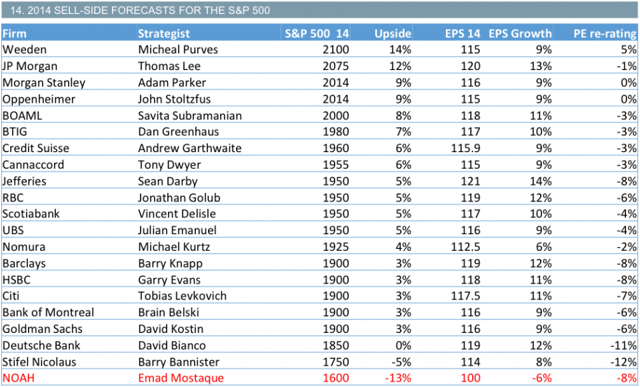 Click to enlarge
(Source)
For someone of his pedigree to turn around and go from being on the bottom of this chart to the very top in one recommendation is baffling. What's more interesting, however, is that Bannister is a man of generally great timing. His profile boasts him as:
He is a five-time winner of the Wall Street Journal All-Star Analyst award, three-time winner of the Forbes Magazine/Financial Times/StarMine top analyst award, Top-10 U.S. Stock Pick analyst for CNBC/Zacks, and three-time Institutional Investor magazine All Star Analyst (2007, 2008 and 2009).
We know that changing your mind is part of the game with being a stock market analyst. As proprietor of my own family's fund, I've held many a meetings with my underlings doing just that. What we rarely are used to is a full on about-face, as opposed to a gradual shift in sentiment.
Bannister's reasoning is the result of him changing being wrong about bond yields for the year. He had predicted that bond yields were going to rise as a result of the Fed's taper, when instead, they have done just the opposite this past year. He thinks this is a queue that the markets are going to stretch out equities into the end of the year. We believe this to simply be an aberration, and are expecting bond yields to rise as we head into the end of the year.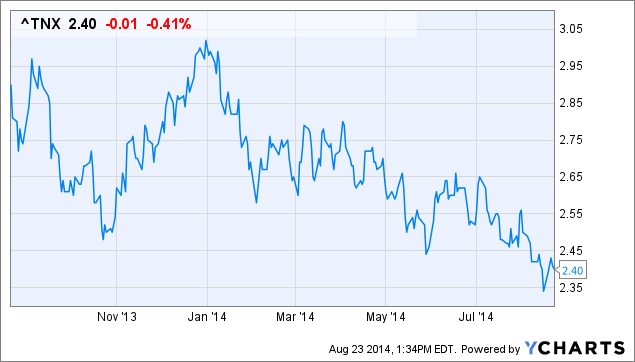 Bannister made his new year-end prediction for the S&P to reflect a 2,300 price target. Previously, his prediction had been for 1,850. In other words, Bannister has just shifted gears in a major way.
Citing just a couple of the bull markets in history that have lasted 6+ years, Bannister claims he's seeing a summer that signals condensing for the market to move higher.
We couldn't disagree more.
As much as we think it's hilarious when we see permanent bears and bulls talking their book on TV and in media, we find it even funnier when someone makes a 180-degree about-face like we've seen here. In this interview with CNBC, Bannister lays out his case.
As we disclosed in our previous article about the equity markets, we're looking for a correction here into the end of 2014.

The Peel's Feel:
What concerns us is the suggestion that Mr. Bannister's words are somehow coming off as an "all-clear" message, as Barron's put it. This is alarming in nature to us, because we feel we're at the end of the market's major run-up, and are at a jumping off point for a correction. We're not saying all the money pouring into equities now will be lost, but we are being extremely careful about the names we choose to own long.
Look, Mr. Bannister again isn't really a "bear". He was a bear by default in being the least bullish. We don't consider ourselves contrarian by nature, but we've spent the last year or so wondering how much steam this market had left under it. Of late, we believe we're witnessing a euphoria of sorts, with the market rallying every time that Janet Yellen speaks and equities robustly valued by P/E, regardless of what comes from the Fed.
Not only do we think that Bannister's targets are a bit out of the proverbial ballpark, we believe that it's his timing that really signals that the bull market could be coming to an end.
The baffling thing to us is that Bannister claims that the market has "survived" the following four issues:
A bear market
The Fed taper
Geopolitical risk
Recession
What an odd list to cite. A bear market and a recession are almost one in the same, the Fed taper isn't anywhere being over, and the geopolitical tensions only seem to be rising at this point.
The one item that we do believe Bannister has it right is where he suggests cash could come in from overseas equities markets as Europe fails to take meaningful measure to stimulate their equity markets. We touched on this in a recent piece about Mario Draghi's strategy and what we don't like about it.
But 2300 for the S&P at the end of the year is a bit much. We're looking for the year to end with the S&P around 2000, on the threshold of a relatively significant correction.
Disclosure: The author has no positions in any stocks mentioned, and no plans to initiate any positions within the next 72 hours.
The author wrote this article themselves, and it expresses their own opinions. The author is not receiving compensation for it (other than from Seeking Alpha). The author has no business relationship with any company whose stock is mentioned in this article.