While it's hard to take a company seriously that affectionately refers to its lead product candidates by the nicknames, Rindo, Glemba and Varli, Celldex Therapeutics (NASDAQ:CLDX), headquartered in Hampton, NJ with research facilities in Needham, MA and a clinical office in Connecticut, is a very serious enterprise focused on targeted immunological cancer therapies over a wide range of disease spaces.
Their lead compound, Rindopepimut is in a pivotal Phase III trial in glioblastoma multiforme entitled, ACT-IV, which according to company president, Anthony Marucci, "is the most comprehensive study conducted by a biotech company in this orphan indication to date." Screening for patient participants will be completed in the next few weeks and 614 of the required 700 subjects have been enrolled thus far. This is no minor achievement given the fact that only 30% of all patients suffering from GBM qualify for the treatment which is targeted to the tumor specific oncogene EGFRvIII.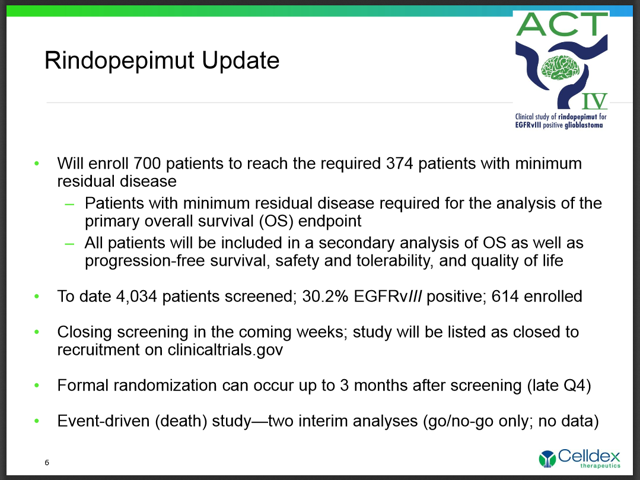 Celldex has done a remarkable job of structuring this trial from its inception without weaving in a tangle of value compromising changes over time. To illustrate this point, let's take look at the DCVax-L trial sponsored by Northwest Biotherapeutics (NASDAQ:NWBO). This is the only competing Phase III registration trial featuring an immunotherapeutic candidate in GBM.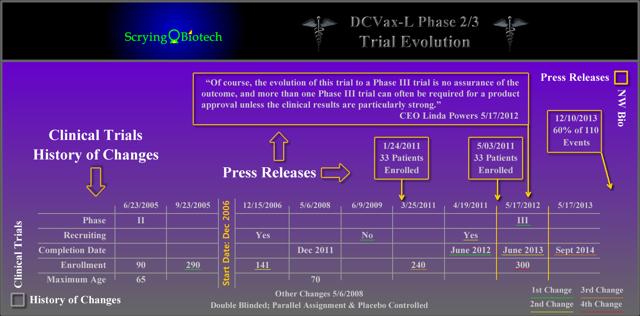 Were I to construct a similar graphic detailing parameter changes to the ACT-IV trial, it would be devoid of complexity simply because there haven't been any of substance as evidenced in this history of changes. The study began in November of 2011, and other than one small initial change to the protocol language, has had only miscellaneous alterations since and has proceeded on time.
The importance of a clean protocol and swift enrollment comes into focus later in the regulatory approval process when the FDA deliberates upon the data submitted. A trial that's slow to evolve is often prone to record keeping errors. And one that changes parameters over time certainly doesn't add clarity to consideration of the issues at hand.
It should be noted that the article in which the above illustration appeared hinted that further changes were on the way to the DCVax-L study. And, true to my predictive analysis, the trial was expanded to include 348 patients and the bar for success simultaneously lowered. These alterations were characterized as "enhancements" as I predicted they would be.
While Northwest Biotherapeutics has been busy pushing back the date of DCVax-L trial completion, Celldex has been confident enough in the prospects of Rindo's regulatory success to proceed with commercialization plans. Part of that preparation was to assess the likelihood of physicians familiar with the product actually prescribing it upon commercial approval. The following slide taken from the recently held Q2 Earnings Presentation reveals an extremely high rate of enthusiasm in that regard, especially in Europe.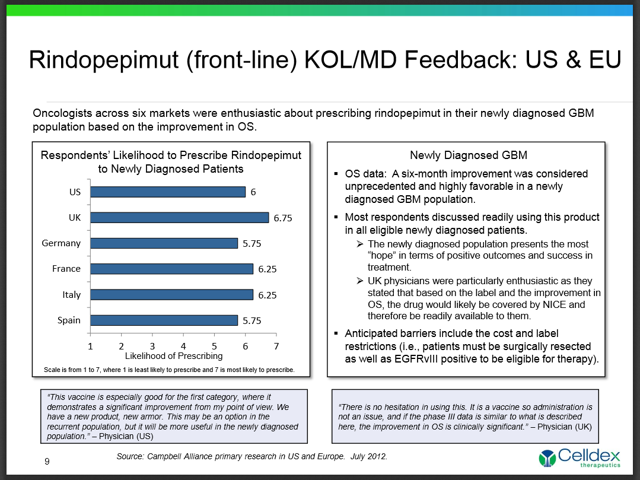 As with all promotional materials furnished to investors by biotech enterprises, there's a hidden motivation at play. A huge advantage of immunotherapies is that they don't compete with existing treatments, but rather augment them by being additive. But in the age of socialized medicine and budgetary constraints, questions naturally arise as to whether or not doctors will prescribe them. This graphic seems to indicate that they will.
While ACT-IV has, for good reason, been the focus of investment in the company to date, it would be a huge mistake for any prospective shareholder to neglect three other prominent value drivers Celldex provides.
Possible advanced Rindopepimut approval in recurrent GBM therapy on the basis of statistically significant data in the REACT study to be updated later this year.
Accelerated approval of Glembatumumab Vedotin, an antibody-drug conjugate targeting the expression of gpNMB in patients with triple negative breast cancer.
A pipeline of candidates that lend themselves to combination therapies, and therefore, to partnership possibilities.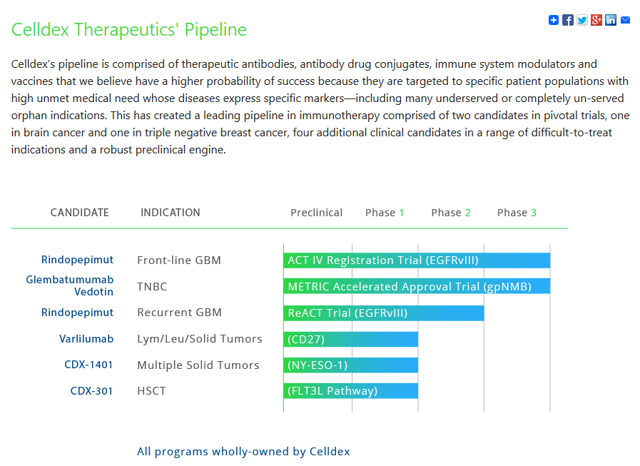 An Unquestionably Low Burn Rate For A Company With Concurrent Registration Trials
As of June 30, 2014, Celldex had $252.4M of cash, cash equivalents and marketable securities. The Q2 cash burn of $21.8M was offset by a one-time partnering payment received from Bristol-Myers Squibb of $5M. Celldex expects cash reserves to be sufficient to fund operations through the end of 2016. On a practical basis, however, you can expect a public offering of some kind 12-18 months down the road, especially if commercial approval is deemed likely on the basis of data received and published.
Celldex further lowers its exposure to excessive cash burn and raises its prospects for clinical success by smartly partnering its compounds in an advantageous manner. Take a look at this agreement with Oncothyreon (ONTY) dated May 29, 2014. You'll find this description of the financial details.
The collaboration agreement provides that Oncothyreon will supply ONT-10 and Celldex will supply CDX-1127. The Phase 1b trial will be conducted and funded by Oncothyreon, which plans to submit a new Investigational New Drug [IND] application for the combination trial. Oncothyreon and Celldex will jointly own the data from the trial and will make any plans for potential future development of the combination therapy together. Under the agreement, neither company has granted the other a license, or any other rights, to its product candidate.
Reading this you'd think that Celldex was a successful pharmaceutical giant and not a company still struggling at the clinical stage of its own development. This, however, is what happens when your science is exceedingly attractive and your leadership exceedingly savvy.
Get Ready To REACT
Updated REACT trial data will be made available later this year. And I want to take a moment to warn investors that the numbers revealed here will be subject to a great deal of scrutiny and interpretation both positively and negatively. If anyone is wondering why the stock price is hovering between $11 and $17.50 a share over the past 5 months this is it, and will continue to be the case until such time as clarity is achieved.
And in recurrent GBM, clarity is a luxury afforded to none. The fact is that taking on the challenge of stimulating an immune response after resection and chemotherapy have failed, and beaten down the ability of the immune system to fight back, is perhaps more noble than wise. Despite this, Rindo did show signs of efficacy in data released late in 2013 that might be worthy of filing for regulatory approval should the subjectively assessed response rates hold up and rates of overall survival substantially exceed the commonly calculated 6-9 months. Here's a slide from the Society For Neuro-Oncology Rindo REACT special presentation demonstrating promise.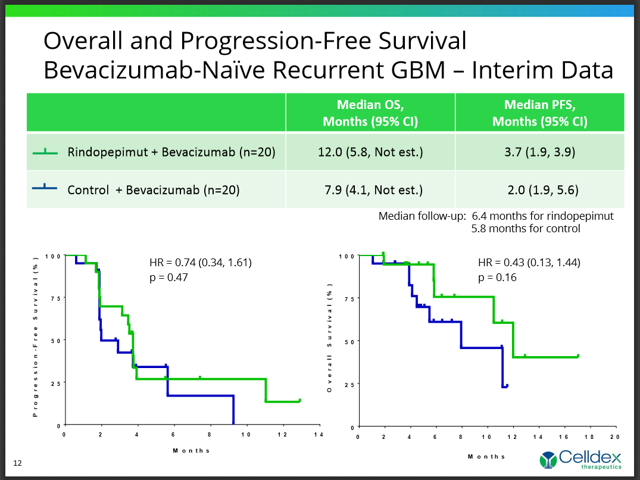 Tie A Pink Ribbon Around The Hope Glemba Offers
Triple negative breast cancer isn't quite a death sentence, but it's certainly not the detailed diagnosis a patient would want to be saddled with. The METRIC study offers the first targeted therapy for patients expressing a specific protein which promotes the spread of the disease - gpNMB. Though labeled as a Phase II study on clinical trials, METRIC becomes a registration trial if one of only two outcomes is achieved - a significant overall response rate or an actionable duration of progression free survival.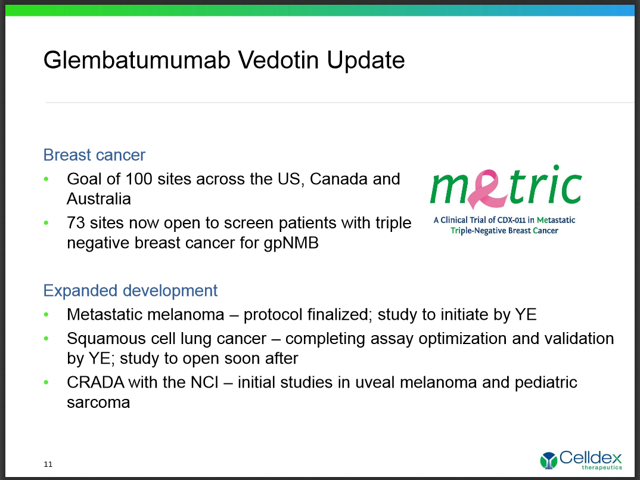 Knowledgeable investors understand that approval in this 3rd line setting would quickly lead to registration trials in frontline therapy as has been the case for Seattle Genetics' (NASDAQ:SGEN) Adcetris.
In the completed Phase II EMERGE trial, a subset of patients expressing gpNMB experienced an overall response rate of 33%. The median overall survival of patients treated with Glemba was 10 months vs. 5.5 months in control [p = 0.003] and progression free survival doubled that of control at 3 months vs. 1.5 months [p = 0.008].
To Wrap It Up
Celldex sports a large market-cap of $1.3B reflective of its enormous potential. The market opportunity of Rindopepimut and Glembatumumab Vedotin combined in these two registration trials alone would likely exceed $1B annually. Subsequent trials to move Glemba up the treatment ladder in the triple negative breast cancer space would only add to that. And Glemba's untapped Metastatic Melanoma and Squamous Cell Lung Cancer applications would improve commercial value still.
I'm presently on the sidelines with respect to investment in Celldex, as we await REACT data later this year. Once that data is in hand, I'll decide not if, but how much to invest in the company moving forward.
Always be well...
Disclosure: The author has no positions in any stocks mentioned, and no plans to initiate any positions within the next 72 hours. The author wrote this article themselves, and it expresses their own opinions. The author is not receiving compensation for it (other than from Seeking Alpha). The author has no business relationship with any company whose stock is mentioned in this article.
Additional disclosure: Any information or opinion expressed herein may not be true, accurate or correct and it does not constitute any suggestion to buy, sell, hold or adopt any investment strategy for this stock or any stock that may be mentioned. Reliance upon information in this article is at the sole discretion of the reader. The sole purpose of my article is to entertain by providing information, the accuracy of which is as good as the public sources it was derived from. Do not act on anything I have written. Rather, do your own due diligence and consult an investment professional before making any investment decision. Acting on what any one writer, including me has imparted to you is foolish at best. I have no better access to resources or gift of opinion formulation than you do. I sometimes make mistakes. There are a myriad of things, which can happen in lieu of any forward-looking statement I have made. Any stock featured or mentioned in an article I compose is subject to all manner of influences, which can change its value in dramatic fashion upwards or downwards. These events can be of a wide variety not limited to news-related occurrences, managerial decisions, trial failures, stock manipulations and so on. I make every effort to declare positions I have in stocks I cover or mention in an article but reserve the right to move in and out of said investments at my own discretion based upon the wisdom of doing so. I implore you to do your own due diligence, invest at your own considerable risk attaining the just reward your efforts have wrought.