Varonis Systems Inc (NASDAQ:VRNS) - Sell Recommendation - PT $19.15
The 180 day lockup period following the February 27, 2014 IPO of Varonis Systems Inc will come to an end on August 27, allowing pre-IPO shareholders in the unstructured data management software provider to sell their outstanding shares.
Most of these shareholders are venture capital firms.
The expiration of the lockup period will also allow VRNS's directors and executives to sell their shares in the firm. The sudden rise in VRNS shares available for sale on the market will likely lead to at least a temporary decline in VRNS share prices and may create a short opportunity for aggressive investors.
Explosive Start For First Tech IPO of Year, Declines Since
At the first tech offering of the year, VRNS's IPO exploded out of the blocks, pricing a dollar above the high end of its expected range at $22 per share and gaining 100.0% in its first day on the market. The stock peaked at a close of $53.48 per share on March 7 before beginning a steady decline; despite a brief rally in late June, VRNS is now trading below its IPO price. The stock closed at $20.27 per share on August 22.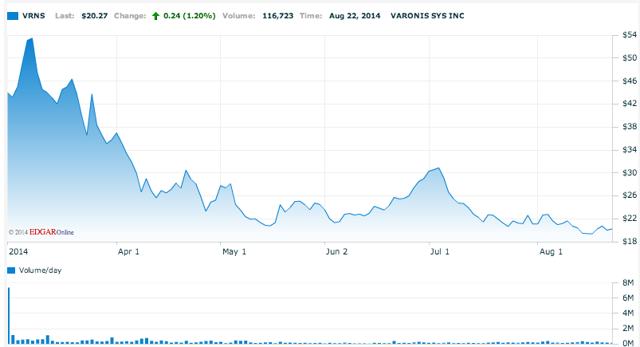 (Nasdaq.com)
Unlocking of ~19.0 million shares
The August 27 lockup expiration will free approximately 19.0 million shares of VRNS to be sold, far more than the 4.8 million shares offered in the February IPO.
These shares are primarily held by venture capital firms. The largest stake is held by Accel Europe Funds with 4.9 million shares, followed by Evergreen IV, LP with 4.4 million shares, Pintango Venture Capital Funds with 3.4 million shares, J.P. Morgan affiliated funds with 1.7 million shares, and EMC Corporation with 1.2 million shares. These firms will likely choose to sell at least some of their VRNS shares in order to return capital to their investors, especially given the stock's poor performance in recent months.
VRNS's executives and directors will also likely take advantage of their first opportunity to sell their shares in the company since the IPO.
Evidence That Lockup Expirations Offer Short Opportunities
Published empirical studies by Professors at the University of South Florida, University of Kentucky, and additional institutions (Bradley, Jordan, Roten, and Ha-Chin Yi) have found that, on average, lockup expirations are associated with significant, negative abnormal returns as the sudden increase in public shares (a potential tripling, according to a 2001 NYU study) usually causes a price decline. A joint study by Duke's Fuqua School of Business and Harvard Business School finds this price drop is 2%. Losses are often most concentrated in firms with venture capital (NYSE:VC) backing. In the Journal of Finance (2001) Professors Laura Casares Field and Gordon Hanka find the losses described above as three times larger in VC-backed firms.
Our own research, conducted on a sample of 242 companies with lockup expirations in 2013 and 2014, through June, suggest the greatest negative returns (-5.5%) occur within the Day (-11, +9) period surrounding the lockup event (Day 0). These negative returns occur for tech firms who have not completed a secondary offering and whose share price has increased from IPO to Day (-11) from the lockup expiration.
Thus, the lockup expiration event often opens a short window for aggressive investors.
Business Summary
VRNS offers a software platform that it calls the Metadata Framework used to map, analyze, manage and migrate human-generated unstructured data. This data includes spreadsheets, emails, text messages, and other employee-generated data.
The Metadata Framework compiles data taken from customers' IT infrastructures in order to map relationships between data objects, content, usage, and employees. The resulting metadata can be used for purposes including data security, archiving, mobile data accessibility, and data governance, among others. VRNS's software allows for huge quantities of enterprise data to be searched and analyzed efficiently, in much the same manner as search engines allow for the much more efficient use of the internet. End users for the software are highly diverse, and include government agencies, financial services firms, healthcare firms, entertainment firms, retail firms, and many more.
See our IPO preview of VRNS for further details.
Strong Competition
Some of VRNS's products compete with other software vendors' products; some of these competitors have access to greater financial and technical resources than VRNS. These competitors include the likes of Dell (NASDAQ:DELL) and Symantec Corporation (NASDAQ:SYMC).
Co-Founders' Backgrounds
Co-founder Yakov Faitelson has served as the Chairman, President, and CEO of VRNS since 2005. He previously worked in leadership positions for firms including Network Appliance and NetVision. He is joined by CFO Gili Iohan, who has also worked with the firm since 2006. Ms. Iohan previously was a partner with NextAge Co Ltd, a financial services firm, and served as a CFO and financial consultant for several firms (including VRNS) through NextAge.
Conclusion: Price Decline Expected
We expect to see a significant drop in price in VRNS shares associated with the upcoming lockup expiration.
VRNS's heavy venture backing and the likelihood that its venture backers will want to recover some of their funds before share prices decline further may lead to a flood of available VRNS shares on the market.
The severe overvaluation of VRNS due to its position as the first tech IPO of the year did significant damage to this stock's prospects in the near term, and we believe that a short opportunity will likely emerge from the lockup period expiration.
We invite readers wishing to join the discussion on IPO lockup expirations to click the +FOLLOW button above the title of this article-- and those looking for the latest developments to click +Get real-time alerts.
Disclosure: The author is long VRNS.
The author wrote this article themselves, and it expresses their own opinions. The author is not receiving compensation for it (other than from Seeking Alpha). The author has no business relationship with any company whose stock is mentioned in this article.